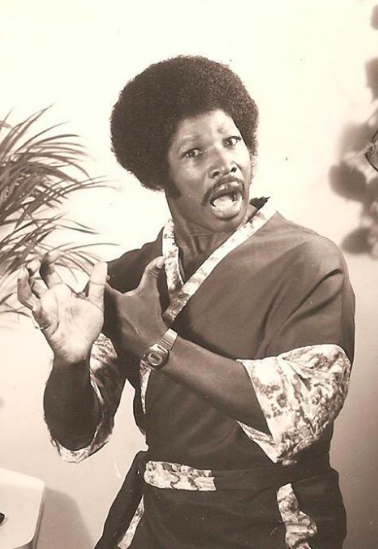 This weekend in select theaters, Academy Award nominee Eddie Murphy portrays the inimitable Rudy Ray Moore in the film Dolemite Is My Name.
Borrowing from the street mythology of 1970s Los Angeles, Rudy Ray Moore assumes the persona of Dolemite, a pimp with a cane and an arsenal of obscene fables. However, his ambitions exceed selling bootleg records deemed too racy for mainstream radio stations to play. Moore convinces a social justice-minded dramatist (Keegan-Michael Key) to write his alter ego a film, incorporating kung fu, car chases, and Lady Reed (Da'Vine Joy Randolph), an ex-backup singer who becomes his unexpected comedic foil.
Despite clashing with his pretentious director, D'Urville Martin (Wesley Snipes), and countless production hurdles at their studio in the dilapidated Dunbar Hotel, Moore's Dolemite becomes a runaway box office smash and a defining movie of the Blaxploitation era.
Here is a list of 5 Rudy Ray Moore films to check out before you see Dolemite Is My Name.
Dolemite
The outrageous archetype of Rudy Ray Moore's alter ego is named Dolemite. In the film, a pimp takes on the criminals and corrupt police officers who framed him in the first place. Co-written by Moore, the film was released by Dimension Pictures in April of 1975. Moore also worked on the movie's soundtrack along with Soul Train icon Don Cornelius.
Disco Godfather
Directed by J. Robert Wagoner, Disco Godfather tells the story of Tucker Williams (Rudy Ray Moore), a retired cop who owns and operates a disco. He tries to shut down the local drug dealer after his nephew (Julius Carry) trips hard on the drug. If campy martial arts and off-the-wall hallucinations are your thing, this movie is worth your time.
The Human Tornado
If you watched Dolemite, then, of course, you have to watch its sequel The Human Tornado. Rudy Ray Moore returns as Dolemite in this film where he flees to California, where he helps Queen Bee and her Kung Fu prostitutes battle a local gangster. The plot is kind of all over the place and its even sillier than its predecessor, but trust us, it's a fun watch.
B.A.P.S.
Okay, say what you want about how jaw-droppingly bad this Halle Berry film was, and even though it was panned by critics, this is a movie that sticks with you. How many people can say they've never heard of B.A.P.S.? Yes, Rudy Ray Moore makes an appearance in this film as Nate, but the reason you should check it out is for the elaborate and distinctive outfits worn in the film. There is a connection — Black Panther's costume designer Ruth E. Carter worked on both B.A.P.S. and Dolemite is My Name.
Petey Wheatstraw
This 1977 blaxploitation film stars Rudy Ray Moore as the titular character Petey Wheatstraw. After being murdered by his rivals, Petey is resurrected, in exchange for marrying the devil's daughter, the world's ugliest woman. It sounds like an incredibly bad In Living Color sketch, contextually this aligns with most of his work starting from his first picture. Blending the comedy roots of Moore along with subpar acting from some of the ensemble cast, you got yourself some Hollywood gold!
Dolemite Is My Name will be in select theaters on Friday, October 4 and released on Netflix on Friday, October 25.