Kiersten Brown
Kiersten is a freelance writer and coach. As a writer,…
When you think of Soul food, you might think of creamy mac and cheese, the smell of cayenne pepper, or the popping sound of oil. Yet it's more than that. It's a unique style of food that carries history, flavor, and, of course, soul. Often found in the Southern states, Soul food has grown to be sought-after cuisine across America and the world. Originating from African food, Soul food brings people together and is a way of preserving Black culture.
Because of its influence, June is recognized as National Soul Food Month, and here are five ways to celebrate.
A Brief History of Soul Food
Soul food originated during one of the most grueling times for Black people. During slavery, the enslaved people received minuscule rations of food such as rice, sweet potato, and cornmeal. Rarely were they given meat, fruits, or vegetables. Yet they made due by combining the scraps they received with food that grew on the land. As time went on, many African Americans gained their freedom, and the cooking style of the enslaved turned into fine cuisine.
The name, Soul food, comes from the importance of food for the body and the soul. It raises your spirit and fills your belly. The cuisine consists of staple foods such as cornbread, fried okra, breaded fish, and black-eyed peas. Many more dishes have grown and expanded through various repetitions.
Soul food often is prepared during holidays, family gatherings, and celebrations. Here are some ways to celebrate this month inside or outside the kitchen.
1. Prepare Soul Food for friends and family
Although Black people still face racism and discrimination, the culture has moved forward in many ways. That is a reason to celebrate. Use the progress of the culture to celebrate with friends and family. You can even use this month to have friends over and introduce them to the richness of Soul food and share a little about its history.
2. Learn more about the history of Soul food.
The general history of Soul food may be well known, but there are depths to that history waiting to be explored. To dive into this history lesson, you can start by watching the Netflix documentary series High on the Hog. In the series, Chef and writer Stephen Satterfield trace the lineage of Black food from Africa to some of the deepest parts of the Southern states.
If you've already seen the film, you can trace the history of Soul food within your own family. Start talking to your parents, grandparents, uncles, and aunts about their connection to Soul food. What recipes did they grow up learning? What memories do they have because everyone came together to experience Soul food?
Diane Tillman, a foodie, messaged BGN and shared her fond memory of Soul food. "When people think of Soul food, they always go to Mac and cheese or potato salad. My favorite Soul food is barbecued baked beans. My dad would soak the kidney beans, add bacon, seasonings, tomatoes, brown sugar, and molasses and let them simmer on the back stove for at least a day. And they have always finished off warming in a corner on the grill. When you went for your hot dog or hamburger, you would eye that pot at the back and say, "Could I get a spoonful of those beans?" Life was perfect as your bun got wet with that sauce, and you would dip your dog in those beans."
3. Eat at a Soul food restaurant
Although it can be a wonderful experience to prepare traditional food at home, there's nothing quite like being served a meal. You can taste how a chef has expanded the flavors of your favorite dish. Many Soul food restaurants across the United States are waiting for you to come to try them. Here is a short list to help you get started:
Martha Lou's Kitchen: Located in Charleston, South Carolina, this modest restaurant has been around for over 30 years. This female-owned business started with Martha Lou Gadsden who grew up learning about the restaurant business. Now Gadsden, along with her daughters and granddaughters has created a come-as-you-are type of place where you are guaranteed delicious food.
Sue' Soul Food: This restaurant brings southern goodness to the west side of the United States. Located in Arizona, it is an authentic soul food restaurant where you can get greens, smoked ribs, and even peach cobbler. Relatively new to the Soul food scene, Sue's opened their doors in 2020, shortly after the loss of the owner's sister, Sue. In remembrance of a lost loved one, the restaurant has become a place that serves every part of the community. They open their doors to everyone, regardless of economic background, by accepting EBT and sharing leftover food with the homeless population.
If you're worried that you won't be able to find Soul food in your state, worry no more. Eat This, Not That, published an article listing Soul food restaurants in every state. Yes even states that are less populated such as Alaska and Kansas.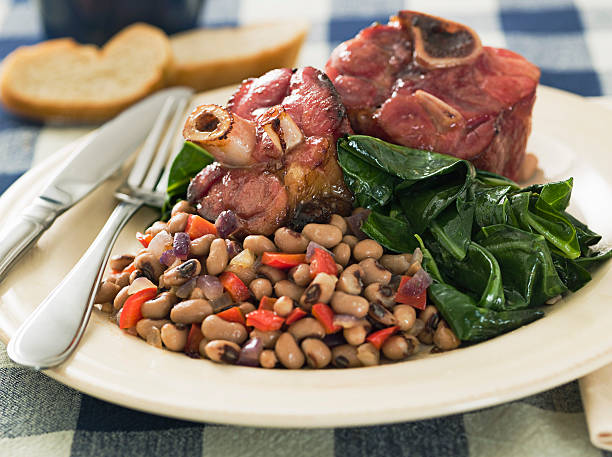 4. Support a Soul food restaurant or catering service
Often, African-influenced foods are under-appreciated compared to Italian or French cuisine. That is why it's important to show support for Soul food businesses and restaurants. The obvious way is going out to eat at a restaurant, but there are other ways to show support. By using the power of social media, you can share your experience of eating at a particular restaurant or leave a review for them.
To celebrate Soul food even more, instead of catering your next event with Subway sandwiches or veggie trays, try Soul food catering.
5. Create a Soul food event
A Soul food event doesn't always have to involve food. (But it's more fun if it does.) You can use your platform whether within a school or the workplace, to educate and share with others the importance of soul food.
Tanorria Askew, a personal Chef corresponded with BGN through email and shared what Soul food means to her. "Soul food is a connector of the Black community. Not only does it nourish our bodies, but it nourishes our souls by creating an opportunity for us to come together and be vulnerable, share and celebrate with one another. Food is a great connector, and soul food keeps the Black community connected and our ancestors."
IG/F/T/P: @tanorriastable
Whether you choose this month, the next month, or any other month, make sure you find some way to celebrate Soul food. Whether it's learning more about its history or supporting a Soul food business, you are helping to preserve a part of history.
Kiersten Brown
Kiersten is a freelance writer and coach. As a writer, she has written for Travel Noire, Passion Passport, BAUCE mag, and various travel and lifestyle blogs. As a writer, her goal is to write content that inspires others to take action. As a coach, her goal is to empower women to be their most authentic selves. In her free time, you can find her dancing to any song any where.