For many, motherhood is a much-anticipated experience. While there is joy to be found, the reality of raising Black children has tainted motherhood for many Black mothers. There is a significant gap in the treatment and the experience of Black motherhood. Beyond pregnancy, Black mothers know all too well of the fears of raising their children in the midst of racism and social injustice. It's a painful truth, yet Black mothers remain steadfast and determined.
Black motherhood doesn't always look like we think or are accustomed to. From testimonies and complexities of mother-daughter relationships to the joys of motherhood, these books offer insight, passion, pain, and contemplation with motherhood as told by Black writers.
Beloved by Toni Morrison
Every time I read Beloved, I am reminded, once again, of the brilliance of Toni Morrison's writing. The novel is inspired by Margaret Garner, an enslaved woman who killed her daughter rather than have her be taken and sold into a life of slavery. In past interviews, I've seen Morrison speak about contemplating both sides of the dissonance brought by Garner's decision — whether she had the right or whether she had no right to take the life of her child. In the book, Sethe is dealing with the relationship with her daughter and her own recollections of past trauma. Beloved sheds light on the separation of the Black family during enslavement, while championing the bond between mother and child until and beyond death.
Patsy by Nicole Dennis-Benn
Patsy leaves Pennyfield, a poverty-stricken town in Jamaica, determined to live a new life in New York, free from the strongholds of her intrusive mother. She also wants to be reunited with her oldest friend, Cicely, and the possible rekindling of their relationship. Soon she is faced with the price of success — choosing herself at the expense of familial relationships. This story reads like a confessional diary rather than a novel. Patsy is defiant, but she's also a very naïve person who looks to America for the opportunity to just be herself and love who she wants. The story spans over a decade as Patsy struggles with her identity and sexuality, while trying to reconcile a complicated mother-daughter relationship.
Conjure Women by Afra Atakora
The story follows an enslaved conjuring woman Miss May Belle, her daughter Rue, and the last mistress of the house Varina. After the Civil War, enslaved people stay on at a plantation, now ownerless, and their lives take many twists and turns. This is a story of the secrets, toils, and bonds among these three women and their community, which come to a head at the birth of a cursed child. This child represents a dangerous existence, which makes the townspeople unsettled with fear and incites superstitious prejudice that threatens the stability of everyone's freedom. Unlike Beloved, which dives into similar themes, Conjure Women is a colorful story of magic, healing, secrets, curses, love, and legacies shared across generations passed down from mother to daughter. The ending, though surprising, is just about perfect.
The Mothers by Britt Bennett
Nadia Turner is a seventeen-year-old senior in high school and has been accepted to the University of Michigan. She is grieving the death of her mother, who committed suicide six months prior. Nadia becomes involved with twenty-one-year-old Luke Sheppard. He is the son of the preacher at the local church. They have a secret romance, and Nadia finds herself pregnant. Aubrey Evans becomes Nadia's best friend. She has moved to the area to live with her sister, leaving behind a difficult family situation. Nadia and Aubrey share a common motherless bond. We follow their relationship from their adolescent years to adulthood. This wonderful novel explores friendships, secrets, loss, and shame. It is narrated by the elderly women, or "mothers" of the church.

The Three Mothers by Anna Malaika Tubbs
We've all heard the saying behind every great man is a great woman, right? Well, this book essentially proves this to be true. In The Three Mothers, the author uncovers the lives of Alberta King, Louise Little, and Berdis Baldwin, the mothers of Martin Luther King Jr., Malcom X, and James Baldwin. This book is full of love and compassion for their sons. How they were raised and taught shows the type of love that they received. This book showed me that not only were these three mothers exceptional but that they didn't get the credit that they deserved. They were determined to prepare their sons for the world. Unfortunately, they had to live to see their sons' deaths.
Motherhood, So White by Nefertiti Austin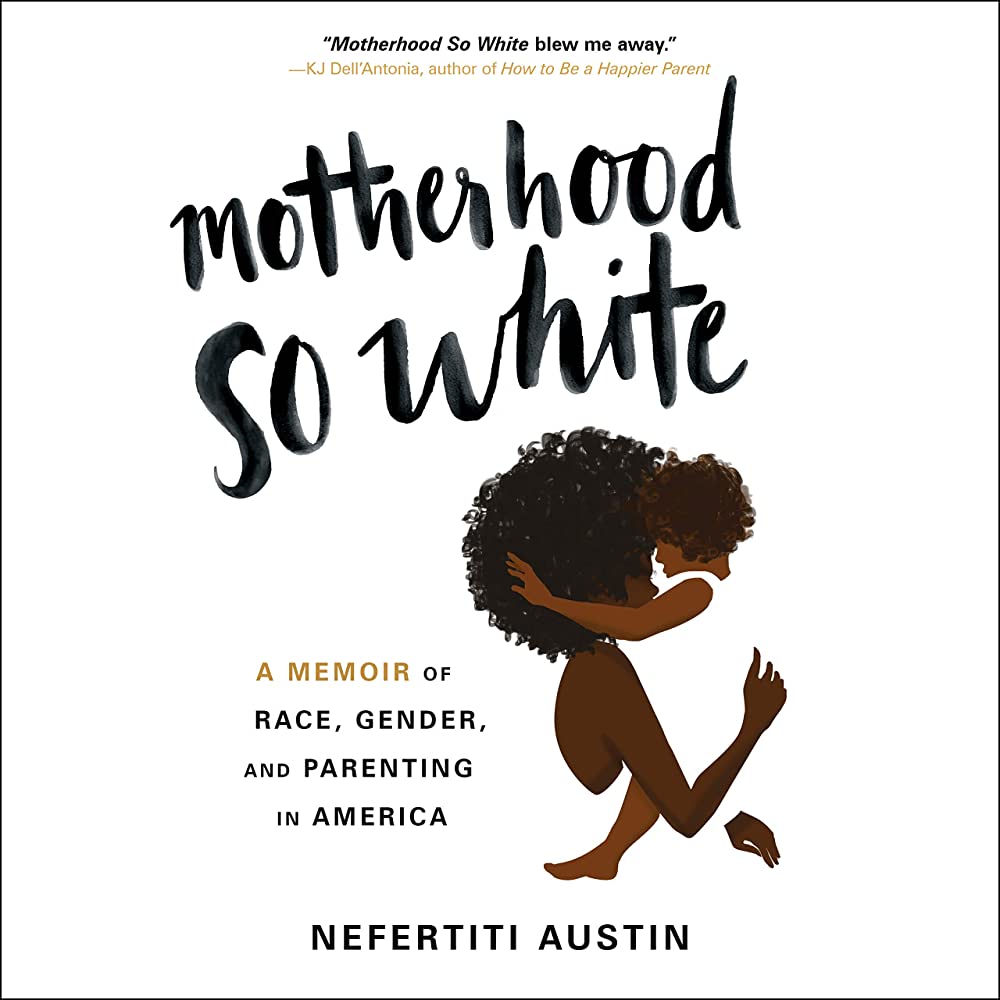 The author, Nefertiti Austin, took Toni Morrison's advice that "If you find a book you really want to read but it hasn't been written yet, then you must write it." She was a single Black woman who had just adopted a Black baby boy. Despite searching high and low, she couldn't find a book written for or about Black motherhood. As far as books about adoption, it seemed as though only white people did that. Austin was further shocked to hear people ask her why she wanted to adopt a "crack baby." She realized that American society saw motherhood through a white lens, and she set out to do her part to change that. I was immediately drawn into Austin's experience as she narrated it as a mother after the death of Trayvon Martin. Beginning her story here was a perfect hook; it grabbed me with the familiarity of the story and it made think about the intersectionality of Black mothers with Black boys.
Caul Baby by Morgan Jerkins
The Melancons are a well-known Black family in Harlem with a gift — a caul, an extra layer of skin protecting them from harm. To maintain their home and status in the community, they sell pieces of their caul for premium prices. Laila reaches out to the Melancons after suffering from numerous miscarriages. When they refuse to help her during her latest pregnancy, Laila's devastation takes over. Her niece, Amara, secretly has a baby shortly after this and gives the baby up for adoption, not willing to sacrifice her college education or career ambition. Caul Baby follows the two families over several years as one deals with the long-lasting impact of loss, attempting to move forward, while the other deals with an oppressive head of household. This is a story best discovered as you turn the pages. While she has written other books, Caul Baby is Morgan Jerkin's fiction debut and it's a good one! Lots of themes in this story — family relations, motherhood, infertility, gentrification, magic (healing properties), and moral dilemmas.
These titles are perfect reads for yourself or to give as gifts. They explore Black mothers and Black motherhood in ways that honor what we know, while creating space for other narratives and points of view.
Archuleta Chisolm
Archuleta is an author, poet, blogger, and host of the FearlessINK podcast. Archuleta's work centers Black women, mental health and wellness, and inspiring people to live their fullest potential.