Mel Perez
Writer. Podcast contributor. Costume design enthusiast. Lover of fantasy movies…
[video src="https://www.youtube.com/embed/B2KxL7pEy8s"]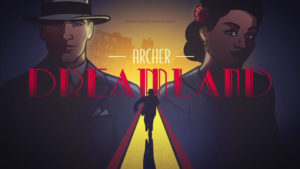 Last season of Archer ended with the titular character in a dire situation. Season 8 is promising a lot but, so far, a resolution doesn't seem part of it.
Archer isn't only moving to FXX, it's going back in time to 1947 Los Angeles. This isn't time travel; instead it's a reimagining of the series as a 40s Noir story. All of our favorite characters are back, but don't expect everything to be the same. Well, everyone is back except for Woodhouse. Since the voice actor, George Coe, passed away in 2015, Woodhouse has mainly been absent from the series. It looks like this season is going to finally address that.
In this 1940s universe, Sterling is a private detective on a journey to find out who killed his partner, Woodhouse. Cyril is the dirty cop trying to stop him, along with Pam, his partner. Lana is a lounge singer — we learned at NYCC that Aisha Tyler will be doing her own singing. Ray is a member of her band. Cheryl is an heiress and potential client. Malory is the "biggest mob boss in LA," a fitting job for her. Even Barry is back, albeit missing his cyborg enhancements.
Archer: Dreamland will premiere on Wednesday, April 5 at 10PM on FXX. Check out the trailer below
Mel Perez
Writer. Podcast contributor. Costume design enthusiast. Lover of fantasy movies from the 1980s and bizarre deep sea creatures. Can be found tweeting about comics, Yuri on Ice, Doctor Who or Star Wars at @jane_anon or on the Nerds of Prey podcast.