Guest Blogger
BGN works to feature strong, unique content from writers who…
This episode of Once Upon A Time was all about true love overcoming all obstacles. First Emma and Killian, and then Snow and David. Timing is everything. Without the wind carrying pixie petals behind a video of Snow, Killian and Tiger-Lilly might have been Lost Boy chow and Emma would have never got her happy ending. True love's kiss may not have been the thing to break all curses, but true love was a major factor. Those pixie petals that only grow in the presence of true evil, guide you to your true love.
Out of this week's key players, I thought Tiger-Lilly was a bit of a stretch. It was like the writers couldn't find another way to present a piece of wood from an old wand. They got rid of Blackbeard so fast, I would have preferred to see him rather than meet Tiger-Lily for five minutes. Props to the show for actually casting a Native American actress (Sara Tomko) as the traditionally Native Tiger Lilly, but I would have loved to meet her way back when our heroes were in Neverland. That would have been more effective.
While Killian had his shadow deliver a weapon to Emma, Regina was thinking about how to break the sleeping curse her other half put on the Charmings. I feel Regina doesn't get enough credit for her heroic deeds. True love's kiss may not work, but when you share a sip from the same cup of poison, you can save a life. That's how Regina saved Snow and David from their horrible sleeping curse. It was brilliant.
Amidst the real-life drama, Snow and David were sharing dreams, or what seemed like dreams in flashback form. That was a great way to keep the Storybrooke story we know while giving us brand new information. Why can't the show be that creative with flashbacks/dreams all the time? I loved that we learned that Snow and David had a chance to see Emma as a child and had a chance to be with her without all the savior nonsense. It showed their realistic vulnerability while also highlighting their fairytale heroics. Once Upon a Time has always been the best of both worlds. It was great to see the hope that David and Snow had in an impossible situation.
Snow White has always been one of my favorite characters in this show. She has always been a great example of a heroic princess. Her selfless acts are what makes her stand apart from others. I am so happy Killian and Emma reunited due to Snow's act of bravery and love. I am also thrilled Snow and David both woke up and reunited due to the whole town's act of bravery. Due to everyone's heroic efforts, Killian proposed properly and put that ring back on Emma's finger, where it belonged. I was so cute and so much better than the last proposal attempt.
While small battles are being won, the big war is still to come. The Black Fairy is still running amuck and Gideon doesn't have a heart. I am very much excited to see Emma and Killian get married as well as see the Black Fairy defeated (hopefully). There is a lovely musical episode coming our way. Not going to lie, I am very excited about that. Tune in for an all-new episode of Once Upon a Time, only on ABC.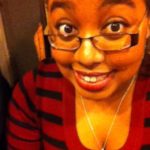 Catalina Combs is an aspiring film critic from California. She loves reading, writing, film, baking, music, drawing, traveling, Disney, and playing soccer. Her life usually revolves around all of these and her family. The oldest of six, Catalina tries to set a good example for her siblings. She graduated from Santa Clara University in 2010 with a BA in English Creative Writing and is pursuing an MA in Film. I also blog on WordPress and contribute to the website Examiner.com. Twitter- @tiggercraze | Facebook- Cat Combs | Instagram: @tiggercraze
Guest Blogger
BGN works to feature strong, unique content from writers who speak to our niche. If you are interested in having your work highlighted contact jamie@blackgirlnerds.com to be featured as a guest blogger on the site.