Diondra
Diondra Powers is an editor, contributing writer and social media…
Syfy's Wynonna Earp is a terrifically entertaining, girl powered, sci-fi Western whose theme song loops around my head days after an episode has ended. Growing up, I was never into Westerns; Wild, Wild West is the closest thing to the Western movie genre I've gotten and Supernatural is the closest thing to a Western tv show I've watched. So when season one of Wynonna Earp appeared on Netflix, and I heard it had a leading lady gunslinger, a lesbian couple, and a Black male protagonist, you bet your butt I binged it in two days! (It was an agonizing wait for season two though, to be quite honest.)
Fast forward to this year's DragonCon, where the Wynonna Earp cast and Earper fandom show up in full force: lots of Twitter engagement, IRL fan interactions, Cosplay shout-outs (with more than one Lady Bobos), and five panels.
The show's unique look at Wyatt Earp's descendants, the cast's enthusiasm for the story and fans, and the various Earper interactions I've seen made me totally geeked for 2017 DragonCon.
BGN got to chat with cast members Michael Eklund and Tim Rozon, who portray Bobo Del Rey and Doc Holliday, respectively, during a small press conference. Eklund and Rozon showed an abundance of love and respect that's characteristic of the Wynonna Earp fandom.
Val: I asked about a crossover. Wynonna Earp would be the perfect show to cross into Midnight Texas. Some fans have speculated some characters from Buffy the Vampire Slayer television show should make an appearance. However, Michael Eklund had another idea: "Dirk Gently!" I have not seen the show but I was surprised he mentioned it. With season three on the horizon, the possibilities are endless. Unfortunately, I didn't get a chance to speak to Emily Andres or any of the other Earp ladies. I had a question that's been burning my brain for a while: where are the women of color?? And will we be getting any in prominent roles during season three? Right now, there's Rosita, and I get that she's sort of a villain, but will we see some new 'Black Badge' in the near future? It's been on my mind because us PoC Earpers have talked about this at length, and I'm bummed I don't have an answer for them.
Rozon's Doc is a rough-around-the-edges gunslinger with an affinity for good whiskey and the eponymous character, Wynonna Earp. Eklund's Bobo, a chaos-loving Revenant trapped in the Ghost River Triangle, has a soft spot for Wynonna's younger sister, Waverly, whom he tries to protect and affectionately calls his "angel".
Diondra: As Bobo, how fun is it to go from playing completely in love with Waverly essentially, to next wanting to like rip her heart out essentially? Like, how is that?
Michael: How fun is it? *laughs*
Diondra: No no no, not how fun is it, but like how do you change it up, like get into character that quickly?
Michael: Well, first of all, it's all in the writing. The scripts that we have are just written so well, and then you put an amazing screen partner across from you, like Dominique, and they just kind of take the leashes off and let us fly. And working with her, we just kind of look into each other's eyes and you just know what to do. So one moment I'm taking care of her and the next moment I want to rip her throat out, you know. And it's just so much fun because you can play the dual sides of your own character, and her character as well there's so much change too, you know. There's been a lot of speculation of who her father is, now we kind of know that it's not mine.
Tim: That never means it's never you.
Michael: That's true.
Tim: I'm still not convinced just because one person said it on the show, that doesn't mean anything.
Michael: As far as we know for now.
Tim: As far as we know for now, yeah.
Michael: But, it's been great, working with Tim and with Dominique's characters.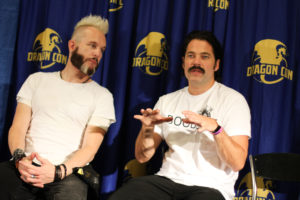 While Doc and Bobo navigate Purgatory's Ghost River Triangle in ways that forge precarious alliances and betray ulterior motives, Eklund and Rozon's IRL friendship is filled with true compassion and admiration. It was quite a joyful Dragon*Con experience to be able to talk with such wonderful humans!
Earpers, we have a ridiculously long wait until Wynonna Earp returns to Syfy in 2018, but here's the silver lining: seasons one and two are on Netflix, and there's a really neat SyFy Interactive Mystery you can help the Purgatory Police Department solve. Now, Go Make Your Peace.
Diondra
Diondra Powers is an editor, contributing writer and social media correspondent for Black Girl Nerds. She finds great joy in volunteering and exploring the world through a camera lens. In her spare time, she embarks on epic adventures that take many forms—from reading to climbing to Dungeons & Dragons.