Valerie Complex
Valerie Complex is a freelance writer and professional nerd. As…
I hope you've enjoyed pride month, wherever you are. As you know, BGN has been gone full force bringing you playlists, live tweets, and social commentary, but now it's time to finish this month off strong by giving you a list of some of our favorite LGBTQ films, and why they are iconic to us. With that said, let's get to it!
Paris Is Burning
Seeing Paris is Burning was a memorable moment for me. I grew up around drag queens as a child with family members who worked in the theater scene. However, it was not until I was 18 and saw Paris is Burning, that I was able to connect the real meaning of what drag means to the LGBTQ community. The balls were used to escape a harsh world in which queer POCs still struggle to this day to exist and thrive. –Kayla Sutton
Rent
I didn't watch musicals until high school. (Context: Idina Menzel was Shelby, Rachel Berry's mother on Glee before I knew her as Maureen, the sexy, fierce performance artist protester.) Boy, was I missing out. Rent is real life, where Collins/Angel's and Maureen/Joanne's relationships are given just as much, if not more, screen-time as any other relationship featured in the film. Rent is full of nuanced, three-dimensional characters who accept each other, no questions asked. Love, tragedy, heartbreak, triumph, rebels, and real young-adult struggles. It includes a brilliant, inclusive cast and a phenomenal soundtrack. It's my all-time favorite musical adapted to film. —Diondra Powers
The Handmaiden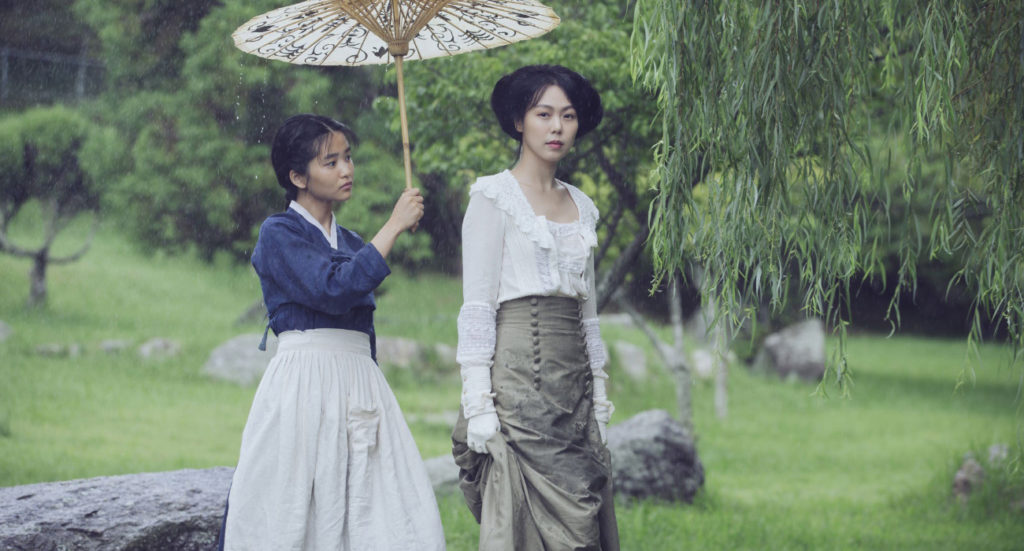 When I think of The Handmaiden, the first word that comes to mind is 'lush.' From Lady Hideko's colorful and lavish clothing to her uncle's ornate house to the vibrant nature scenes, this film bleeds color and oozes sensuality. I would love this movie for the visuals alone – they're that good – but the plot is intriguing. This film gives us two queer women among an intricate con that includes multiple double crossings. Women are getting even with the disgusting men who treat them as playthings and in the middle of all of that is a strong, loving bond between two women. —Melissa Perez
To Wong Foo, Thanks For Everything! Julie Newmar
To Wong Foo is just as much a New York story, as it is a road trip story, drama, and comedy all meshed into one. Some of the hottest stars of its era (Patrick Swayze, Wesley Snipes, John Leguizamo) gave the audience a glimpse into the rarely explored lifestyle of Drag Queen competitions. While this representation isn't fully accurate, it did make me want to learn the truth about queer drag culture. To Wong Foo shows that, regardless of how one chooses to dress, we are all still human underneath. —Valerie Complex
Lost and Delirious
Lost and Delirious, showed the heartbreak that many young queer people experience. It touched me on such a personal level. The scene of Paulie dueling with the boyfriend of Tori and asking him to give up her queen is so poignant. The film looks at toxic heterosexuality head on, and how the main characters navigate within this normalized world —Kayla Sutton
Moonlight
Moonlight's magnificence is that it pays homage to Chiron's past while never detracting from who Chiron built himself to become. No flashbacks, no hard answers. With a stunning score, gorgeous visuals, and sincere performances, Moonlight warrants a dozen viewings. The first to see Chiron's story as a child, the second to accept the unresolved truth, and the next 10 to catch the subtleties of this masterpiece. To me, the beauty in Moonlight's unresolved chords is that it echoes those of life. —Diondra Powers
Pariah
There are scenes in Pariah that are heartbreaking. While too many black coming of age movies are about pain and suffering with little relief, that's not how I felt about this movie. There's sensitivity to how the scenes are shot, and how the characters are handled. Painful events happen, but you see Alike come out of tragedy knowing who she is–and she is stronger for it. She tells her father calmly: "I am not running. I'm choosin." She chooses her own destiny. Not out of fear or desperation but because it's what she wants. Alike knows being a lesbian isn't wrong. That conviction makes those who can't accept her pitiable. –Melissa Perez
Tangerine
The story of Tangerine follows a day in the life of Sin Dee Rella and Alexandra, two Transgender sex workers dealing with life and love on the streets of Los Angeles. This breakthrough hit (and Sundance winner) is revolutionary in so many ways. First, the film is shot entirely on an iPhone for a meager budget. The film exclusively focuses on the narrative of Trans women of color. Not actors playing Trans women, but actresses who are also Trans women. In the current fight in Hollywood for representation and visibility for ALL marginalized communities, Tangerine takes a major step in highlighting what is missing from cinema: chronicling the experiences of the trans people of color. —Valerie Complex
Valerie Complex
Valerie Complex is a freelance writer and professional nerd. As a lover of Japanese animation, and all things film, she is passionate about diversity across all entertainment mediums.