Academy Award-winning filmmaker Susanne Bier — is notably known for crafting stories involving complex familial relationships, as depicted in her critically acclaimed Danish film In A Better World. The theme of family, conflict and broken bonds weaves its way through the narrative of the sci-fi thriller Bird Box adapted from the Josh Malerman dystopian novel of the same.
There is a supernatural arcane entity that is suddenly causing the deaths of thousands of people in Romania and Siberia by way of mass suicide. Malorie (Sandra Bullock) watches intensely with her sister Jessica (Sarah Paulson), to witness this bizarre calamity happening right before their eyes. Malorie is very pregnant and also very uninterested in having a baby.  She makes careless wisecracks in front of her sister and her OB-GYN about parenting. She is disconnected to the life growing inside of her and has lost that maternal affection most mothers have at this stage of pregnancy. Her doctor is prompted to give her a pamphlet on adoption.
At the end of her appointment when Malorie and Jessica leave the clinic, a young woman bashes her head against a glass window and bleeds profusely.
Something is wrong. Something isn't right. That something in Romania and Siberia is here.
Just like Malerman's novel, Bird Box follows the same structure as the book. The plot is partially told using flashbacks and takes place during different time periods. The story begins in her past when the phantasm first strikes, and shifts forward to five years later (Malorie's present day) when she's on the brink of death still struggling to escape whatever this "thing" is.
In the present day, Malorie is on a boat with two young children fighting the crushing waves ready to devour them all. They are blindfolded and carry a tiny box containing three parakeets. The exposition that explains what is happening in Malorie's present is clarified in her past as the story unfolds to reveal a terrifying and haunting tale.
If you've watched other dystopian dramas or survivalist soap operas like The Walking Dead, you will find yourself talking back at the screen (or your laptop) while watching the movie. In an age where even the CDC has given tips on how to survive a zombie apocalypse — there is something incredibly annoying about really nice people in these kinds of situations.  I'll explain.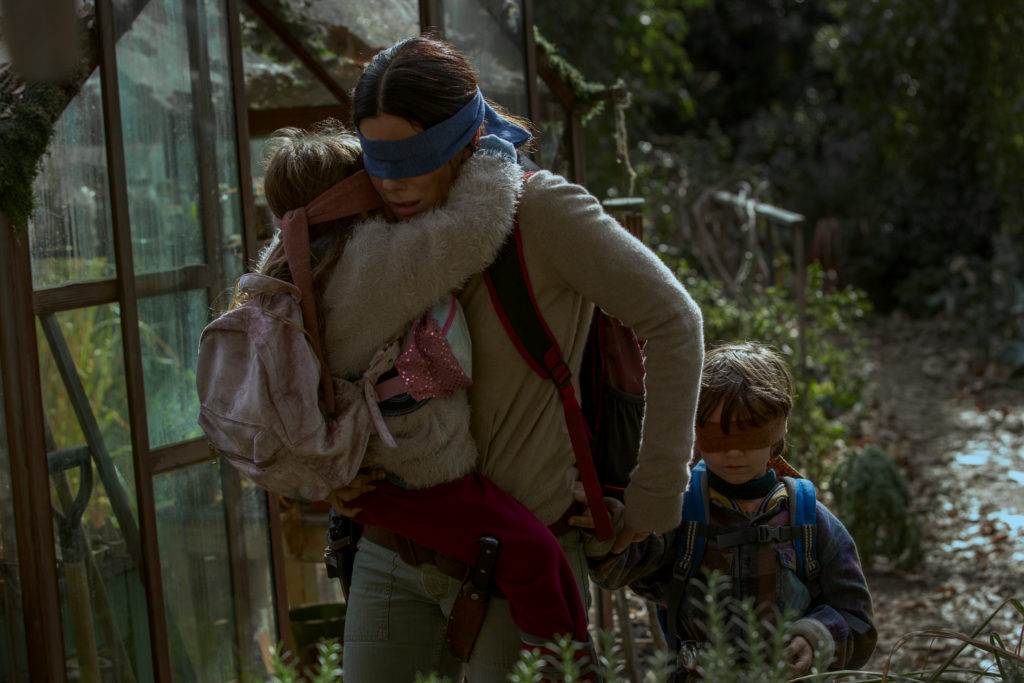 In Bird Box, this ominous invisible entity has the terrifying ability to cause people to kill themselves once they see it. The supernatural presence also whispers enticing phrases like "look at me" and "please open your eyes" to manipulate you into doing its evil bidding — which is to kill you.
Malorie hangs on by a thread to survive and her pregnancy allows her to be taken in by strangers in a home conveniently large enough to fit several other strangers who have not yet been stricken with this suicidal virus. The strangers feature an all-star cast of actors including Trevante Rhodes, John Malkovich, Lil Rel Howery, and the always amazing BD Wong.
Of course, there's always the loose cannon of the group which is Douglas (John Malkovich) who has every reason to drink incessantly through this ordeal but goes about it by being a complete jerk.  However, his selfish motives are what I found to be redeemable about his character. Tom (Trevante Rhodes) is the other predictable persona playing the "Mr. Nice Guy" role. And of course, we all hope to be just as much of a saint if disaster strikes, but if that stranger could possibly cause you to be in danger (as well as those around you) I'm not willing to take that chance.
And as predictable as the personas of many of these survivors are, there's also the issue of logic being thrown out of a window. The film never explains the origin of the enigmatic entity nor why some people who see it kill themselves and others do not.  There is a strain of people infected with the virus that do not kill themselves, rather they use assisted suicide on others by forcing them to see.
The timeline from Malorie's visit to the doctor to present day is over a period of five years.  Within those five years, both her child and another are under her care. It's impossible to imagine that over five years, Malorie has somehow managed to survive off of rations and raise two babies, but somehow she miraculously is able to do it.
All of that said, one has to remember that this is a sci-fi thriller and not everything requires an explanation. Trying to making sense of an invisible force that causes people to kill themselves is actually nonsensical. And even corny moments like a supermarket employee (Lil Rel Howery) coincidentally writing a novel about the end of the world — during the end of the world, is just…cute. 
I'm willing to forgive these moments due to how well Malorie's character changes in the narrative. Sandra Bullock delivers a heartfelt performance as Malorie. The character development beautifully evolves and Malorie becomes two different people. Having a child and going through this disaster definitely put things in perspective for her. Trevante Rhodes delivers an impressive performance as Tom who holds on to one last thread of hope when everything around him seems to be doomed.  Tom's goodness is what also changes Malorie. The two struggle to survive in a world that has rejected them.
You're probably wondering what's up with the title Bird Box? The three parakeets kept in the box by the two children under Malorie's care, play an important role in the story. Watch and find out.
Bird Box keeps you on the edge-of-your-seat, and often times you, too, want to look away. The film is currently screening in select cities by Netflix and will be available for streaming everywhere on December 21, 2018.
Jamie Broadnax
Jamie Broadnax is the creator of the online publication and multimedia space for Black women called Black Girl Nerds. Jamie has appeared on MSNBC's The Melissa Harris-Perry Show and The Grio's Top 100. Her Twitter personality has been recognized by Shonda Rhimes as one of her favorites to follow. She is a member of the Critics Choice Association and executive producer of the Black Girl Nerds Podcast.