Guest Blogger
BGN works to feature strong, unique content from writers who…
It's February 2018 and the world hasn't given us much to laugh about. Do yourself a favor and go see Game Night because laughing will indeed ensue. The film provides excitement, comedy, and anxiety all in one silver screen gem. I laughed out loud. I was scared. There were even numerous "OMG" moments. I will be honest, I didn't think it would be that good when I walked in. But, I walked out smiling from an experience that I enjoyed. So, grab your popcorn and laugh with Game Night.
Operation, Life, Battle Ship, Connect Four, Trivial Pursuit, Pictionary, Jenga, Monopoly, Clue…the list goes on and on. I live for these games. The nostalgia of some of them is off the charts. The bonding, the revelations, the fun. It all stems from a healthy dose of competition. Mix in a kidnapping and murder and you have a recipe for success. That is what Game Night is, a successful film that captivates its audience with a twist on the detective genre.
What's cool about this film is that it could be set in any city, in any suburb, with any group of friends. We have all been in a situation that starts off great and ends horribly wrong. That's life, and one of the things that makes Game Night so relatable. The film stars Jason Bateman and Rachel McAdams as Max and Annie, a couple who hosts weekly game nights with their friends. They are all extremely competitive. One night, their game night is kicked into high gear when Max's brother Brooks, played by Kyle Chandler, arranges a murder mystery party complete with guns, criminals, an FBI Agent, and a dossier of clues to solve. Brooks is kidnapped while the rest of the party competes to win the game. The thing is, no one is sure what's real and what's not. That's what makes the film so exciting for the audience, because we have no clue as well.
Comedy films are a hit-or-miss commodity in movie land. There have been so many duds, making genuine laughter had to come by—that's what makes Game Night great. Is it perfect? No, but it's a good time at the theaters, making it money well spent. This film speaks to the audience it's intended for very nicely. It resonates with those familiar with sibling rivalries, family game nights, and total appreciation for competition. Directors John Francis Daley and Jonathan Goldstein, whom, I admit, did not have me excited due to their take on Vacation (2015), left me surprisingly happy with the way they presented the story. It's refreshing. The film is riddled with suspense as the audience tries to figure out what's going on along with the characters. I know what you're thinking, suspense and comedy all in one movie? What the hey! That's what I'm trying to tell you. Game Night is a murder mystery comedy that actually provides humor and edge-of-your-seat action.
Part of what makes Game Night so terrific is the script. Mark Perez has a flare for comedy and it shines through the dialogue. It's been a while since I've seen anything that Mark has written, the last being Accepted in 2006. The script for Game Night is on a much higher level than Accepted. It's a dark sophisticated comedy. It's an action movie at its heart, but the comedy flows naturally. This film has a fantastic script, but also fantastic actors with impeccable comedic timing. Game Night co-stars Jesse Plemons, Billy Magnussen, Kylie Bunbury, Lamorne Morris, and Sharon Horgan; a group I would never have thought to see on screen together, but I'm glad someone did. I must also applaud Kylie Bunbury in this film. A fairly new talent on the big screen, she held her own with the rest of the comedic, Golden Globe-winning, Emmy-nominated, Oscar-nominated cast.
The film's triumphs allow us to complete the game while also looking for round two. Without giving too much away, it seems this film is already looking for a sequel, and I wouldn't be opposed to it. Game Night offers a fresh perspective from its comedy/action counterparts.
---
Written by Catalina Combs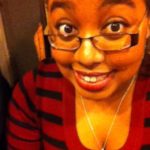 Catalina Combs is an aspiring film critic from California. She loves reading, writing, film, baking, music, drawing, traveling, Disney, and playing soccer. Her life usually revolves around all of these and her family. The oldest of six, Catalina tries to set a good example for her siblings. She graduated from Santa Clara University in 2010 with a BA in English Creative Writing and is pursuing an MA in Film. I also blog on WordPress and contribute to the Examiner.com.
Twitter: @tiggercraze | Facebook: Cat Combs | Instagram: @tiggercraze
Guest Blogger
BGN works to feature strong, unique content from writers who speak to our niche. If you are interested in having your work highlighted contact jamie@blackgirlnerds.com to be featured as a guest blogger on the site.