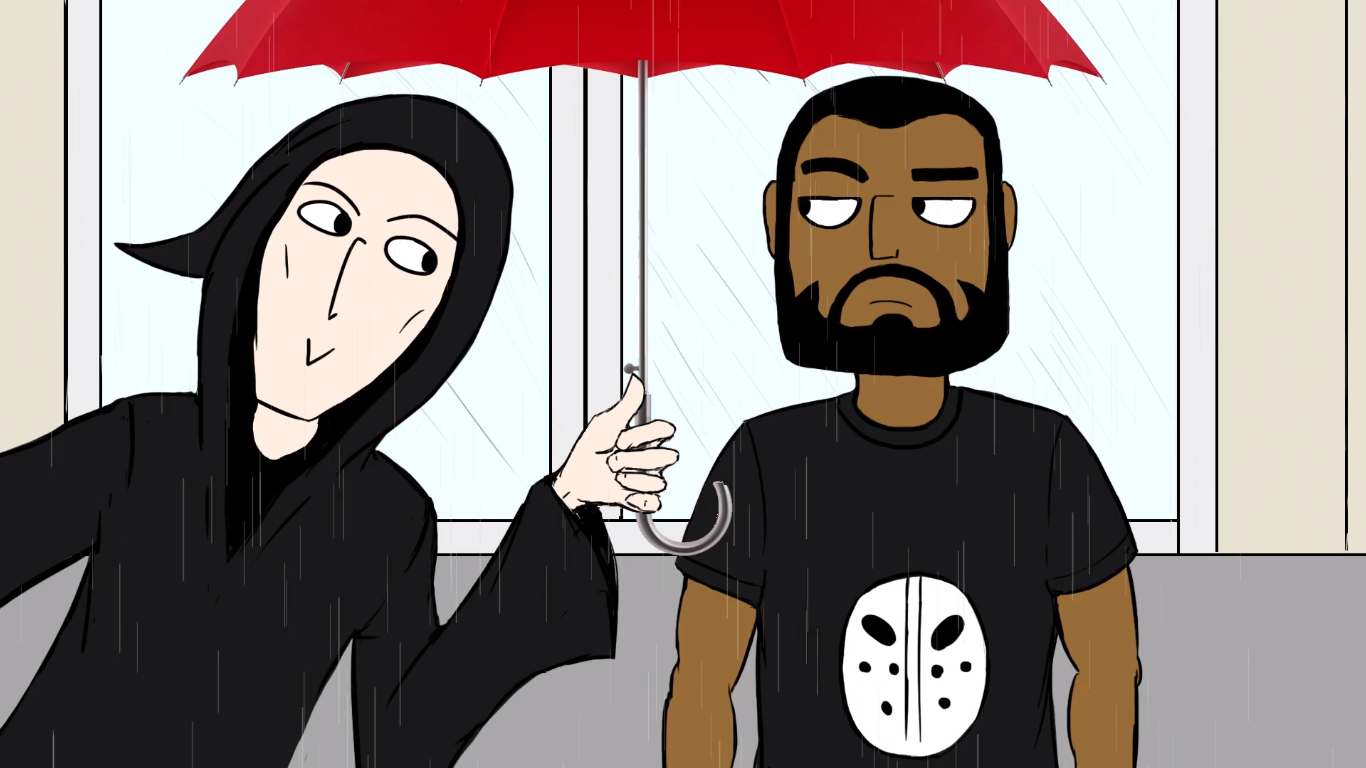 Guest Blogger
BGN works to feature strong, unique content from writers who…
Keith Walker is a NYC-based indie filmmaker, playwright & standup comedian who is proving that laughter is indeed the best medicine. In his work he recounts stories of his life as a cancer survivor using a healthy dose of dark comedy and fanboy humor. With a web series (Chemosabe) and short film (Chemo: A Love Story) under his belt, BGN sat down to discuss Star Wars, showing at Cannes' Short Film Corner, Black-ish, and why Hulu is the best platform for his work.
Black Girl Nerds: The concept for the majority of your work is your experience as a cancer survivor. It's not the kind of experience that most would be open about expressing their feelings on through art. But you have managed to give cancer the ultimate middle finger by turning your own story into a dark sitcom. When did you realize you wanted to tell your life story through art?
KW: I realized at an early age that I wanted to be in the entertainment industry but it wasn't until I watched the ending to one of my favorite films "Annie Hall" in the hospital that made me realize, that I absolutely have to do this! There's a part where Woody Allen's character is creating his first play inspired by the events that happen in the movie. At one point he says "We're always trying to get things right through art, that we couldn't in life". That statement punched me in the gut; I thought, if that character could do it, I could too.
BGN: Humor seems to be an underlying thread throughout your films. How important is the comedic aspect of the stories you bring to life?
KW: I think comedy is the string thing that binds us all together. Also, I think it's easier to educate someone through humor as opposed to preaching to people. Comedy is actually harder than drama in my opinion; comedy is so subjective and means so many things to so many people. I actually like the challenge; Cancer itself isn't funny, but there are observations one could make about the situation of having cancer that lends itself to comedy. For instance, paying the light bill or paying for the medication, that will literally keep the "lights" on in your life. Through the exploration of weighing what's worse, hopefully, the comedy falls from the heavens like Manna.
BGN: Fanboy humor and pop culture references seem especially important to your characters, as they reference everything from Star Wars to V for Vendetta…What are some of your inspirations for writing dialogue?
KW: I pretty much write how my friends and I speak; it's pretty fast paced. Also, growing up on Joss Whedon will do that to you. ha. I'm also a big fan of random references, if you look at the first episode of Chemosabe; I'm wearing a Blacula shirt.
BGN: Ultimately, what do you hope to accomplish through your vision as a filmmaker?
KW: I love telling stories that explore the human condition and all of its absurdities. I hope the takeaway is that there is no such thing as "normal" and that people should take pride in their own eccentricities.
BGN: Outside of screenwriting and directing, you have also done standup at NY comedy clubs and writing plays, as well. Can you tell us a little bit about that?
KW: Yes! I actually started out doing stand-up. To piggy back off the last question, I got to explore the absurdity of human nature and subvert stereotypes that have, unfairly, been given to me and so many other people of color. Growing up in Oklahoma in an all white town was dangerous terrain; it was my great aunt who really encouraged me to write about my experience and through that, I found the comedy of what it was like to be the only black kid in class until my freshman year of high school.
BGN: Your first short, Chemo: A Love Story competed at Cannes' Short Film Corner in 2012. What was that experience like? How was your short received?
KW: My very talented DP, Chantal Eyong submitted "Chemo: A Love Story" to several festivals and one day she emailed the acceptance letter. It's funny, because we met on OkCupid, we really didn't have a romantic connection but we hit it off as far as filmmaking. If it wasn't for her encouragement and attention to detail I wouldn't be where I am right now. Also, I actually hate award shows. In my opinion, I could be working on something (anything) else as opposed to the self congratulatory silliness that is award shows
BGN:  Are you currently working on any projects, conceptually or otherwise? [Even just writing counts, they don't have to be "in development"]
KW: Oh gosh… 2018 is going to be insane… I'm filming a new web series called "Betas". It's about a platonic friendship and how they navigate the dangerous terrain that is New York. I've heard several people actually say " women and men can't be friends". I think that's absolute bullshit, so I just wanted to create a show that celebrates platonic relationships.
I'm also coming out with a new short film about a black man coming to terms with his mental illness.
As well as a new Podcast called "The Grudge", a podcast for people who hold grudges and for grudges that have a hold on people. This podcast will explore the grudges that have shaped and molded us into who we are for better and for worse.
BGN: Your work gets picked up tomorrow by any production company, tv station, streaming service, etc. Which would you pick? Why?
KW: As much as I love Netflix, I'm going to have to go with Hulu, Netflix is over saturated with original series and I think they could use a series with a black lead, creator and show runner. Seriously, Hulu needs to get it together!
BGN:  Last favorite movie?
KW: Wind River was phenomenal! It's about a wildlife officer who finds the body of an 18-year-old woman on an American Indian reservation in snowy Wyoming.
BGN: Current favorite TV show or web series?
KW: Favorite TV show is difficult… Blackish is killing it this season but I think I may have to give it to "The Good Place". It's creative, it's fun, I love the representation on the screen and it keeps me guessing where the story could potentially go!
BGN: Comic/graphic novel to TV/movie remake. The Good, the bad and the ugly. New or old. Go!
KW: Sadly, I've actually fallen off reading comics, I just don't have as much time as I used to. Boring answer I know but thus is life. Haha. Unless I didn't understand this question and I'm just fool. To be honest, I must have stared at this question for a good 15 minutes going "I'm not sure what she's asking". Unless you're asking me to name specific comics, novels and TV movies as such. In that case.
BGN: From depression to eating disorders, it seems like TV shows, books and movies that talk about the darker side of human experience are becoming more trendy…Do you feel that enough is being done to tell those stories?
KW: I don't think there are enough of these shows at all and the ones that do exist are not daring or real enough for me. Never go for the kill when you can go for the pain, I think that's exceptionally true when it comes to writing stories that deal with our humanity. There's so much to explore and I think we've only scratched the surface as far as the stories we see of us on TV.
Vimeo: https://vimeo.com/user37489410
Twitter: https://twitter.com/keithwalker456
Nadia Carmon is a freelance writer and web developer-in-training based in New York City. She is also a budding screenwriter with two produced short films to her name. As a creative professional, she has always been passionate about helping to bring other people's works of art into the spotlight and continues to search for ways to help new and undiscovered talent.
Guest Blogger
BGN works to feature strong, unique content from writers who speak to our niche. If you are interested in having your work highlighted contact jamie@blackgirlnerds.com to be featured as a guest blogger on the site.