Joi Childs
Joi is a Marketer, sarcasm enthusiast and podcaster/writer for Black…
STEP was released in theaters on August 4th to rave reviews. The documentary centers around high school seniors Blessin Giraldo, Tayla Solomon, and Cori Grainger as they juggle a major step show victory, college applications, and everyday young adult complications.
In addition to sitting with their college counselor, BGN sat down with Blessin, Tayla and Cori. Read our discussion on having cameras in your house, what this film could mean for Black girls and that memorable Black Lives Matter step tribute.
If you come together with a group of powerful women, the impact will be immense | STEP. A real life story | In theaters 8.4.17 #StepIsLife pic.twitter.com/fpqMzJ9QW8

— Step Movie (@stepthemovie) April 13, 2017
Joi: Talk about the process of getting this documentary made. You obviously have people following you in your home, your school, and during your day-to-day lives. How did you ignore them as you were following your daily routines?
Cori: It was easy because it was what we were doing all along. It is a documentary, it's not a movie with a script or a plot or anything. So we were just living our daily lives. Doing what we felt like we were supposed to do. Whether or not the cameras were there, we were gonna be going to college. Whether or not the cameras were there, we were gonna be on the step team and trying to win competitions. And so, it was not that big of an adjustment to have the cameras follow us. Also, we were familiar with the cameras because the director, Amanda Lipitz, was coming to our school to do promotional videos to help fundraise. Since we are a part of the founding class, we started off with very humbled beginnings. She [Lipitz] was always in and out of the school. And so we were pretty comfortable with her in the first place.
Blessin: Agreed. I had way more going on to put my focus and energy in, rather than being on the documentary. So the cameras were more like a fly on the wall. I had family issues going on, tryna get into college, tryna win a competition, tryna be a good character and a great sister. We had a really good camera crew.
Tayla: The camera crew was great. The cameras were just there, and they were really great people.
Blessin: They were kinda like family. Seriously. And that's why I think our stories came across as, "aww man, is she really gonna talk about that right now?" For one, we had a purpose. We really wanted to help girls who wanted an education but didn't know how. At least that was my vessel, that was my lane. Because I was the girl that didn't have the best GPA, but I never once said, "I don't want to go to college! I can't do this!" I always wanted to get to college, somewhere and somehow and I didn't care what that paper was saying. Because I knew what was in my brain. And I knew what I was capable. With that being said, I wanted to show people the ins-and-outs of the process of getting to college. Sometimes, a college is gonna deny you. But with the help and support of your sisters, you can do pretty much anything. And the camera crew was really like family, so it didn't matter.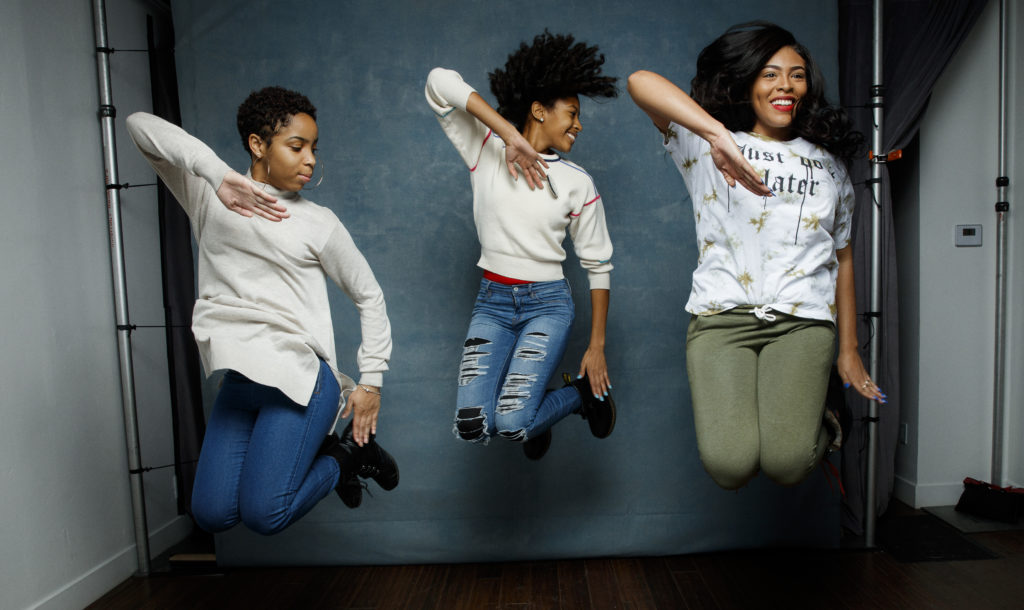 Joi: The film focuses on your incredible talent of stepping. One of the highlights of the film was your step about Black Lives Matter, highlighting the death of Black boys and girls, not only in Baltimore but across the US. Talk about the process creating that routine and emotions that go along with it.
Tayla: Coach wanted to bring awareness to the entire BLM movement and we wanted to educate through that performance. That performance was one of our most powerful performances. You can feel it when you walk in the audience room. They were really engaged and it was, for us, educating. Not only for them but definitely for us to inform ourselves on [the fact that] it could have been us. Police brutality doesn't happen to other races necessarily as much as it does to African-Americans. So yes, a lot of things go on and a lot of situations happen but no one really put as much effort into Black lives more than Black people. This was more important to us, not to win the competition but to get the message across that Black lives do matter and it could have been us. And that police brutality does discriminate against us.
Blessin: For me, there's little Black girls from the hood who aspire to go to college, a lot of people overlook us and don't want to listen who what we're saying. But for us to be steppers and performers, we know that while we're on that stage, while we have those 5 minutes of fame we're gonna make the audience listen to us. With the help of Coach G, like Tayla said, she brought out different sides of us. She challenged us in what we wanted our message to be. So we thought if they're not gonna listen to us and they're gonna continue doing injustices every day, how about we educate the audience. How about we get up there and make you listen to us about whatever we choose to. So if Black Lives Matter was on our hearts, then that's what we were gonna talk about. Because that's something we live through, that's something that we go through. So that's why we decided to incorporate that, because we used to do tributes to the amazing Beyoncé, we did Rihanna. But it was time for us to step it up. It was our senior year, we wanted to leave a legacy and we wanted to go out with a bang.  
Cori: We went from entertaining to educating and stepping with a purpose, which is the reason why a lot of us actually step.
Blessin: Honestly, I think I fell more in love with step senior year.
Cori: yeah, same.
Joi: You all made great points about being ignored as a Black woman and as Black girls. From your experiences, going through college and starting adulthood, what would you want to say to young Black girls watching your film and trying to figure out who they are in a society that wants them silent?
Tayla: I would say don't be afraid to speak up for what you believe. Don't let people knock you down, and surround yourself with people who are gonna support you. If they see you messing up, then they're not afraid to check you. Accept tough love. Because our principal at our high school — it was her first year — and she was really, really hard on us. We were like "who is this lady coming in, being all hard on us? And why does she want us to have our uniforms tucked in?" But it really dawned on me that we weren't as accepting to her. Now we appreciate her so much. She definitely encourages us to be great, inside our school and even after we graduated. So just be accepting of all the tough love that you have and make sure you're around people who've been in your shoes but want to see you do better than them. They will continue to help you no matter how old you are or how many miles away you are apart.
Blessin: I'm gonna keep it real short and sweet. This world is full of competition. Now we know Black girls are full of so much magic. But I want to let you know that you're gonna be different, and most of the time, you're probably gonna be the minority. But I need you to understand that you have to stand up and represent for a generation because now it's a bigger cause than you. It's bigger than you, it's bigger than your home environment, it's bigger than where you come from. Now you're representing your [people]. So just know that everywhere you go, you have to show people, educate them, and let them know what we're capable of. The possibilities are endless. You're not alone, you're a trendsetter, you're a trailblazer and you're very capable. You're more than capable.
Cori: What's for you is for you and you need to focus on that. Don't compare yourself to the next person because no two people's walks are gonna be the same. If you really just set a goal and you figure out how you're gonna do it, you make that blueprint and then you find people to support you. Then anything is really possible. A lot of times when we make big dreams when we're young, we talk ourselves out of it because it seems impossible. We want to be doctors until we take that chemistry class in college. But nothing worth having is gonna be easy. You have to work for everything you want. If you just stay focused on you and find people who are also focused on helping you succeed, then you can do anything.
STEP is in theaters now.
Joi is a Marketer, sometimey writer, sarcasm enthusiast and podcaster for Black Girls Nerds. You can also find her on Twitter (@jumpedforjoi) tweeting about random stuff.
Joi Childs
Joi is a Marketer, sarcasm enthusiast and podcaster/writer for Black Girls Nerds. You can also find her on Twitter (@jumpedforjoi) tweeting about the intersection of marketing, nerd, and tech.