By Lynnette Nicholas @truelylynnette
"The hand that holds the pen writes history."-Knightley's Colette
Wash Westmoreland's Colette, starring Kiera Knightly (Colette) and Dominic West (Willy) is a beautiful film that is provocative and timely. Colette is a biographical film inspired by the life of Sidonie-Gabrielle Colette. She's a 19th-century French writer nominated for the Noble Prize in Literature in 1948, who was not afraid to challenge gender and societal norms. The film centers upon her first marriage, when as a naïve, country girl Colette marries "Willy", a worldly Parisian who has found success as a writer.
Colette is soon convinced to ghostwrite for her husband. With her writing, the "Willy" brand sees great success. Her works become bestsellers and thus, cultural sensations. She later fights to gain creative ownership of her written works. The film Colette takes us on a journey as we watch a young, countryside girl morph into an influential woman. The more mature Colette is not afraid to define her own identity, sexuality, and destiny.
Colette is a 19th woman who is ahead of her time. Colette's marriage to Willy is unconventional, to say the least. Willy has a predilection towards sexual promiscuity, but that does not upset Colette as much as dishonesty. She too has proclivities of her own as a married woman–other women.
This film gives a thorough depiction of her affairs with other women. After a dinner party late one evening, she replies to her husband in response to a series of events that occurred at their dinner table, "Your jealousy is misplaced. It's the wife that I found interesting." With the permission of her husband, she embarks on a series of relationships with women. Highlighted in the film, are her relationships with Missy (Denise Gough) and Georgie Raoul-Duval (Eleanor Tomlinson).
It is evident early on that Willy (West), needs her much more than she needs him. At one point, Willy locks Colette in a room to finish writing for him. Under the direction of Westmoreland, West gives such great attention to clearly denote the societal norms of the time. It's so evident that one can't help but have empathy for Willy. He truly believes that it is his right as a man to take public credit for the skill set of- the woman.
Though societal norms of the time would beg the differ, Willy is the weaker vessel. He exploits the talent of his wife for material gain, lacks discipline in his own spending and lifestyle habits, and feels threatened when Colette wants to take creative ownership of her own stories. This narrative can easily be interpreted as a euphemism for women reclaiming control over their own identities.  Yet, the complex part of this film's narrative is that it appears that Colette and Willy truly loved each other. As Colette uses the power of the pen, she comes to understand that embracing who she really is; is the only way to live.
At one point, Colette quips "You found me when I knew nothing. You molded me to your own desires. You thought that I could never break free. Well, you are wrong." Throughout the film, there is a power-play, and the transition from traditional husband and wife to equal business counterparts is evident and magnified.
Colette questions the function of marriage and even ponders, "Is marriage, but a business deal?" As the lines of what their marriage is beginning to blur, something becomes evident. Colette does not have a desire to put on the heirs of high society etiquette. She'd much rather dance to the beat of her own drum, and she does so unapologetically.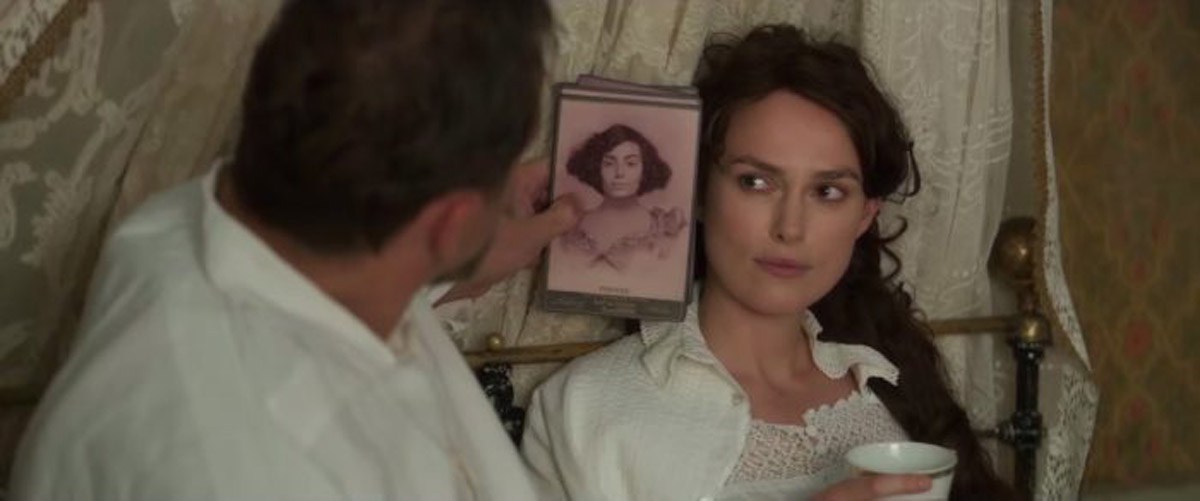 Keira Knightley wholeheartedly inhabits the role of Colette. As Colette, she exudes an innate confidence and strength that seems intuitive. Knightly gives a layered, well-informed portrayal of Colette. She navigates within the identity of Colette in a manner that truly shows a woman that is unafraid to test new waters in a time and place where women were conditioned to stay in their place.
Dominic West gives such a nuanced portrayal of Willy that you come to see Willy as a complex man who is charming, enterprising and diplomatic. While it would be all too easy to sum him up as a man who took credit for his wife's work, West's Willy allows us to see a man who's not only selfish but compassionate. Not just a whoremonger, but a man with a thirst for life. And not just an exploiter, but rather a man who loved a woman, who loved women.
Westmoreland's Colette is not the typical stuffy period piece. This screenplay written by Richard Glatzer, Rebecca Lenkiewicz, and Wash Westmoreland gives a fresh take on female empowerment that is not the least bit didactic and redundant, but rather inspirational. While it's a 19th-century biopic, it is executed with great attention to historical context coupled with modern, progressive ideologies.
Both mature audiences, as well as millennials, will be drawn to Colette. The musical score of Thomas Ades is a great asset to this film. Giles Nuttgen does a wondrous job of capturing beautifully lit country-sides and luscious gardens. The costume design of Andrea Flesch, alongside the set decoration of Lisa Chugg and Nora Talmaier, make for a beautiful film.
Colette opens nationwide on September 21, 2018.
For more of our reviews from TIFF check out the following:
Lynnette Nicholas
Lynnette Nicholas is a NYC based writer, freelance journalist and voice actress. She writes about: women, black women, parenting, faith and pop culture. You can find her on Twitter posting inspirational content for women and young girls (@truelylynnette), or Instagramming (@lynnettenicholas).