While the pandemic may change many of our typical Valentine's Day plans, or Galentine's Day for all of our Parks and Recreation fans out there, that doesn't mean there has to be any less love.
There are many of us that can't go to restaurants, visit partners and other loved ones, or even go out shopping for gifts. However, there are still options to give anyone something special, no matter how far apart they may be.
BGN has compiled a Valentine's Day and Galentine's Day gift guide, because whether it's with your partner or your gals, there's plenty of love and lavish to go around in many different ways.
So, without further ado, we're going to share some of the best online order buys. From classic to creative, we want to give all of our readers reasons to totally nerd out based on their favorite things.
The Boujie Nerds
Let's face it, many of us and our loved ones enjoy upscale and luxurious things. There's nothing wrong with wanting to be spoiled with the finest every now and then, especially with the right products.
This list is for our peeps who love to be silky smooth and smell like they just rolled around in a pile of roses.
Many of us have a satin bonnet that we enjoy using at night to keep our curls intact. However, most of them are nothing compared to the silk from MYK Silk.
Created with soft and refined mulberry silk, these sleeping caps, pajamas, bedding, and even scrunchies are the sheer definition of glamorous.
With everyone staying home more often during the pandemic, these silk products are perfect to make staying at home feel like a visit to a 5-star spa.
Plus, MYK Silk has a Valentine's Day special that features 20% off site-wide for several silky items.
For those in favor of the fancy, one item sometimes isn't quite as fulfilling as a box of goodies, and Masami's Taste of Luxury Gift Box does the trick.
Their dedication to hair moisture, skin health, ,nutrients and refreshing scents is truly a game-changer in the beauty world. Their products also work great on various hair and skin types.
The Taste of Luxury Gift Box includes the Masami Mekabu Shampoo and Conditioner, the Serucell KFS Cellular Protein Complex Serum, Hand and Surface Sanitizer, an Isle de Nature scent coir, Romer Skincare's Nourishing Gel-Oil Cleanser, and Veronique Gabai fragrance sample for around $85.
These items come in a limited edition; handmade Bento Boxes that smell good enough to eat.
Our loved ones with hair and scalp problems often get left out of the mix when it comes to receiving hair care products that they can actually use.
For those with dandruff, scalp sensitivity, eczema, and other irritations, typical hair shampoos and conditioners just won't do. Luckily, Hello Jupiter has all hair and scalp types covered.
Perhaps a true match made in heaven, their Balancing Shampoo and Nourishing Conditioner are two household items known for their treatment for scalp redness, itchiness using natural ingredients to both clean and hydrate the hair.
They also have hair serums, masks, elixirs, and even scalp brushes to provide a complete self-care spa session with giving a flake who cares.
The Pop Culture Nerd
This section is one big love letter to our anime watching, video game playing, television binge-watching friends who love, maybe even are addicted to, buying and collecting the merch from their favorite fandoms.
There are some great options to give them exactly what they pine for while also making sure to stay true to the Valentine's and Galentine's Day theme.
There aren't many pop culture nerds who can resist feeling more than a little lovesick for Loot Crate with goodies in the February Loot Wear box that features movie and show favorites like Wall-E, Edward Scissorhands, Gremlins 2, Bob's Burgers, Looney Tunes, and Disney Villains.
It's part of Loot Crate's Loot Wear line that's perfect for keeping warm during the winter months while allowing everyone to hold their nerd flags high.
The Lovesick-themed line of Loot Wear starts at $9.99 plus shipping. Possibly the best part is that Loot Crate allows people to mix and match their favorite clothing or simply order them all. This is a limited box, so be sure to order before or after Valentine's by February 19 at 9pm PST to pick up a box for bae, bestie, or both.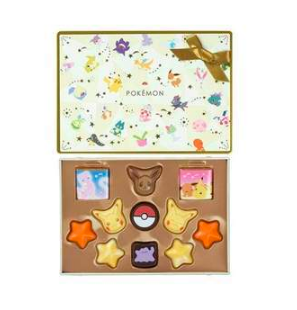 All Kawaii culture-loving folks with a sweet tooth are about to fall head over heels for Sugoi Mart, that is if they haven't already.
Their anime-themed chocolate boxes are dangerously dote-worthy and delicious. From Pokemon to Sailor Moon and many more, this adorable Japanese mart has all the love and sweetness anyone could ask for.
They even have Sailor Moon lipstick chocolates and classic Disney themed chocolates. Ranging from $15 to $40 depending on the box size and brand, these chocolates are great for any budget.
Love Pop takes classic Valentine's Day and Galentine's Day cards to the next level. These aren't just pop-up cards, they're nerdy 3-D cards.
They have a heart-melting BB-8 pop-up card and other Star Wars ones, along with their stunningly suspenseful Nightmare Before Christmas cards. There's even (gasp) a Deadpool one.
Depending on the card, they can range from about $15 to $40 and more for bundles. They're not just cards, they're excellent home décor as well.
The Nerd of All Trades
A lot of people may think that a nerd of all trades simply equates to someone who loves everything, but there's definitely some discernment between what they enjoy or dislike. It just so happens that they can appreciate a broad range of goodies.
Let's just say they aren't just mixed baskets, but they also love mixed baskets of goods. Thankfully, we've found combos to give them a taste of all of their favorite flavors.
Reading the name of this website may sound a bit generic and cliche, at first. However, after one video watch of these cakes in action, customers soon realized that this actually entails an entire production.
Their special Valentine's Day box includes a Love Explosion Gift Box, a Red Velvet Sparkling Cake, a Flying Butterfly Surprise, and a Flower Shower.
Prices start at around $60 per box.
It's a classic Valentine's and Galentine's Day gift with a little extra snap, crackle and pop.
That's right, Anima in Bloom is no ordinary place for handcrafted home and skincare goods, it's all about harnessing mystical power and shopping with intention. Afterall, Anima does mean soul, and this shop has lots of that.
The Mighty Aphrodite Intimacy and Self-Love Gift Set is perfect, as it includes a lavender and vanilla candle for self-love and romance, a pumpkin spice candle for transformation, vanilla sweetheart soap, amethyst bath salts, an amethyst cluster, and more.
It's a great bundle for couples or for a magical self-care ritual and runs for around $83.


Danielle Broadway
Danielle Broadway is an English Literature MA student at California State University, Long Beach. She has been published in Black Girl Nerds, LA Weekly and Medium, is a writer for CSULB's the Daily49er, is a managing editor for Watermark, her school's academic literary journal and is an assistant editor at Angels Flight • literary west. She's an activist and educator that is inspired by her family to make social change both in the classroom and beyond.