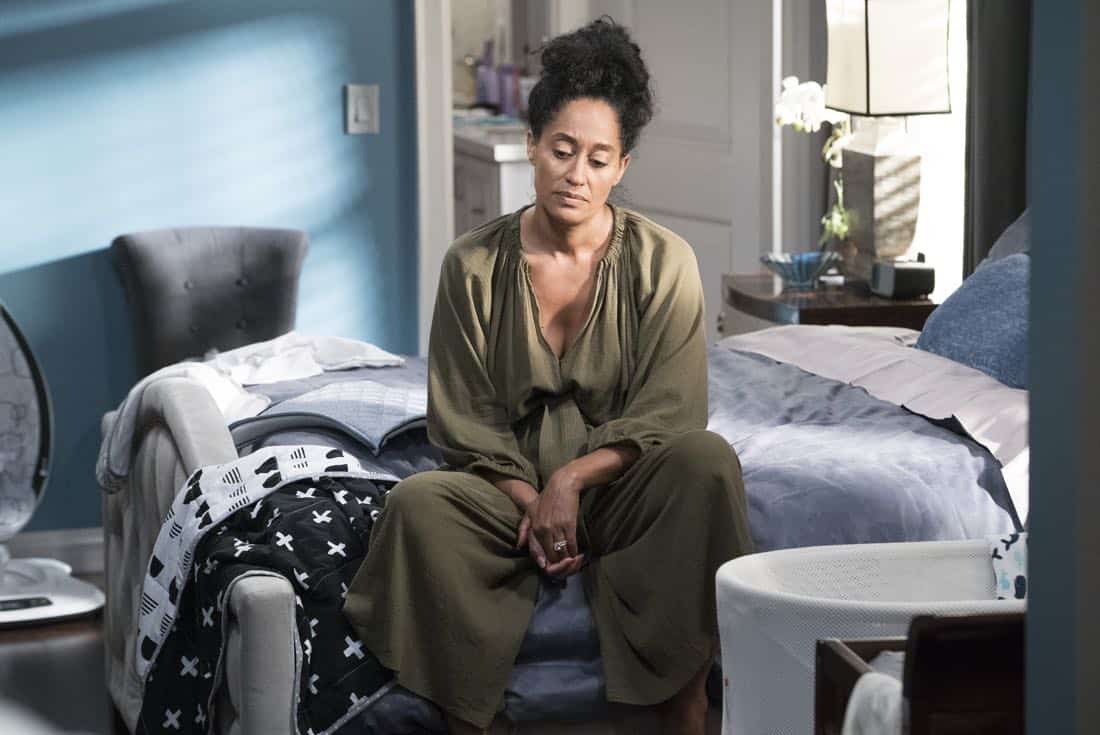 Carolyn Hinds
Carolyn is an aspiring film critic, Bajan nerd living in…
"Mother Nature," black-ish's second episode of the season, addresses the topic of postpartum depression, following a season-opening that shook the Twitterverse, the black-ish writers delivered another brilliant thought-provoking episode.
With Bow feeling sad, unsure, and confused, the kids notice their mom isn't quite herself. To help out, they decide to split household responsibilities, and somehow Junior ends up caring for baby De'Vante (lawd, help that child). Instead of empathizing, Ruby declares Bow as being "weak," Pops seems completely disinterested, and Dre wonders when his wife will be back to her normal self.
While discussing Bow's emotional state with his co-workers, Dre expresses his frustration about not being able to help Bow, and surprisingly Josh is the only person who figures out that Bow may have the "baby blues." Granted, Josh only knows about the baby blues because his cat went through it, but for once he actually said something sensible, so he gets the gold star this time. Back in the day, the term "baby blues" was used to describe that feeling of sadness or blues that some new mothers experience after giving birth. Thankfully, over time doctors diagnosed these feelings of anxiety and helplessness as a clinical condition now known as postpartum depression.
After taking what Josh said into consideration, Dre has Bow answer magazine quizzes and she agrees to see a psychiatrist even though she doesn't think she has postpartum depression. During their session, Dre somehow makes Bow getting better about him — he was more concerned about Bow losing weight from breastfeeding than her reason for doing it (Really my guy?).
As Bow is coping with her anxiety and low self-esteem, Ruby takes it upon herself to feed De'Vante formula instead of Bow's breast milk. When Bow discovers this, she finally loses her patience and gives Ruby the cussing that has been long overdue. For the last three seasons, we've seen Ruby completely disrespect Bow, make fun of her heritage and a whole host of others things, but Bow has had enough. I was so happy to see Bow finally stand up for herself — here was where Bow drew her line and I've never been prouder. A woman who is going through what Bow is experiencing does not need anyone around her who is unsupportive, so it was time for Ruby to get to stepping.
With time, Bow begins to feel better, she's smiling a bit more, Ruby returns to apologize to Bow for her callousness (but is still not allowed back in the house) and vows to do better and be more supportive. Bow explains to the children that what she has been going through is something that some mothers go through, and she appreciates all of the help and patience the family has been showing her.
I loved this episode not only because the topic was timely with October 10th is World Mental Health Day, but also because this show continues to deal with topics that are often overlooked in Black families, not only in North America, but in the Caribbean and all over the world. In the Black community, mental health is a subject that was often brushed aside or completely ignored. black-ish dealt with it last season when Bow and Dre go to therapy, but it's great to see them tackle it again. black-ish is showing that it's ok to admit when we're not feeling 'ourselves,' and that seeking out professional help is nothing to be ashamed of.
Visit postpartum.net learn more about postpartum depression and how to seek help.
My Episode Musings
Tracee Ellis Ross was amazing in this episode, I cheered her on when she cussed out Ruby and was close to tears when she broke down afterward.
I am really worried about Junior, that boy got issues.
Diane continues to troll Charlie, and his fear of her continues to be hilarious.
black-ish shows every Tuesday at 9 p.m. ET, follow the show on Twitter @black_ishABC 
Carolyn is a Bajan nerd living in Toronto, Jane Austen fan. I enjoy speculating on plot theories for my favorite TV shows, such as The Walking Dead, The Expanse, and black-ish. I will do karaoke anytime, anywhere.
Carolyn Hinds
Carolyn is an aspiring film critic, Bajan nerd living in Toronto and an avid Jane Austen fan. I enjoy speculating on plot theories for my favorite TV shows, such as The Walking Dead, The Expanse, and black-ish. Oh, I will do karaoke anytime, anywhere. Follow on Twitter @Carriecnh12