Guest Blogger
BGN works to feature strong, unique content from writers who…
Written By: Rasha Aly
On June 8, 2022, Marvel will make history.
Muslim Brown girls, across the United States, will sit, their eyes glued to TV screens as they watch the new Disney Ms. Marvel series debut. For the first time in comic screen history, they'll watch a Muslim Southeast Asian superhero save the day as she joins the Avengers.
Kamala Khan, aka Ms. Marvel, is the first Muslim comic book character across all comic universes, not just Marvel, to have her own TV show.
"For one, obviously, Ms. Marvel, as a character, was groundbreaking as you know, the first Muslim superhero to get their own series with their name on the title," said Blair Davis, an associate professor of media and cinema studies at DePaul University, during a Zoom call. "That, itself, is groundbreaking. So, then, by extension, to have a television show like that — it just opens up the possibilities of who gets to be a superhero but then also, who gets to star in a prominent role as part of a major franchise, so it's widening the amount of voices that can be heard from and represented." Blair, a comic book fan, focuses her research on comics, pop culture, and Marvel.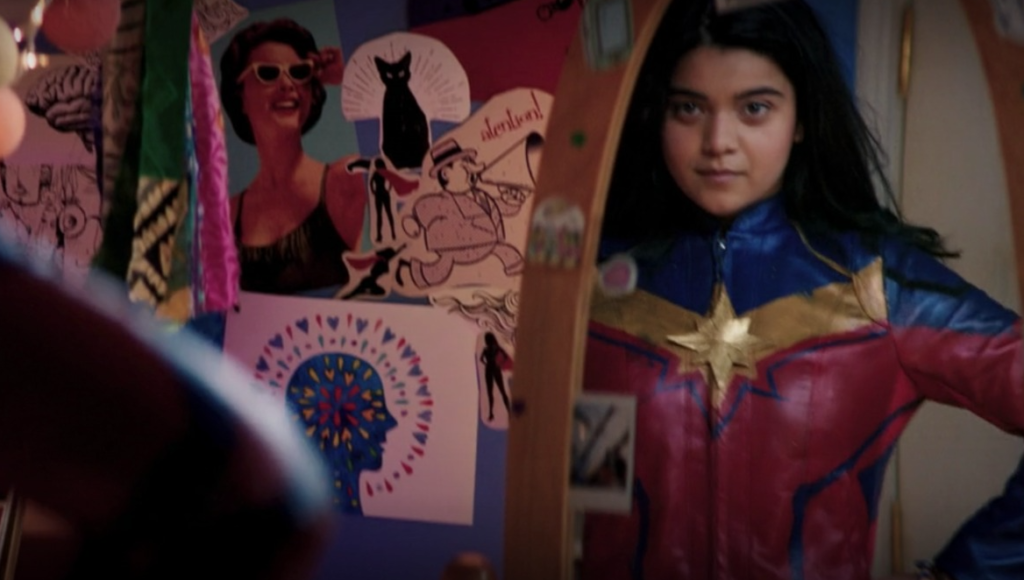 Marvel comics introduced Kamala in 2013. She becomes the new Ms. Marvel, taking over Carol Danver's identity, as Danvers becomes Captain America.
It helped that comic writer, G. Willow Wilson, a Muslim convert who's familiar with many issues young Muslims face when trying to fit into American society, authored the series. According to Davis, Wilson is a pro at writing of these common teenage Muslim struggles into the story's plot.
"[Kamala] was created with the idea of creating a character that would appeal to perhaps a wider range of audiences within comics," Davis said.
In the series, Kamala is a 16-year-old Muslim second-generation Pakistani who is navigating her identity through high school. Before acquiring her superpowers, Kamala is already dealing with teen angst, especially with being an adolescent Muslim trying to assimilate with the "normal" crowd.
Then, the improbable occurs. Kamala receives the superpowers she has always wanted. A shapeshifter, she controls her body's shape and identity. But she discovers superpowers don't make her feel normal.
In fact, Davis says Kamala's inner identity turmoil is what allows her to be relatable to everyone, not just Muslim girls or girls with a Middle Eastern or Southeast Asian background.
"She has been constructed as a well-rounded human being, very, very quickly by G. Willow Wilson within the pages, so it is all the easier for the reader to identify with her hopes and concerns on a much more universal level, regardless of one's age, gender, race, or class, because of just how well constructed she is on the page," Davis said.
An expert in the Arabic language and fictional media, Christa Salamandra, who's also a professor of anthropology at Lehman College and the Graduate Center, agrees with Davis. Salamandra has not followed the Avengers as closely as Davis, but upon hearing of Ms. Marvel, she started paying closer attention. Salamandra keeps a watchful eye on how Islam is portrayed in entertainment and said it was a nice change to see a positive portrayal: a Muslim girl with superpowers.
In another Zoom call, Salamandra said Ms. Marvel's character is groundbreaking in another way too. She may be a teenager, but she's helping change Southeastern Asian and Middle Eastern Muslims stereotypes.
Throughout American history, the entertainment industry had portrayed Muslims as terrorists or barbarians. There's Arnold Schwarzenneger's True Lies (1994) featuring the fictional, terrorist group, "Crimson Jihad," whose members consisted of superficial, irrational, and evil characters. Some may mention the recent TV series, The Bodyguard (2018). One of the characters, a Muslim woman donning the hijab (the scarf many Muslim women use to hide their hair) is another terrorist who wears a suicide bomb vest when viewers first see her.
Most, however, recall 1992's Aladdin, also a Disney-produced, animated film. The movie's opening song includes the lyrics, "Where they cut off your ears, when they don't like your face / It's barbaric, but hey, it's home." Only after obtaining approval from the late lyricist Howard Ashman's estate and his collaborator and composer Al Menkin in 1993, Disney changed the lyrics to, "Where it's flat and immense and the heat is tense / It's barbaric, but hey, it's home." Meanwhile, both musicians won Academy awards for their original lyrical contribution to the movie.
But Ms. Marvel is different, Salamandra said. "It's a little girl. That is what is so empowering," she explained. "It's a Muslim, little girl with superpowers — that is progress."
Salamandra continued, "It's the portrayal of a believing Muslim, who is not violent, who is not a terrorist, [but] who is forward-thinking. We haven't seen that in mainstream Arab depictions."
There've been recent shows with positive Muslim portrayals, but their platforms aren't as large as Disney. There's Hulu show, Ramy (2019), whose starring actor, Egyptian American Ramy Youssef, won the Golden Globe in 2020. However, the esoteric show has a niche audience, Salamandra said.
Another example Salamandra gave was Little Mosque on the Prairie, the six-season, Canadian sitcom that follows a mosque congregation set in the fictionalized town of Mercy, Saskatchwean. Few Americans heard of the show due to its Canadian platform.
Neither of these shows had the large audience Disney is expecting for Ms. Marvel.
"I think Disney is taking a step in the right direction," Salamamdra said. But more still needs to be done to correct the stereotypes the showbiz industry created. "I think it is a step," she continued. However, "one media production doesn't have the power to erase decades — even centuries of negative stereotypes. I do think it is a great leap forward in terms of the humanism of the depictions."
In the comic world, Davis was also quick to say Ms. Marvel is not the first Muslim superhero. Dust, whose real name is Sooraya Qadir, debuted in 2002 fighting alongside the X-Men. Dust, an Afghani dressed in the niqab (a Muslim dress that covers a woman's body except for the eyes and is not worn by all Muslim women) has the ability to transform into and control shapeable sand forms. Before Dust, an Algerian superhero, Kismet, Man of Fate, appeared in the Bomber Comics #1 edition in 1944, making him the first Muslim superhero.
Davis, who recently co-authored Comic Book Women: Characters, Creators, and Culture in the Golden Age, with Peyton Brunety, mentioned that Ruth Roche, a major figure in comic history and a figure discussed in his book, greatly contributed to the Kismet's creation.
Marvel's new series is part of a larger trend of diversifying the comic book superhero world. In the past year, Marvel introduced fans to Shang-Chi, a Chinese superhero with phenomenal martial arts. Moon Night offered Layla as the first Arab superhero. Marvel future characters also include Echo, the first deaf and Native American superhero, and Riri Williams, a young Black girl who's a genius inventor, who takes over for Ironman.
The first episode of Ms. Marvel will be released on June 8. Disney will release new episodes on Wednesdays through July 13.
Guest Blogger
BGN works to feature strong, unique content from writers who speak to our niche. If you are interested in having your work highlighted contact jamie@blackgirlnerds.com to be featured as a guest blogger on the site.