Guest Blogger
BGN works to feature strong, unique content from writers who…
Ghosts are not as magical as fairy tale creatures coming to life, but I did love the detail of the flicker on this week's Once Upon a Time. It was very Supernatural of them. David saw the ghost of his father, which put him on a straight path to vengeance. But who was this week's episode really about? If you ask me, it was Captain Killian "Hook" Jones. The daddy drama between David and his father, Robert, was all well and good, but it was Killian's struggle with his self, with Emma, and with David that really made this episode.
Killian started the episode all smiles as he was included in the "glad you're not dead" family toast. David ruins the night by being haunted by his father and turning into a jerk. So technically, it's papa Robert's fault. This haunting makes David forget what this pirate has done for him and his family. He snaps and, ironically, Killian is the only one who sees it. Killian is so confused, he seeks help from "the cricket," Archie.
The emotional roller coaster isn't over as David enlists Killian's help to steal stuff and do things both Snow and Emma would frown upon. Of course, Killian would be torn. He is trying to ask for David's blessing, so he needs to be on his good side. I like how Once throws in Emma's superpower, just in case we forgot. We don't forget. The budding bromance between Killian and David, has been a long time coming. The awkward jokes and one-sided laughs were great to watch. Who knew the level-headed one would turn out to be Captain Hook and not Prince Charming. Prince Charming seriously had mid-life crisis this episode, while Killian solidified his good side stance.
Throughout the episode, we were reminded that "family is everything." Well, David sure was blind to that fact. Killian, for all intents and purposes, is family. He's with Emma, they live together, and they love each other. Of course, his family identity wasn't solidified until he asked David for his blessing to marry Emma. Yay!
I'm happy that finally happened. I am happy Killian is going to ask Emma to marry him. What I'm not happy about is how Once likes to play with our emotions. As if lying to the woman you love, talking your future father-in-law off the edge, and bonding over potion making wasn't enough of an emotional roller coaster, Killian now has to deal with the repercussions of finding out he was the one who killed David's father. What they heck, people? Why can't Killian just be happy? Oh yea — that whole "villains don't get happy endings" thing.
So, how is this going to play out? I am excited to have a new mega question to answer. I think Killian should keep that bit of information to himself. We all know Captain Hook has a past, and he should leave it where it belongs.
Tune in next week to see what consequences Pinocchio's missing pages will conjure, only on ABC.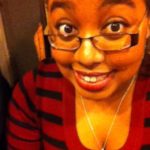 Catalina Combs is an aspiring film critic from California. She loves reading, writing, film, baking, music, drawing, traveling, Disney, and playing soccer. Her life usually revolves around all of these and her family. The oldest of six, Catalina tries to set a good example for her siblings. She graduated from Santa Clara University in 2010 with a BA in English Creative Writing and is pursuing an MA in Film. I also blog on WordPress and contribute to the website Examiner.com. Twitter- @tiggercraze | Facebook- Cat Combs | Instagram: @tiggercraze
Guest Blogger
BGN works to feature strong, unique content from writers who speak to our niche. If you are interested in having your work highlighted contact jamie@blackgirlnerds.com to be featured as a guest blogger on the site.