CRS
C R Sparrow wants desperately to throw off the shackles…
The Dragon Con parade is an Atlanta institution. Beyond being an opportunity for some intensely talented cosplayers to floss, it is an event that is free and open to the public and fun for the whole family. It is certainly an enjoyable way to spend a Saturday morning whether you're partaking in all five days of Dragon Con or not.
I spoke with Lacoya Brogan who was at the parade with her family for the first time. She told me she thought it was interesting to see all of the adults participate. She enjoyed seeing all the characters that she could recognize. "I enjoyed it. I want to make sure, next year when I come back, I'm prepared. I want to be here on time and put more forethought into the costumes, but it was fun."
Oh, I don't know, I think Lacoya did a pretty good job putting forethought into these costumes for her child and nephew. I'm sure the whole family are going to show out come next year, though.
The Dragon and the Wolf#bgndragoncon #DragonCon2017 #ThronesYall #GoT pic.twitter.com/xpN0KHCoJu

— CRS??‍ Agent of Fen'harel & Quellist rebel (@wordyblerd) September 2, 2017
Special shout outs go to the Umbrella Corps and Cobra Command groups. They were huge! Between the zombies, scientists, and commandos, there was a lot of in-character work throughout.
As a Bioware fangirl, I'd be remiss if I didn't tip my hat to the N7 Elite cosplay group. They were small this year, but they always have really accurate looking and vibrant cosplays.
If I had one critique, it would be the splits and gaps in the procession. As press was stationed toward the end of the route, I understand that the structural integrity might have been less than optimal by the time we saw everyone due to the nature of parades. However, Dragon Con closes their parade applications pretty early so maybe they should consider increasing the slots for next year or they might want to group all the smaller contingents together to fill out the parade space a bit more.
Flip through the pictures below and see all the glorious nerdery we were treated to at the 2017 Dragon Con parade.
Dragon Con 2018 is scheduled August 30th to September 3rd.
BGN @ Dragon Con Parade 2017
She is a bill, yes she's only a bill…
Admit it, the opening song is in your head now isn't it?
At this point assimilation can't be any worse than what we got going on nowadays…
Gangway! A legend is coming through! Hey, Stan Lee!
Tali'Zorah vas Dragon Con
Thor didn't come in here to play. Don't get zapped!
Rock 'em and sock 'em!
Well this is a little on the nose, but I'll allow it because y'all look dope.
This is the coolest it's been at Dragon Con in years. Do we owe y'all a thank you for that?
Cobra Command was rolling deep. Had GI Joe shook because there wasn't a single one in attendance!
Ah yes, the Put the Pretty Ladies In Front marketing strategy. Can't mess with a classic.
It's not all fandoms at Dragon Con, science enthusiasts are welcomed!
We need so much more creative critical thinking in the world..
"May the odds be ever in your favor!"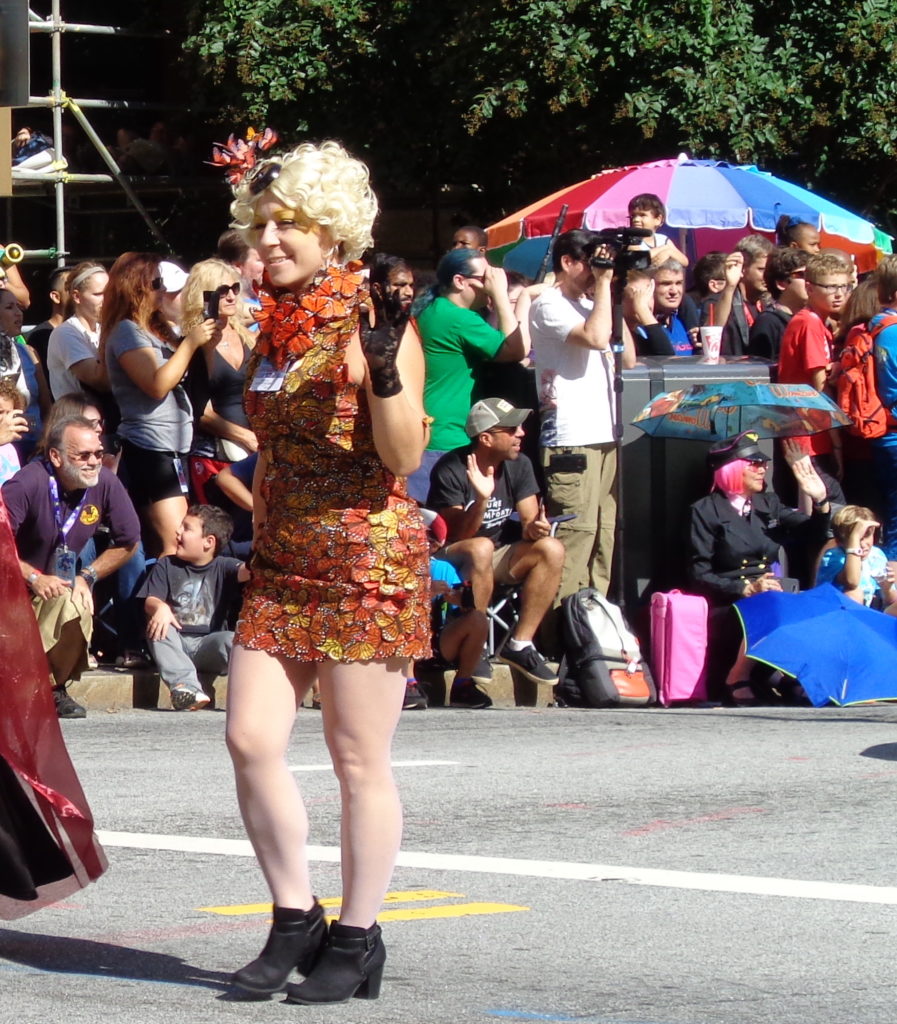 A chaotic glut of Deadpools seems about right.
That's some impressive hardware, ma'am!
Hey shouldn't you be off guarding the galaxy?
By the Dread Wolf! This is an adorable Merrill.
And a child shall lead them… during a zombie outbreak.
Gold Metal winners from the Special Olympics. Salute!
Morticia and Gomez are enjoying the afternoon, looking dapper.
Well HEL-LO.
Hello, motley assortment of characters!
So good of Hogwarts to give the kids a day to enjoy Dragon Con
Best 'gal pals' in all of Greece, Xena and Gabby!
Just reminded of how thoroughly enjoyable Spiderman: Home Coming was.
Genius move disarming folks with a cute smile before getting to the assassinating.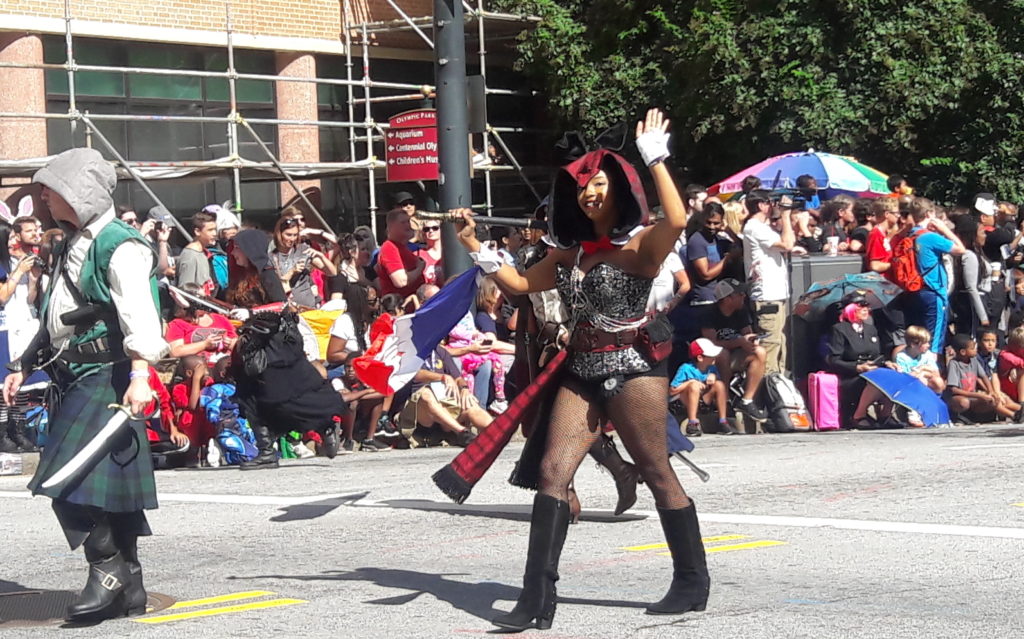 It's not a party without the Halo guys.
Catch that wind with your cape, girl! Classic Wonder Woman teas.
It's time to bounce when the scythe wielding giants come storming down the street!
CRS
C R Sparrow wants desperately to throw off the shackles of wage slavery and live a life of leisure. Unfortunately, she hasn't quite figured out how to turn her encyclopedic knowledge of Star Trek Deep Space Nine or deftness at playing Bioware RPGs on the easiest setting into a fortune. She's still working on it though. Sci-fi/Fantasy blerd with a strong affinity for binging television shows and having lots of feelings about them.