Who else can make short shorts and a peaking midriff top look sexy? Daniel Craig, of course.
After 15 years with Craig at the helm of the James Bond franchise, we find ourselves at the end of the road. What a road it has been. Casino Royale (2006), Quantum of Solace, Skyfall, and Spectre are wonderful additions to the now 68-year-old franchise. No Time to Die, the 25th film in the James Bond series produced by Eon Productions, is a fitting end to the Daniel Craig era.
No Time to Die is directed by Cary Joji Fukunaga. The film catches up with James Bond and his love interest Madeleine Swann. Bond, retired and on a romantic getaway, finds his enemies closing in on him as a new, dangerous technology emerges. Recruited and forced back into action once more, Bond makes some new allies while saving the world. A mysterious villain pushes Bond's limits. It's an epic adventure of love, loss, and sacrifice. The film stars Craig, Rami Malek (Mr. Robot), Léa Seydoux (Spectre), Lashana Lynch (Captain Marvel), Ralph Fiennes (Skyfall), Jeffrey Wright (Westworld), Ana de Armas (Knives Out), Ben Whishaw (Fargo), Naomie Harris (Moonlight), Billy Magnussen (Game Night), Rory Kinnear (Quantum of Solace), and Christoph Waltz (Django Unchained).
Daniel Craig brought something new when he started as James Bond. The blue eyes, the blond hair, the blast to the past were all-new for the iconic character. In No Time to Die, Craig and the team take it a step further, making this the most emotional Bond film we have seen. There were tears shed and heartfelt moments all around. We have gotten to know this version of James Bond far past his drink habits (vodka martini, shaken not stirred, in case you forgot). We have learned a lot about the man behind the double-0. Bond is more complex than we are used to seeing him. Craig gives us every emotion through the 2 hour and 45-minute film. It's a long film.
It's clear that this is Craig's fifth and final film in the franchise not only because he has made it known in the media but because the film truly has a "let's go out with a bang" mentality all the way through. The action in this film is top shelf. The stakes are high and the tension palpable. Director Fukunaga delivers a handful of genes in one film, with Craig embracing every moment. The quintessential elements of a Bond film are present, including a beautiful, cinematic rendition of the opening title sequence, sung by Billie Eilish. The script was able to throw in some memorable Bond lines from the franchise as well.
The action in this film is incredible. The explosions, the car chases, the gunfights, and the physical stunt work is glorious, especially on a big screen like IMAX. There is a mixture of the edge-of-your-seat adrenaline, wow factor, and good old-fashioned suspension of belief, not to mention a healthy dose of Bond-esque moments, like spinning cars with guns in the headlights and hand-to-hand combat. The story is emotional, complex, and layered — maybe too layered. While you don't have to be a total Bond nerd to see No Time to Die, it would be helpful for plot fill-ins to watch the first film in this series Casino Royale and the one before No Time to Die, Spectre.
Apart from Daniel Craig, who has stellar action sequences, of course, the ladies from No Time to Die are phenomenal. I wanted so much more. The female roles in No Time to Die branch far away from the infamous "Bond Girls." Every scene they are in added a much-needed dose of empowerment and feminine energy. Ana de Armas is one woman I wanted to see more of and learn more about. Her character, Paloma, is one of the new agents in the film. Her scenes were incredible. The energy, the dialogue, the fight sequences — she is a powerhouse. Her feminine charm and cutthroat fighting were never at odds with each other. The bonus was her quirkiness, which elevated the character to a relatable, easy fan favorite.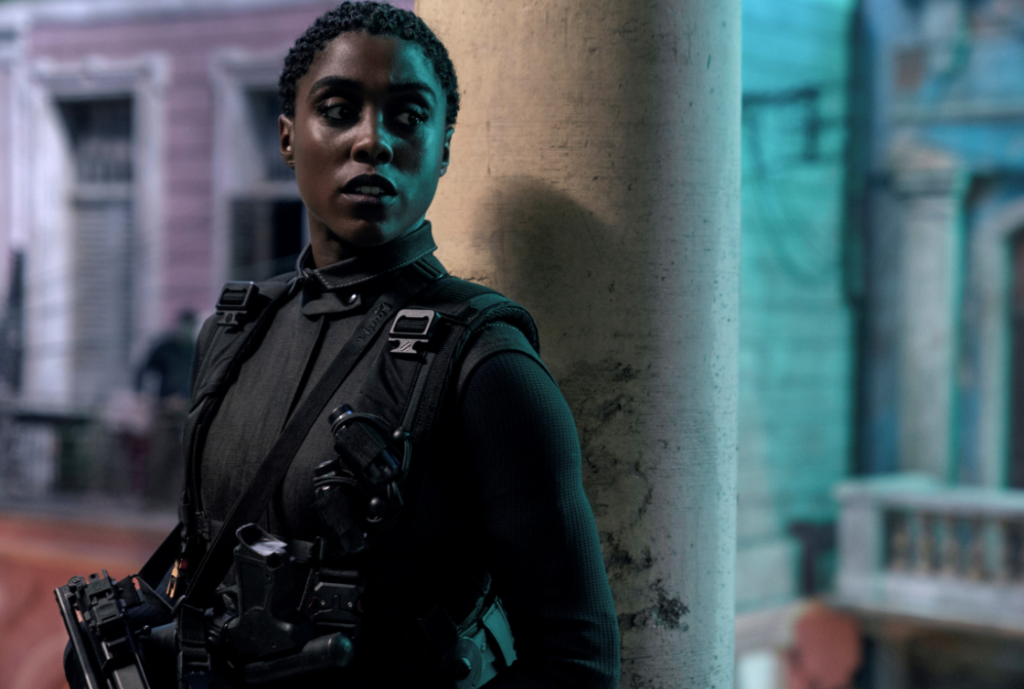 Of course, the other woman I wanted more of was Lashana Lynch, who plays new agent Nomi. She's not just any agent, but a new 007, a title previously held by Bond. She is skilled, intelligent, witty, and unapologetically herself — a perfect role model for future agents on-screen and Black girls and women off-screen. Lynch makes history as the first featured female 007. Not to mention, she's just the fifth Black female actor to have a major role in the Bond franchise. It's very disappointing that her status isn't recognized and utilized as well as it could have been. It's a historical moment that, unfortunately, does not get the attention it deserves throughout the film. I hope we see her again in future films, but I am not holding my breath.
The Bond franchise is one of those film series that knows what it is. On paper, it's a British series of spy films based on a fictional character. No Time to Die has all the makings of a spy film: plot twists, dramatic irony, foreshadowing, and red herrings, to name a few. The visual treat of watching characters taking life-altering risks, planning various highly developed schemes, and uncovering secrets help viewers escape. But, No Time to Die feels like it could have wrapped up the escape a lot earlier. I would have traded some scenes for more time with Ana de Armas or Lashana Lynch. That's the tag team I want to see a movie about.
No Time to Die hits theaters on October 8, 2021.