The first time we laid eyes on the lovely Zoe Saldana in the role of Gamora was back in 2014 when the first Guardians of the Galaxy movie premiered. Saldana starred in the film alongside Chris Pratt, Dave Bautista, and Bradley Cooper. Volume 2 followed in 2017, and Volume 3 is projected to be released sometime in 2023.
A fun fact many people might not know is that Saldana almost didn't play the role of Gamora! Amanda Seyfried was one of the first actors casting directors considered, but she turned down the role because she didn't want to deal with all the green makeup. Everything worked out the way it was supposed to because Saldana has done an unforgettable job in the franchise so far.
Gamora's makeup process
If you ever wondered how many hours Zoe Saldana spends in her makeup chair on set getting prepared to play Gamora, you're not alone. According to Allure, her makeup designer David White revealed that it takes about five hours in total for her hair and makeup to be completed.
The first layer of primer is followed by multiple green-based cosmetic paints that are then followed by a prosthetic layer of texture. Applying the prosthetics alone takes between two to three hours! The good news is that taking the makeup off is a much faster process, taking about 30 to 45 minutes.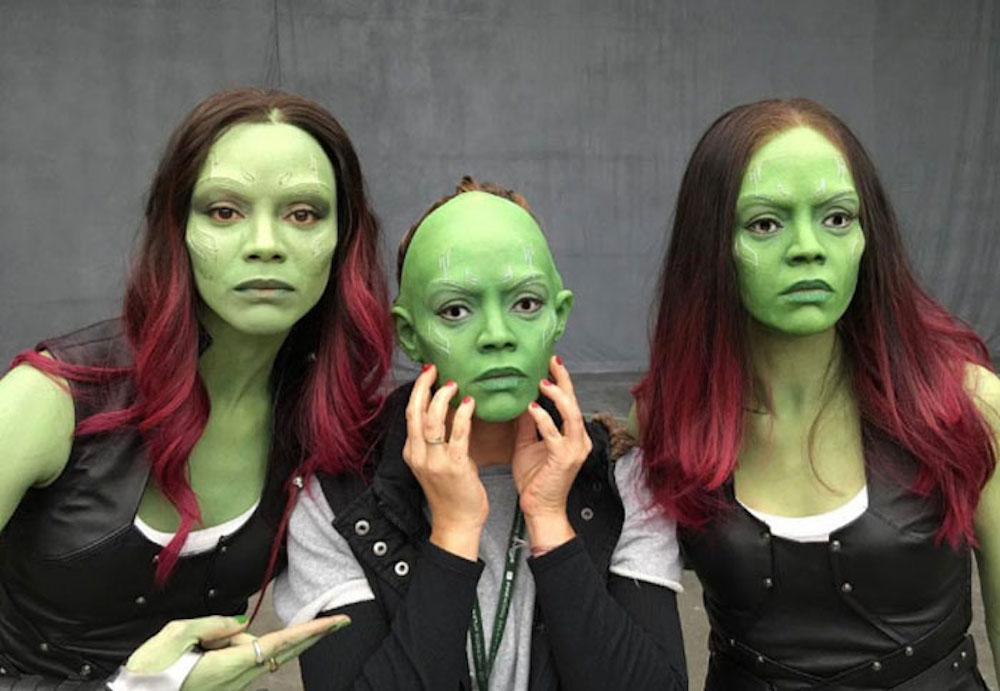 Saldana's stunt double
Although CGI editing makes it appear that Zoe Saldana is pulling off every single one of her own stunts, in reality, she's getting a lot of help from her stunt doubles. In one instance, Saldana admitted she jumped 30 feet for one of the scenes, but that's not something that happens regularly.
Her stunt doubles are typically getting the more difficult work out of the way. Saldana's not the only one on the set of the Guardians of the Galaxy films who's attempted to accomplish a stunt or two on their own before. Karen Gillan, who plays Nebula, has also gone this route and so has Chris Pratt, who plays Star-Lord.
Saldana loves working with director James Gunn
James Gunn is the director who made sure the first two Guardians of the Galaxy movies came out totally top-notch. In July 2019, he got fired by Disney when some of his insensitive tweets from the past started resurfacing. He made jokes about subjects that caused conservative commentators to clap back, but the main reason people feel he was targeted is that he frequently criticized former President Donald Trump.
When Zoe Saldana found out Gunn would be returning to direct Volume 3, she had nothing but good things to say. Saldana stated on Screen Rant.com, "I'm proud of [Gunn]. I'm proud that he's coming back. I'm so proud of Disney, actually, that all the leaders right now behind that big corporation decided to leave by example… the message of redemption is important." She obviously believes in giving second chances. Hopefully, Gunn continues to make her proud by avoiding any more controversial comments on social media platforms.
Saldana's defense of superhero movies
In 2018, famous director James Cameron made some seemingly negative comments about superhero movies. In Zoe Saldana's opinion, people took his statement totally wrong and misunderstood his intent. Cameron stated he hopes audiences get tired of superhero movies soon but just because he doesn't personally have an interest in action-packed movies filled with sci-fi heroism, it doesn't mean he meant his words to come across too harshly.
Saldana responded by saying she believes his words were twisted for a more interesting soundbite. Saldana herself has never said anything to criticize superhero movies since they make up a huge bulk of her career success — but she also knows Cameron didn't mean any harm. Saldana's experience in the MCU would be enough to solidify her career as an actress, even if you removed all her other movies from her resumé.
Saldana's friendship with Chris Pratt
Zoe Saldana and Chris Pratt have spent a lot of time with each other memorizing lines and filming scenes for Marvel, which means they are undoubtedly pretty close in real life too. In October 2020, a filmmaker named Amy Berg posted a mean game on Twitter asking users to compare Chris Pratt to Chris Hemsworth, Chris Pine, and Chris Evans. Thousands of people started posting that they'd remove Pratt from the lineup if they had to choose. Their opinions were heavily based upon claims that Pratt once attended an anti-LGBTQ church.
Pratt denied those claims. Saldana tweeted in his defense, saying, "Your family, friends, colleagues, and everyone who's ever crossed paths with you knows your heart and your worth!" She wouldn't have publicly defended him if she didn't consider him to be a friend. Robert Downey Jr. and Mark Ruffalo also jumped into the mix to defend Pratt as well. Saldana and Pratt played lovers onscreen, but they share a wholesome and platonic friendship when the cameras aren't rolling.
How Saldana feels about playing Gamora
Zoe Saldana has opened up about what it takes to play an attractive alien who knows how to throw a punch. According to Esquire, she said, "Gamora can kill you but has a heart of gold, and I like that about her." No one would want to get on Gamora's bad side if she truly existed, knowing just how powerful she really is. For Marvel characters who were friends with her before her death in Infinity War, they knew they had a trustworthy friend they could depend on.