Freaknik, a portmanteau of "freaky" and "picnic," rings an instant bell to anyone growing up in the '90s to hip-hop music. To those who aren't in the know, Freaknik was one of hip hop and Atlanta's biggest festivals that featured a veritable "who's who" of rising and established hip-hop artists. While many fondly remember the festival for its notoriety, its roots were steeped in some very humble beginnings.
Despite officially starting as a festival with food, drinks, and DJs in 1983, the Freaknik festival was actually conceived a year prior, in March 1982, at Spelman College. Spelman College is a private, historically Black women's liberal arts college in Atlanta, Georgia, founded in 1881 as part of the Atlanta University Center — the oldest and largest contiguous consortium of African American higher education institutions in the United States. 
And just like any other AUC university or college, Spelman was home to so-called state clubs made up of students with common home states. The clubs hosted social gatherings throughout the academic year and acted as centralized databases for shared rides home before carpool apps and Facebook was a thing. In fact, Freaknik is a year older than Facebook's founder, Mark Zuckerberg. The festival was conceived at Spelman in a DC Metro Club meeting as a club-sponsored event that would challenge the California Club's largest end-of-the-school-year party.
The DC Metro Club president, Schulya Goodson, named the festival after a popular song and dance from the early 1980s, Le Freak by CHIC, and the first Freaknik was actually held the same year, in April 1982. It was organized in Piedmont Park by a group of students who were stuck on campus over spring break. And it was just a simple picnic with a potluck, cooler, boomboxes, and two DJs: Nab and Daryl Baptiste Miller, who both attended Morehouse College. Some 50 students showed up for the event, but some unverified sources state that up to 150 people attended.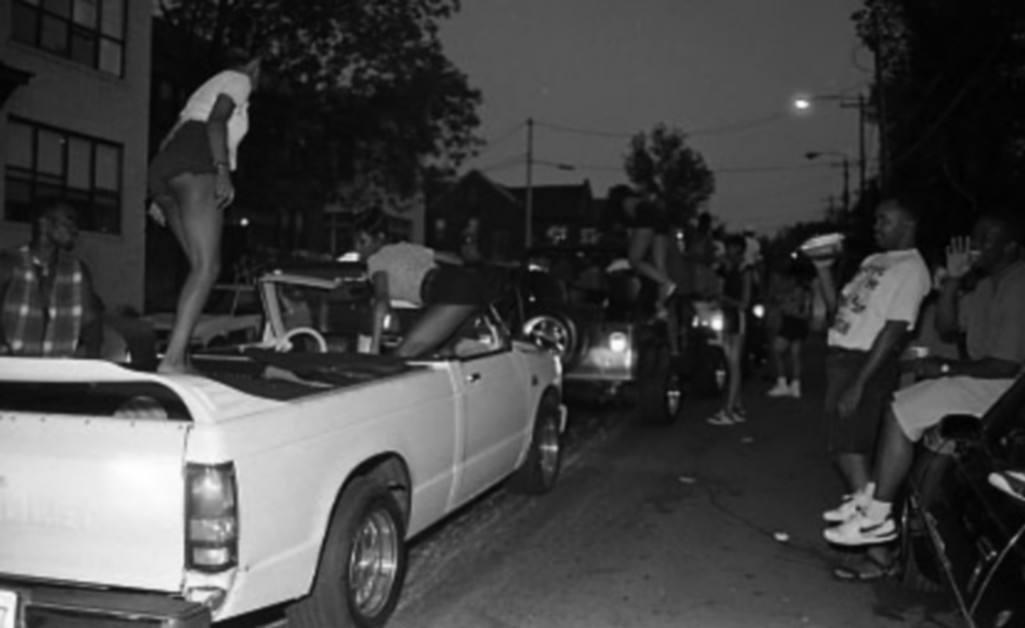 The picnic was a success by all means. It's unknown whether the 1982 event topped California Club's end-of-the-school-year party, but the word about the picnic spread out through other historically Black colleges and universities, and the local picnic organized by students who couldn't afford to go home turned into a Black cultural phenomenon. As the word spread through the pre-social media grapevine, so too did Freaknik grow steadily in size, reaching levels where tens of thousands of students were attending. It grew into something the students in charge of the festival could no longer contain.
And as Freaknik grew, the lack of management and official structure became apparent. By 1988, the DC Metro Club was banned from involvement with the festival for liability reasons by Spelman College President Johnnetta B. Cole. In turn, the DC Metro Club had asked Daryl Baptiste Miller, the independent national promoter, to promote the event, and Freaknik grew from some 15,000 attendees to 300,000 in some four to five years.
By 1992, the picnic had turned into a full-blown street party without any inhibitions, and students from both HBCU and non-HBCUs poured into Atlanta, now the hub of hip-hop culture. And with them came the money. By 1994, the event was racking in an estimated $20 million and even helping to stimulate the city's economy. However, the lack of official structure usually meant jammed traffic and severely impacted city logistics upon which local businesses relied to make money.
By that time, things worse than jammed traffic started to occur. When you get a bunch of college students without any supervision to an event that has no official structure, with plenty of partying and drinking, rowdy and raucous behavior becomes a best-case scenario. Add a pinch of local government oversight, perhaps due to the aforementioned profit, and we've got ourselves a recipe for disaster.
The presence of hormonal-and-alcohol-fueled young men and women paired with abandoned reservations, throbbing libidos, and in certain cases no clothes led to some rowdy of behavior, and hip-hop was the soundtrack for it all. Atlanta residents and business owners slowly started harboring negative feelings towards the festival, and many would just lock themselves inside their homes while the stampeding youth let off some steam every third week of April.
Businesses were shutting down, traffic was jammed, and the city police had their hands full — so full, in fact, that the violence was on the rise. By 1995, more than 2,000 crimes were committed, ranging from indecency to sexual assault during the festival. So, in 1996 Atlanta Mayor Bill Campbell cracked down on Freaknik by increasing the presence of police during Freaknik, which admittedly made it harder to commit crimes, but it also took the fun out of partying. The city leaders also restricted access to the city by setting up roadblocks, which eventually led to Freaknik moving outside Atlanta.
Due to the heightened police activity and government action, the fall of Freaknik in 1999 was imminent. The year before, the Atlanta Committee for Black College Spring Break had denounced the festival, stating that it couldn't support events that brought lewd activities, violence, public safety concerns, and sexual assaults. The powers that be also banned all Freaknik activities within the city limits, followed by Mayor Kasim Reed's statement in 2010 that he would sue organizers of any Freaknik-related activities.
Freaknik attracted more than just fun-hungry crowds; it brought in some pretty big names in the hip-hop genre at the time. Bun B, Adina Howard, Uncle Luke, Killer Mike, and Jermaine Dupri are all some of the prominent artists that performed at Freaknik. Dupri is actually making a documentary about the festival and its impact on his hometown, allowing those who missed the festival to at least see what they've been missing.
The event was later reformed, and Freaknik began once again in 2019, following a 20-year hiatus. And while it pales in comparison to the earlier version, many of the 200,000 people attending were adults who partook in the original annual festival of the '80s and '90s. Although it has a sordid history, there's no denying that Freaknik has prominence in both hip hop and Atlanta's history as a festival that was too big for the city that hosted it and the youth that only wanted to have fun and get freaky.