We are FINALLY getting our Insecure fix in once again! As you're well aware, we are HUGE fans of HBO's Insecure which has come back to fill us in on what is happening with Issa, Molly, Daniel, Lawrence…
WAYMENT.
I just heard the sound of a record scratch and just realized there is no Lawrence this season. Let's take a moment of silence to pause and reflect on the fact that we're all Lawrence-less this third season.
::Breathes deeply::
Okay. I'll be alright. I think. Let's dive in and recap what happened during the episode "Better-Like". As we open to an establishing wide-shot of downtown Los Angeles while listening to "Sticky" by Ravyn Lenae, we push in closer to reveal two beautiful dark-skinned brown bodies engaging in the horizontal dance and see that Daniel has clearly moved on with his life. Or has he? Meanwhile, Issa—who is now crashing at his place—hears the sounds of grunts and moans of passion and can barely get any sleep. It gets so bad that she has to leave the house. So interesting how karma works.
Issa has taken on a part-time gig as a Lyft driver and takes advantage of her sleepless night by earning a little extra cash. She picks up some random dude named Elijah and as soon as he gets into her vehicle he vomits.
Gross! Let's smash cut to the opening titles now, please.
We see that Molly is clearly living her best life on the beach having a sweet vacation and flirting with a hottie by the name of Lewis.
The next morning, Issa asks Daniel if he was aware that she was in the house during his evening of fornication and he was quite aware in fact.  Seems to me Daniel wanted Issa to hear every single orgasm.
Issa's day job still sucks. She asks Frieda when she'll be able to get back out into the field again, Frieda is reluctant to Joanne, their boss, since was just promoted in her position and doesn't want to rock the boat.
Daniel is still a struggling artist getting most of his work heard on his Soundcloud channel. However, he's still trying to hustle his way into the music industry.
Meanwhile, Issa picks up Molly from the airport in her Lyft vehicle (which reeks of vomit) and gives her a ride back into town. The two stop off at a local restaurant. Molly's phone rings and its Dro. But Molly has a new perspective in life and she's not sweatin' the small stuff and doesn't plan to get too close. She's seriously on some "know better do better shit".  However, we know Molly is gonna Molly, so how long will this last?
Daniel and Issa have a chat at his place and it gets pretty tense. When they have a moment where the lock eyes, Daniel sees it as an opportunity to try to kiss Issa, and she immediately flinches knowing this is not right. Daniel is confused and slightly upset at this rejection and feels as if he's getting mixed signals about Issa wanting to stay with him.
Speaking of confusing relationships, Dro has sex with Molly at her place and the next morning when it appears Dro is trying to get close; Molly immediately shuts it down and builds her boundaries.
Issa cold calls public schools about her company We Got Y'all and she finds out from their feedback that their logo is racist and their organization isn't as diverse as they present themselves to be. When Issa tells Joanne about the feedback, she's not too thrilled with it and says she's overstepping her bounds.
Molly receives a call from Issa, who needs to spend time away from the house since Daniel plans on bringing a female guest and the two spend time in the Lyft and make a social event out of it. Things get a little intense when Issa picks up two male passengers. One of them gets a little irate and a fight ensues.
In this scene, it should also be noted that as texts come in from Daniel to Issa and from Dro to Molly; both women are pretty connected to their phone for these impending messages.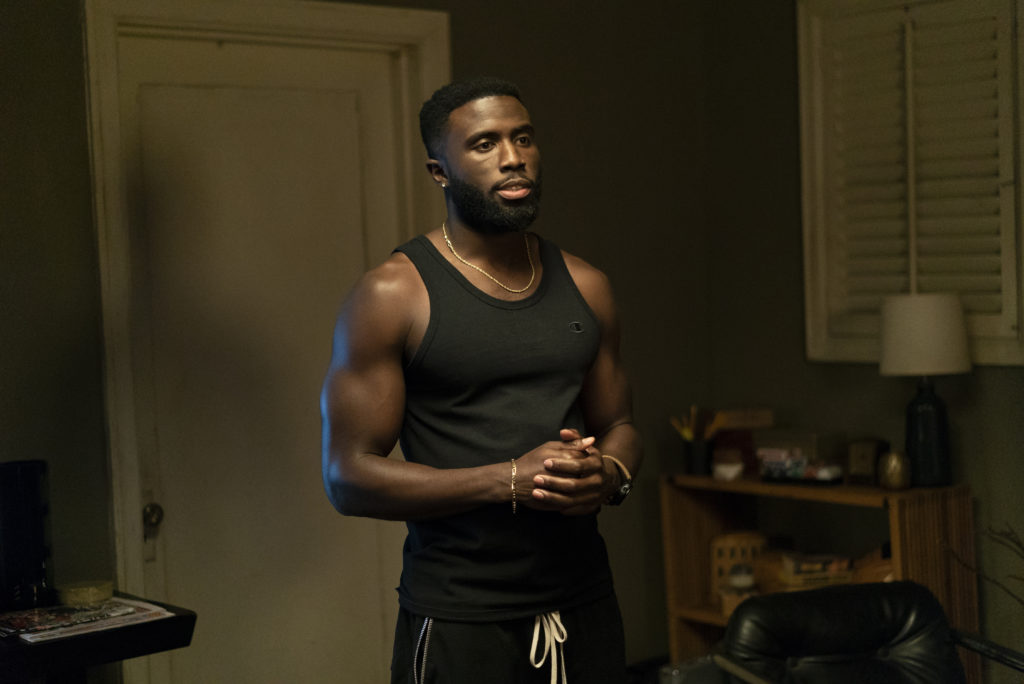 Issa arrives back at Daniel's and as it turns out, Daniel failed to inform Issa that he didn't invite anyone over and that Issa could have saved herself from a night of unnecessary Lyft adventures. She tells Daniel that she decided to stay at his spot because she knew he would be there for her as a friend. And this further complicates things—can Daniel and Issa remain to be just friends after an intense love affair?
Dro shows up at Molly's place unannounced and apparently has the key to her apartment (Molly what is you thinkin' girl?) and then Molly comes to her senses and asks for her key back. Dro is curious to know why and Molly explicitly tells Dro once again that she needs boundaries, and that she can't be messy the way he and his wife Candice are in their marriage.  This angers Dro and the two get into a heated debate. Dro gives back Molly's keys and leaves her apartment.
Meanwhile, Issa is watching a reboot of the show "Kevin" starring 90s TV stars Erika Alexander, Darryl M. Bell and Bill Bellamy. The show is clearly satirizing social media and pop culture.
The final scene ends with Issa telling Daniel thank you for everything. She leaves and goes off to her Lyft gig.
Insecure airs Sundays on HBO at 10:30-11:00pm ET/PT and don't forget to live-tweet #SoInsecurr for all of the fun!
Jamie Broadnax
Jamie Broadnax is the creator of the online publication and multimedia space for Black women called Black Girl Nerds. Jamie has appeared on MSNBC's The Melissa Harris-Perry Show and The Grio's Top 100. Her Twitter personality has been recognized by Shonda Rhimes as one of her favorites to follow. She is a member of the Critics Choice Association and executive producer of the Black Girl Nerds Podcast.