Guest Blogger
BGN works to feature strong, unique content from writers who…
Written by: Ashley Turner
Chiquita Evans has a high basketball IQ and isn't afraid to let you know it. Like any educated baller, she knows the game like the back of her hand. A powerful athlete herself, she amazes others with her physical prowess and a seemingly endless supply of adrenaline. She executes complicated plays with extraordinary finesse. Inspiring loyalty and admiration, her teammates strive for their best in every game and every practice.
And she does it all without even leaving her chair.
Evans is a former college basketball player who found her niche in the world of competitive professional online gaming. She was a promising college athlete at Kentucky State University when she became sidelined by injuries, dashing her dreams of making it to the WNBA. After college, Evans went on to play semi-professional basketball with the Louisville Phillies. That is when she discovered her love for video game NBA2K.
Evans characterizes competing in the virtual matchups of NBA2K as being as complex as playing on a real-life professional team. It also comes with its own set of problems, like trying to integrate into a predominantly white, male space.
As a Black woman, Evans is the target of insults and attacks for simply participating in a hobby she finds entertaining. In the aftermath of Gamergate, the persistence of such negativity could be demoralizing. But Evans doesn't focus on that. She chooses instead to direct her energies to her team, her fans and her love of the game.
On March 5th, Evans was the first woman ever drafted into the NBA2K League. In the fourth round, she went to Warriors Gaming, a team run by the NBA's Golden State Warriors. Evans is now one of 126 players who will receive salary, benefits and team housing in the San Francisco Bay Area.
I spoke to Evans a week before the draft to discover how she conquered the basketball court and silenced her doubters to reach the highest point of her career.
Thank you for doing this interview! I'll start off by asking, as a professional or semi-professional gamer, what do you do? What is your actual job?
My job is to compete. At all levels. And, to get through the adversity. That to me is what a competitive professional does. We want to compete at a high level and just have fun.
I understand you were actually a very talented basketball player in the beginning. How did you transition from playing basketball to becoming a pro gamer?
It was kind of a seamless transition because I started with 2K. I basically took my real life experience from basketball and poured it into my 2K talent. I took my basketball IQ that I learned over the years and used it to understand the mechanics and the way that the game is set up. I took that as a starting point, a foundation, and built on that, and I learned the 2K style of things. It was understanding the difference and building off of that.
So how did you get into your first competition?
It actually was years down the line. 2K is a very big game, but the competitive scene wasn't really out until maybe 2K15 or 16. A female friend of mine approached me. We met on 2K15. She said, "Quita, do you wanna try out for a team?" I'm like, why not? I end up making the team. That same team that I tried out with on 2K16 is my current team today. We all still play together for the same pro-am [professional–amateur] team.
What is your favorite aspect of being a pro gamer?
A lot of women have reached out to tell me that I inspired them to pursue their esports dreams. Many women in the 2K community tried out this year just because they saw me in the showcase game. That actually keeps me going. I feel that I have to keep going, not for myself, but for the people I've inspired. It wouldn't be right If I gave up. They believe in me. That is one of my favorite things about having the opportunity to play 2K professionally.
How do you handle all the issues in the gaming community that come up, like misogyny and the racism that's often perpetuated by gamers?
I wouldn't say that I let it affect me. I have had times where I may have gotten out of character because of it, because a person can only take so much, but 95 percent of the time I just keep it moving. They feel like they have to throw slurs at you and belittle you because they feel threatened. So that must mean I'm doing something right.
If someone feels strongly that way, it's probably because they were taught that. We don't know what people teach their children in their homes. Hate, whether it's about my race or my gender, is taught. No one just learns it — it's taught. I feel like it's always going to exist. You're going say what you're going to say, and, at the end of day, I'm still going to be here. I'm going to deal with it just how you're dealing with me. That's how I approach everything.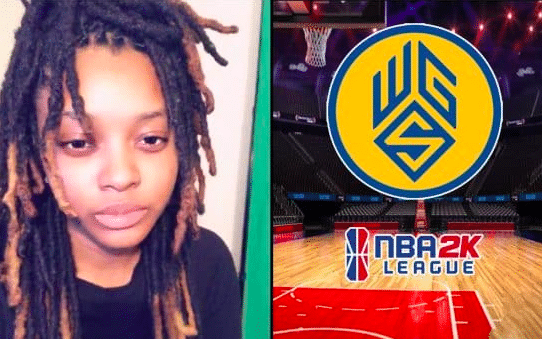 Why do you think that there are so few women and gamers of color?
You know something funny? I don't. I think there are actually a lot of women out here that people don't even know about. They often use unisex gamer tags.
A lot of women are afraid to let it be known that they are women. A lot of women don't even get on the mic because they don't want people to know who they're playing with. That's a big issue — that we don't feel comfortable enough to be in our own skin. We have to hide who we are to be accepted.
What do you think needs to change in order for people to feel more comfortable in the industry?
The thing that needs to change is people being so simpleminded. I don't feel like because I'm a female and you're a male that we're different when it comes to video games. You being a male doesn't make you superior at moving your hands and clicking buttons and keys.
For instance, when Adam [Silver], the commissioner of the NBA, said that he was disappointed that there were no females drafted in the NBA2K League last year, somebody said, "Maybe they aren't as athletic." That has absolutely nothing to do with being a professional 2K League player. I'm not physically out there. Who's to say we aren't athletic? I'm actually very athletic. So that defeats the point. Simpleminded stuff like that has to change, or it's going to be kind of hard to fix.
Do you see yourself working in this profession long-term? I know there is a perception that gamers can burn out and retire early. So is that something that you are now thinking about?
I do believe that, as with anything, you can burn out. I will say this. There are different levels to it. Who's to say when my playing days are over or that I don't want to be a team manager? Who's to say that I don't want to start my own esports team? There are different ways you can approach the esports world, like any other regular organization.
Once my playing days are over I'll want to look for something that stays inside the esports scene, whether it's coaching or it's my own esports league. I basically want to help men and women who have the dreams that I had.
There are lots of pockets and communities of Black women who are trying to get into gaming and get more exposure. What advice would you give to any that are interested in getting into these gaming tournaments?
Number one is don't give up. I know that a lot of the times when we feel defeated, it's very easy for us to give up. Don't give up — keep pushing. I would also let them know that barriers are made to be broken. Barriers don't last forever. The way you prepare is to make sure you don't give anyone a reason not to think that you belong. Work as hard as you can and be yourself. Don't let anyone say that you're not capable or that you can't do it — because it's not true.
[Black women also] have to prepare for backlash, as bad as that may sound. You have to prepare yourself not [to be] an outcast, because that's not really what it is. You have to prepare yourself to be strong mentally. There's going to be backlash. There's no way around it.
To never give up and to prepare yourself mentally to receive backlash and still be able to perform. That would be my advice to all those aspiring young Black women and little girls out there.
Guest Blogger
BGN works to feature strong, unique content from writers who speak to our niche. If you are interested in having your work highlighted contact jamie@blackgirlnerds.com to be featured as a guest blogger on the site.