Sierra Lyons
Sierra Lyons is a senior Broadcast Journalism student at Florida…
Debbie Allen is an American icon. Her career as a dancer, choreographer, actor, and producer has made her a household name for decades. Since 2000, Allen has trained dancers at Debbie Allen Dance Academy (DADA) in Los Angeles. Now Allen and DADA are being recognized in a new way on Netflix in a 80-minute documentary produced by Shondaland. The documentary, Dance Dreams: Hot Chocolate Nutcracker, gives viewers an inside look at the hard work and long hours that go into making the diasporic Nutcracker a success. With over 200 dancers and only weekends for rehearsals, the festive production showcases the talent and hard work of all involved to modernize and diversify the 1892 ballet classic The Nutcracker.
Kylie Jefferson was the youngest dancer to be accepted to DADA. At age 6, she proved that she had the will, skill, and determination to be trained by one of the most notable dancer/choreographers in the industry. Now as a young woman, she is taking the dance world by storm while still sticking to her roots at DADA.
How has DADA helped you feel motivated in a dance industry that still underrepresents minority dancers?
First and foremost, by being all parts of myself confidently and making sure that I can naturally be me — everything that makes up who I am, from where I'm from to growing up with the Debbie Allen Dance Academy to who I was born to be. Definitely all three complement one another in any room that I go into. Having a little attitude, a little sass along the way, has always helped me stand my ground. As far as what DADA has given me, it's given me experience, it's given me an education, it's given me a village that helped raise me. I think that's the most important part. No matter where I go in the world, no matter what type of job I've done, in some way, shape, or form, it always comes back to DADA and the people that either Miss Allen has gone out in the world to bring back to teach us or the family that has been created. Like I said, no matter where I go, I always feel supported. Feeling safe and supported allows me to go out there and do that.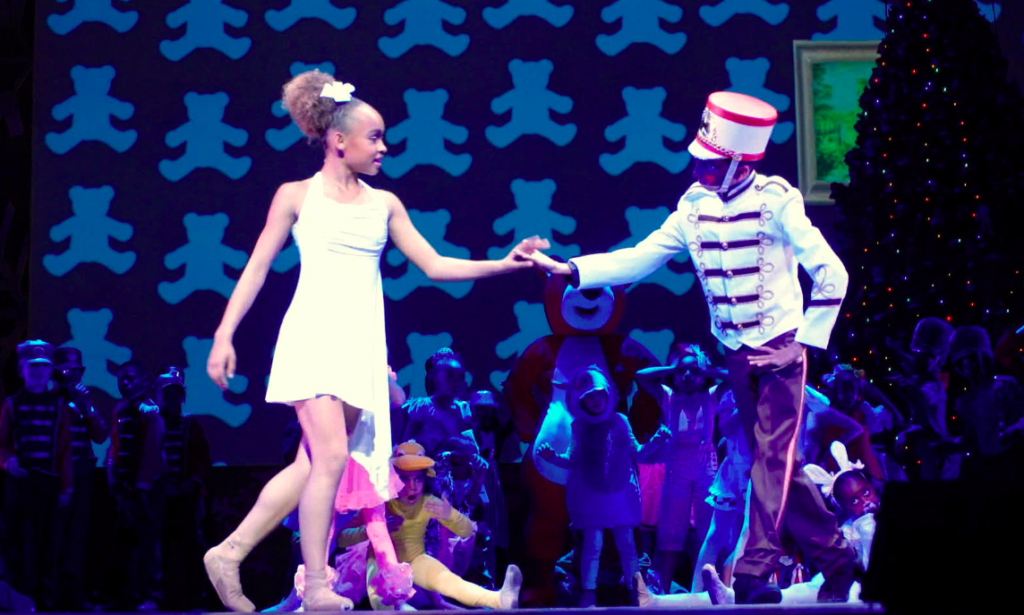 As mentioned in the documentary, rehearsals for Hot Chocolate are only on the weekends. Can you give me a rundown of how that impacts rehearsals and the energy that is put into the production?
Rehearsals do happen on the weekends, but I believe at least 90% of the people who are involved in Hot Chocolate are part of the Academy as well. So, you know, rehearsals are on the weekends, but class is happening all week long. So that's definitely a main component that contributes in a beneficial way to Hot Chocolate. However, it does mean that you have to learn how to switch gears. During the week, be in the mind frame of "I need to be getting my technique together so that when it's time to shine, when it's time to thrive on stage, I can do that, too." When it's time to thrive in rehearsal, you do that. Because otherwise, it affects the parts that you're getting. You get the part that you work for. If you're not showing up to class, if you're not doing those things in the meantime, you have nobody to blame but yourself when you're dancing in the back.
You've been a part of many Hot Chocolate productions, but this is obviously the first time it has been covered for a Netflix documentary. Was there an extra work in preparation for Netflix?
Honestly, Miss Allen really wanted a natural feel of DADA. So she didn't tell us when the cameras were coming in. We just had to mind our P's and Q's. I think that really helped with the documentary, because you really felt like it was real. Nobody was putting on a facade. Nobody was wearing extra lashes or extra makeup just because the cameras were around. I think that really pushes the intention. She wanted people to see the pretty, the good, the bad, and everything in between.
I was coming out of a rib fracture, so I was nervous. I didn't talk about this in the documentary, but I was nervous because you can't fake ballet. If you haven't been doing it for a long time, it's something that will show. I specifically was doing two-a-day Pilates sessions on top of my rehearsals and stuff like that. Personally, some of us had to step up in ways that we probably didn't have to before. But like I said, I knew that regardless whether I was ready or not, I was gonna have to get up on that stage. Miss Allen was going to make sure of that. I had to show up for that and learn that lesson so I could receive that blessing.
In the documentary you mentioned that you've never seen a production of the Nutcracker other than Hot Chocolate. Do you think you ever will watch a different production?
I think I'm not interested in anything other than the Hot Chocolate Nutcracker, for the reason of inclusivity on a universal spectrum. I'm not looking to be accepted. I'm not looking to be what the imaginary perception of that mold is. I grew up with Russian ballet teachers, so when they were showing us videos of from the Bolshoi Ballet, it was all Russian dancers. I knew that people from Russia typically had fair skin, so it was never like a white or Black thing. As I started to grow up through the Debbie Allen Dance Academy, Miss Allen always brought around Black ballerinas. We always had a wide spectrum of teachers of all different colors, nationalities, and forms. So it was never like a Black or white thing to me until I got to Boston Conservatory.
The number "Bollywood" is a big favorite among DADA dancers. What's your personal favorite?
What's funny is "Bollywood" has always been my favorite. I was never cast in "Bollywood," but in "The Rain Forest," which is right before "Bollywood." I remember I would like sneak in to the "Bollywood" rehearsals and make sure that I learned that piece. I started doing it so good that Miss Allen had no choice but to put me in that piece. "Bollywood" is like the girl's piece. It's like, you're coming into yourself as a woman. That's something that no matter where I'm dancing, you will always see that there's a woman in me first. I think that is such an important thing. Especially in Hot Chocolate. It's such a dominating piece and it gives a new perspective on women, especially in America how we're over-sexualized. The thing about "Bollywood" is, there's nothing over-sexualized about it. It's a quiet storm that you can't take your eyes off of. That's mesmerizing to me in its own right.
We're still experiencing "firsts" for Black women in the dance industry. What are your personal goals in the industry?
To stop this conversation about Black women being unicorns in the dance world. We've been here, we've been shining, there's Black ballerinas all throughout history. I always say this thing when people mention Misty Copeland. I'm like, "You know what? If she's the Beyoncé of ballet, I'll take the Rihanna spot." That's such a good way to say we don't have to be compared. I do respect and recognize [Copeland] for who she is. But we all play different roles in this. We're all here to represent different forms of Black women, but we're also human first and foremost. So I think the biggest thing for me is to be able to walk into a room and be seen as a human being first, not just a Black woman. Now, that is who I am. But I want to make sure that I'm treated as a woman and that every little Black girl who takes a ballet class is treated the same way.
Dance Dreams: Hot Chocolate Nutcracker is streaming on Netflix. Fans can also see Kylie Jefferson in Netflix's Tiny Pretty Things this month.
Sierra Lyons
Sierra Lyons is a senior Broadcast Journalism student at Florida A&M University. She has extensive experience in writing and speaking on race relations, politics, and culture. She currently is the Opinions' Editor for FAMU's award-winning publication, The Famuan. Sierra is deeply committed to creating dialogue and strategy in eradicating social injustices from a Biblical perspective.