Madelyn Gee
Madelyn Gee is a Sugar Land-based journalist and grad student…
Making his film debut as Ricky Baker in the great Black tragedy Boyz in the Hood, Morris Chestnut went from dreams of the NFL to becoming a household name in Black Hollywood and beyond for decades. He has starred in iconic roles such as Lance Sullivan in The Best Man series and numerous other Black rom-coms that shaped the '90s. He also stars in today's hits like Fox's hit medical drama The Resident and Black suspense films such as When the Bough Breaks. Chestnut has solidified his status as a notable figure in all genres of film and television.
In his new role in the Fox series Our Kind of People, Chestnut plays Raymond Dupont, one of numerous Black and wildly wealthy individuals in the Martha's Vineyard neighborhood of Oak Bluffs. Described as "a powerful man," Dupont is a "top executive at a food conglomerate" who has "been struggling to revive the company after his white business partner Jack almost tanked the firm through mismanagement." While the show contains scandalous activity and major surprises, it showcases the Black community at their most excellent.
BGN talked with Chestnut via phone call about his journey becoming Raymond Dupont, how he compares to the character, and what this show means in the midst of the fight to showcase the radiating beauty and intellect of the Black community.
You have starred in numerous dramatic roles such as Dr. Barrett Cain on The Resident. What lessons did you take from these previous dramatic roles to apply to your work as Raymond DuPont?
I think I learned from every role. It's not even just on-screen. It's in relationships and dealing with people. I've worked out of the country, I've worked in Germany, I've worked in Fiji. I've worked in Los Angeles, New York, Canada. I would say that a lot of my growth and development is just really from learning and understanding people. That's what we do as actors — we convey the human experience and the human behavior. Learning, watching, and understanding other people's behavior has helped me as an actor. Everything that I've done thus far filters into Raymond DuPont. Even if it's not his character, I can identify or could look at someone like Joe Morton's character and say, "You know what, I saw that exact same type of trait in a person who was on this movie set in New York." That's how everything kind of ties in together.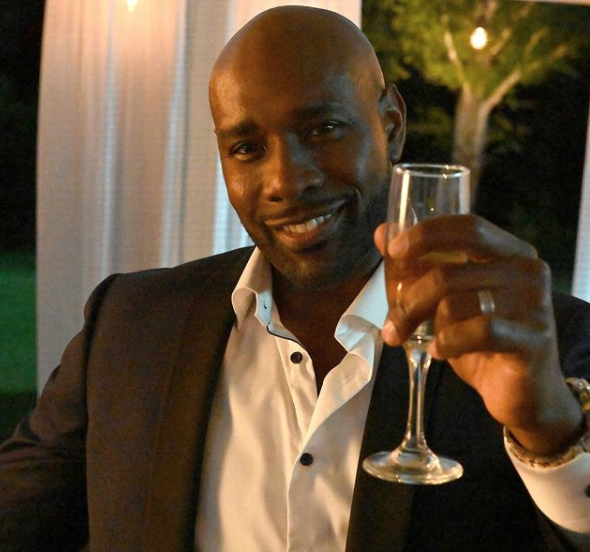 Raymond has been described to have an "Obama swag and presence" to him. When you first learned that you were going to play this character, what techniques or concepts did you use in order to embody Raymond as you saw fit?
I saw that as well and because it was in the character description, I pulled up Obama tapes on him to see his swag. The thing about it is, my idea of swag may be different from what the writers' idea of swag is. So as I saw the Obama swag I was like, "Oh, I see what that is." Obama's swag would be different from Drake's swag, or Jason Derulo's swag. That's pretty much what I did for that.
What similarities or differences do you see between yourself and Raymond?
With myself, the conversations that I have with my son on the show on-screen, some of those have been somewhat similar to the conversations I'm going through with my son in real life. That's a very close comparison. In terms of differences, this character is wealthy. Private jets. Several homes. Just a lot of the things that he's dealing with this company are some differences.
While the show deals with secrets and scandal, it showcases the Black population of Oak Bluffs as incredibly successful and affluent. What does it mean to you to play a character that promotes Black excellence during a time of racial strife and tension?
It's actually an honor to be able to portray this character during these times. One of the things that really excited me about the project was to convey all those things you just mentioned to the world. A lot of times when people see wealthy Black people, they say, "Okay, is he shooting the basketball? Is he carrying the football? Is he a rapper?" or something to that effect. Even here in North Carolina, I went to the dry cleaners. There's this older gentleman who was in the dry cleaners. I had some nice clothes, and he saw my car. I came in and he said, "Hey, so you play basketball? You play football?" He was asking me questions like that. That's why this type of show is important. People need to see that we are smart. We don't need to be in entertainment or sports to have money.
Our Kind of People premieres September 21 at 9/8 Central on Fox.
Madelyn Gee
Madelyn Gee is a Sugar Land-based journalist and grad student at the University of Texas. Along with covering pop culture, she enjoys binging Tik Toks and finding solace at her nearest P.F. Changs.