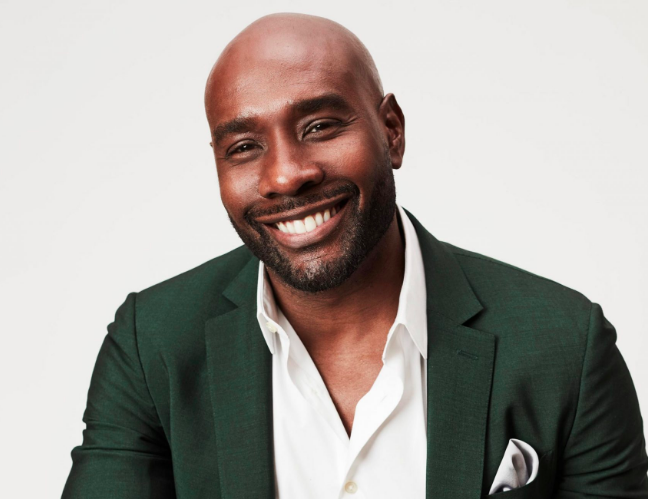 If the films Misery and Serpent and the Rainbow had a baby, then its procreation would be the movie Spell.
The Paramount film tells the story of Marquis T. Woods (Omari Hardwick), who takes a trip with his family to fly to his father's funeral in rural Appalachia. He quickly begins to lose control of the plane, and it crashes in the middle of nowhere. He awakens wounded, alone, and trapped in Ms. Eloise's (Loretta Devine) attic, who claims she can nurse him back to health with the Boogity, a Hoodoo figure she has made from his blood and skin. Unable to call for help, Marquis desperately tries to outwit and break free from her dark magic and save his family from a sinister ritual before the rise of the blood moon.
Along with stars Hardwick and Devine, the film is also produced by actor Morris Chestnut. Chestnut has produced the films When the Bough Breaks, Takers, and Not Easily Broken. A man who has built his career being in front of the camera this time is behind the scenes stepping into a new genre — the horror movie genre.
BGN had the opportunity to speak to Chestnut via a phone interview to discuss his role as a producer and to speak about the new renaissance of Black horror having its moment in Hollywood.
While producing is not your first rodeo, the horror movie genre is. What was it that led you to produce a movie like Spell?
My manager and I met with Gordon Gray the other producer, and Gordon had presented a script to me. It was a good script, but when I was talking to my manager, I had another idea for the script, and it was gorgeous. It was in the thriller vein. We wanted to go in a different direction. So, we came up with the concept for Spell. We started interviewing writers, and then we settled on Kurt Wimmer. Kurt turned out a script really quickly. We just made a few notes to it, and then we went on to sell it.
The Black horror movie genre is having a moment right now. Do you think this is just the beginning of a renaissance, or is this just a "strike while the iron is hot" kind of thing?
One thing about being creative is being able to get products out to the marketplace. Sometimes you have to strike while the iron is hot in terms of what the buyers are buying and what they're interested in. On the flip side of that, I think sometimes it's really about having a good product and hoping people respond to it. Hopefully it could be a combination of both — sometimes it's really hard to tell — but I think we have a pretty good product here so I think that's part of it.
We always hear or see the term "producer," but it can mean so many different things to different people. What kind of producer were you for this film? Please share with us some of the tasks involved in your role.
I started from its inception. Gordon Gray, the producer, wanted me to read the script, and I liked it. We met with Gordon, and we told them our concept for the movie, and he really liked that. Together we started meeting writers. Then, when Kurt Wimmer came in, he just had a great mind. He just thinks outside the box. We got into a place to where we felt that it was good for us to go out with. I know that sometimes actors have vanity titles and they're not really involved, but we were involved from the very beginning. When it came time to shoot, I was working on a TV show here in South Africa, so I couldn't have an active role on set. 
Did you have any say or ideas behind the story structure of Spell?
We came up with the original concept, storylines, and plot twists. We had a basic general concept that we had when we were meeting with certain writers when we were pitching it.  When Kurt came in, he was next level with some of the stuff that he had in his head. When it comes to the story structure and things of that nature, Kurt already had most of that down from a character standpoint for certain things I felt that the audience would want to see and certain things that the audience would accept.
I had a lot of input regarding that. The way that I am especially with this project, I always say, "Listen, I don't know everything." There are some times when I may think something is going to be a hit, and it's not. Or something's not gonna be a hit, and it is. So, I'm not that producer who says, "Hey, this has to be this way." With Spell, there were a couple of moments where I felt differently than the direction of where certain things went, but as a producer, it's not just my voice, it was a collective group of voices.
What were those specific moments where you felt different about the direction of the film?
[Coy laughter.] You're doing your job well. Right now we have a great product out there that we hope the audience is going to enjoy. It's scary, intriguing, engaging, suspenseful, and is going to give some thrills, so I think for the most part we have a good product.
Spell is currently available on Video-On-Demand and available for digital purchase.
This interview was edited and condensed for clarity.
Jamie Broadnax
Jamie Broadnax is the creator of the online publication and multimedia space for Black women called Black Girl Nerds. Jamie has appeared on MSNBC's The Melissa Harris-Perry Show and The Grio's Top 100. Her Twitter personality has been recognized by Shonda Rhimes as one of her favorites to follow. She is a member of the Critics Choice Association and executive producer of the Black Girl Nerds Podcast.