Guest Blogger
BGN works to feature strong, unique content from writers who…
Queer women in pop media are an exciting sight. However, the television landscape of science fiction and fantasy seems to be densely populated by white heterosexual male characters, while queer Women of Color remain in the minority, drifting in the background either forgotten or underutilized.
With the 2017 fall television season underway, everyone from traditional TV viewers to cord cutters eagerly seek out queer women and other representation. As we welcome a bevy of new offerings in the genre, let's look back at the queer Women of Color from the past.
Rutina Wesley as Tara Mae Thornton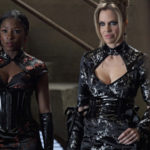 Wesley portrayed the bisexual best friend of Sookie Stackhouse in all 7 seasons of the HBO vampire series True Blood.
Freema Agyeman as Amanita Caplan 
Agyeman plays a bookstore clerk and the fiancée of sensate Nomi Marks (Jamie Clayton) on the Netflix sci-fi drama Sense8. Agyeman is no stranger to the genre. She snagged the coveted role of companion on Doctor Who playing brilliant medical student, Martha Jones.
Valarie Rae Miller as Cynthia 'Original Cindy' McEachin
Though James Cameron's sci-fi cyberpunk drama Dark Angel premiered 17 years ago, Miller is still remembered for her role as Max Guevara's (Jessica Alba) lesbian sidekick and roommate.
Tracy Ifeachor as Nenna Ajanlekoko
The swashbuckling lesbian was a series regular on the now-canceled NBC pirate drama Crossbones.
Florence Kasumba as Dr. Daria 



The Ugandan-born actress appeared in 3 episodes of the apocalyptic Syfy series Dominion playing the love interest and collaborator of Arika (Shivani Ghai). Kasumba will next be seen in the highly anticipated Black Panther.
Yetide Badaki as Bilquis
In the Starz series American Gods, she is one of the Old Gods, a hedonistic take on the Queen of Sheba who consumes both her male and female lovers through her vagina.
Christina Moses as Keelin



Now in its final season, CW's The Originals introduced the bisexual full-time doctor part-time werewolf in the 4th season of the series.
Pearl Mackie as Bill Potts



The first openly queer companion in the history of the long-running cult favorite, Doctor Who, Potts will last be seen in the series' 2017 Christmas special.
Lesley-Ann Brandt as Mazikeen



Nicknamed Maze, the character is the pansexual demonic sidekick of the devil in the FOX supernatural procedural Lucifer.
Jessica Lucas as Tabitha Galavan/Tigress
Tabitha Galavan, the leather-wearing whip-wielding sadistic ex-lover and business partner of Barbara Kean on FOX's Batman prequel Gotham.
Written by: Jaime Blanson: Jaime is a sleep deprived film student constantly making bad late night choices involving binge reading and fanfiction. Check out her blog LavandNoir, where she documents black queer women in popular media. Find her also on Twitter @Jay2daAime, tweeting to avoid adulting.  
Guest Blogger
BGN works to feature strong, unique content from writers who speak to our niche. If you are interested in having your work highlighted contact jamie@blackgirlnerds.com to be featured as a guest blogger on the site.