Carolyn Hinds
Carolyn is an aspiring film critic, Bajan nerd living in…
Rebel Season 1 Episode 8: Redemption
As a man and his young son are preparing to leave a parking lot, the son asks his dad to get his Transformer out of the trunk; as he's doing this, a van rolls up on the family, a group of men in ski-masks exit and proceed to force the father inside the van at gunpoint. The son notices what is happening and shouts for his father to be let go, but sadly the van drives away with his father inside.
Rebel, Cheena, Mack and Jimmy are watching the video that Charlie left with Rebel. As the video ends, Jimmy expresses disbelief at what he is seeing, he excuses what he is seeing because Vaughn is a friend and fellow cop, his children are Jimmy's godchildren. Denial has got to be the most potent drug of all. Jimmy is literally seeing Vaughn admit to premeditated murder, that he is carrying out at the behest of someone else, and STILL Jimmy, refuses to believe. The team (I guess), determines the only chance of getting Vaughn to roll on his boss it to find a witness. Rebel says there's only one person who may know what is truly going on, because he was with Malik the night he died, and that person is Brim.
The young boy from the beginning of the episode, is seen playing in a living room, with Malik and Brim's friend, Two-Man (really?) watching him. Someone knocks at the door, he opens it and finds Rebel, Mack, and Jimmy. Rebel asks where Brim is.  And here is where things got interesting: because the boy, whose name is Lion (someone was inspired by Empire I see), is Brim's son.  Maybe it's my spotty memory, but I honestly did not recognize the dad as Brim. I was truly shocked. Brim revealed that what happened with Malik wasn't a simple hit. Brim was almost taken the night of Malik's death, so there is a larger context to it than I first thought.
Two-Man (I'm shaking my head as I type his name), Lion tells Rebel that his father was taken, Rebel questions what reason could they have for wanting Brim to which Two-man reveals that he and Brim's crew stumbled onto a stolen shipment of cell phones, which they then stole, two days before Malik was murdered. Two-Man (I'm calling him TM from here on in. #ICan't) and Brim decided to hide the shipment, which TM did. The problem is that TM never told Brim where he hid them, and this does not bode well for Brim, because it was for this very information he was taken. As they leave, Rebel decides she's going to pick-up Ashley while Mack gets a call that his mom is at the hospital.
The next scene opens with Brim tied to a chair, in a dark room and a single light shining down on him (this isn't Mission Impossible, why all the dramatics?), one of the guys who took Brim, walk into the room and proceeds to threaten Brim with a version of Russian roulette, called Oakland roulette. After telling him to consider his options, the captor leaves. Mack and Jimmy arrive at the hospital, to find their mother covered in bruises, it turns out she was mugged after she snuck out from the care facility she lives at. Jimmy begins to get testy with the home administrator, but Mack puts him in his place by reminding Jimmy, he has barely seen their mother and doesn't contribute to her expenses.
Mack and Jimmy arrive at the hospital, to find their mother covered in bruises. It turns out she was mugged after she snuck out from the care facility she lives at. Jimmy begins to get testy with the home administrator, but Mack puts him in his place by reminding Jimmy, he has barely seen their mother and doesn't contribute to her expenses.
Cheena and Rebel go to the club where Ashley works, Ashley wants to know what they are doing there, Rebel responds that since she saved her life (she didn't), Ashley can pay it forward by doing Rebel a favour. Now y'all, I got super pissed by what happened next — you know what the next scene was? Ashley having sex with Texas. Here we have one woman essentially telling another to sleep with a man she doesn't like and is afraid of, so she can repay a debt that does not exist. WHAT??!!! (This was some straight up ish). Mack and Rebel bust into the hotel room, they tell Texas to freeze, Ashley runs into the next room to get dressed. Rebel begins to lose her cool and Mack tells her to leave. She goes into the room with Ashley, who asks her if they're "even now" and Rebel responds with "just go." Really, heffa? Ashley had sex with Texas because you basically guilted her into it, and you want to get all belligerent and be rude? Girl, have all the seats.
Mack and Jimmy question Texas on his relationship with Vaughn Bryant, about his blackmailing Vaughn and other cops into working for him, they ask where he's keeping Brim. But Texas denies everything laughs at them, basically calls them jokers and walks out.
Cheena and Rebel attempt to covertly follow Vaughn after he meets up with Jimmy, who it seems has finally accepted that Vaughn is a dirty cop involved it this whole entire mess up to his eyeballs. Mack is notified that Texas has been murdered, Rebel figures out that it was actually Texas who was being blackmailed by the cops. Jimmy asks her when she last swept her apartment for bugs, because that was the only way anyone could know they had questioned Texas.  Rebel leaves to "question" TM, and he gives her the key to the storage locker where he's keeping the cell phones.
Back at the black site, the cop holding Brim removes his mask and threatens him with doing harm to Lion, Vaughn walks in and tells his minion that Brim can't be killed until they find what they're looking for. They leave after the minion fires his gun next to Brim's head. Cheena is waiting inside her car at the storage facility, Vaughn and his goon squad turn up and remove the crates with the phones. As Cheena is pulled over by a patrol cop, Rebel follows the grey van back to a warehouse, where, after an extremely brief shootout, she goes inside and finds Brim covered in bruises, bleeding from multiple wounds lying unconscious on the ground. She immediately begins CPR, Mack comes in and tells her to stop "he's gone," but she refuses as memories of that fateful night where she was unable to save her brother, flashes across her mind. Rebel continues with compressions, and suddenly Brim takes huge gasp of air, Rebel cries as she holds him and repeats over and over "it's ok".
Finally, we now know who all the players in this game of cat and mouse are. I will admit at times that there are moments when the acting and dialogue are over dramatic, but then again this is a BET show, so this is par for the course I guess, but overall I enjoyed this episode, despite moments of extreme annoyance.
My Musing on this episode.
Side-eye to whoever names the characters for this show, Brim, Two-Man, Lion and his siblings Jaguar and Tiger.

There was a scene with Rebel talking to Lion, who was playing with his Transformers™

 toys, Rebel tells him to be strong and brave like Optimus because he isn't afraid of anything, and I laughed because my first thought was "nothing except Michael Bay, cause that man made the entire franchise a joke."

Is Oakland Roulette really a thing? and I'm sure I've seen this in other movies before in places that weren't located in Oakland.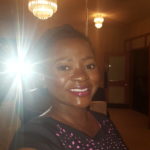 Carolyn Hinds: "I'm a Barbadian living in Toronto, Canada, I'm a nerd who spends time coming up with plot theories for TV shows, and avid fan of Jane Austin, my favourite shows are The Walking Dead, The Expanse and blackish. I'm an avid reader and will do karaoke anytime anywhere."
Carolyn Hinds
Carolyn is an aspiring film critic, Bajan nerd living in Toronto and an avid Jane Austen fan. I enjoy speculating on plot theories for my favorite TV shows, such as The Walking Dead, The Expanse, and black-ish. Oh, I will do karaoke anytime, anywhere. Follow on Twitter @Carriecnh12