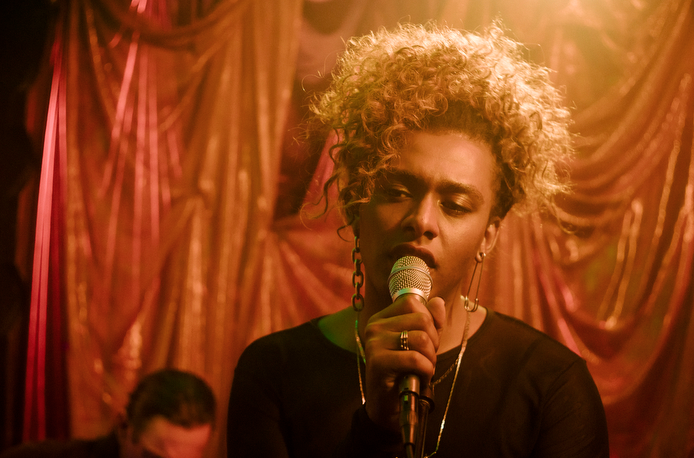 Donnie Lopez
Donnie Lopez is a gay Latino/Hispanic social and political commentator,…
September Mornings (2021) is one of those rare gems that is found in the midst of many popular drama shows streaming on Amazon Prime. It's just a shame that this gem is poorly cut and does not shine as bright as the rest.
Directed by Luis Pinheiro and Dainara Toffoli, the production has a nice message behind it. The series portrays a trans woman going after her goals and not letting anything get in between her freedom and what she wants out of life. This includes her own family. The series's difficulties pertain to mostly how each character makes their choices and how those choices are uncompromising at the expense of everyone else's needs, which leads to uncertainty as to who this series is really for.
The story begins with a milestone accomplishment. The main character, Cassandra (Liniker) has finally managed to obtain a quaint bedroom studio that took thirty years to obtain. This is a huge accomplishment for anyone, perhaps especially for millennials, since so many can't accomplish what the previous generation could. Cassandra is a singer at night and a delivery driver during the day. Once she has saved enough money, she is finally able to move off of her friend's couch and into her own place. For anyone who is obtaining their first place, it represents freedom and a new chapter in their lives. Cassandra has what she always wanted: a boyfriend, a new apartment, and being able to live her truth.
Unfortunately, change comes with unexpected surprises. Cassandra finds herself in a unique predicament. Along with an apartment, Cassandra's ex-girlfriend Leide (Karine Teles) comes into Cassandra's life with a ten-year-old child, Gersinho (Guestavo Coelho). Leide wanted to show Gersinho his father who is now Cassandra. One drunken night, before transitioning, Cassandra slept with Leide and a child came from their coupling.
Through the series, Cassandra keeps an altar dedicated to her mother who abandoned her. She always looks at it and stops and admires it for one moment before she acts. The picture is of her mother and her mother's favorite singer, Vanusa. Cassandra sings Vanusa's songs at the nightclub, owned by Roberta (Clodd Dias), where she works, and even listens to Vanusa's songs at home. Cassandra's inner voice is Vanusa, who is always encouraging her to make the right decisions and sometimes gives general advice for situations.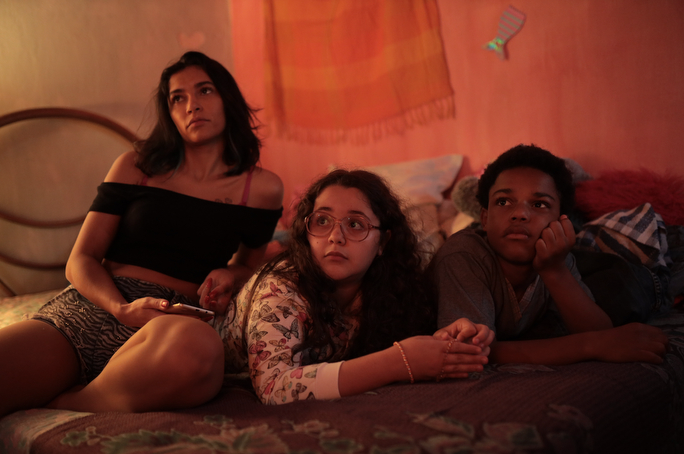 The series is complicated further when Gersinho after meeting Cassandra wants to stay with her. Leide and her son live in the back of a van. During the day, Leide sells what she can in order to make a living, and Gersinho goes to school. When Leide asks if they could stay for her son's sake, Cassandra responds with a firm, "I don't want you in my life." It is clear that Cassandra doesn't have the means to support a family and has only recently been able to support herself. Neither of their situations is ideal, but the answer is less than helpful. The series cleverly illustrates the reality of poverty and those that live under those conditions. If someone is doing slightly better, the rest will try to climb over each other to live slightly better lives. This is how the cycle of poverty continues.
It is upsetting to see someone who needs help being turned down by someone else. It becomes more complicated when it is your own family that refuses to do the helping. In the Latino community, family is stressed to no end. So, when a series shows a different aspect of what is understood to be the standard, it becomes a little bit of a struggle to understand where a character comes from and their perspectives. The situation worsens when it is clear that Cassandra had no idea that Leide gave birth to Gersinho all those years ago. Now, what is the right choice here? The series confuses audiences and makes them question the idea of family, loyalty, and even personal happiness.
This series, like many others, is not without its flaws. The narrative has a very slow start. It takes a while to understand the main character's motivation and the protagonist is less than sympathetic in the first episode. Each character is meant to be seen as flawed and a victim of circumstance; however, there are some who have created the situation they are in. An issue that arises is with Leide, who decides to steal from Décio (Paulo Miklos) and Aristides (Gero Camilo), both of whom attempt to help her and her son. While this is incredibly realistic, people steal from those that have slightly more than them, is still aggravating to see this happen. When Cassandra tells her family no, while not uncommon, it still hurts to see someone turn their back on their own family, if only for moments at a time.
September Mornings has a few things that do work well, one of which are the actors who deserve a lot of the credit for being able to shine in their roles, and the other is its realistic portrayal of what poverty looks like. Ivaldo (Thomas Aquino) who is married and is carrying an affair with Cassandra, is simply amazing. He shines in all the right moments and knows what to say to comfort those in his orbit. Giving the instances we see him, he never falters or presents himself in an unappealing manner, despite the actions his character takes. Above all, Gersinho (Gustavo Coelho) is simply astonishing. The emotions he demonstrates when he is sad and lonely, or when he is excited to have received a gift, are raw and real and one can't help but feel his sorrow or happiness.
The show doesn't create sympathetic characters but does instead present characters in situations that aren't great, and we are expected to feel bad for them without a clear connection linking the audience to the character. While this is problematic, it does ask important questions, but, like so many other shows, it itself does not answer them. If given the choice between self-responsibility and responsibility to our family, where do we fall? 
September Mornings is currently streaming on Amazon Prime Video.
Donnie Lopez
Donnie Lopez is a gay Latino/Hispanic social and political commentator, writer, entertainment journalist, and professor. He writes on topics that affect Hispanic/Latino culture. With his novel insight, veracity, and sense of humor, he entertains as well as educates the world.