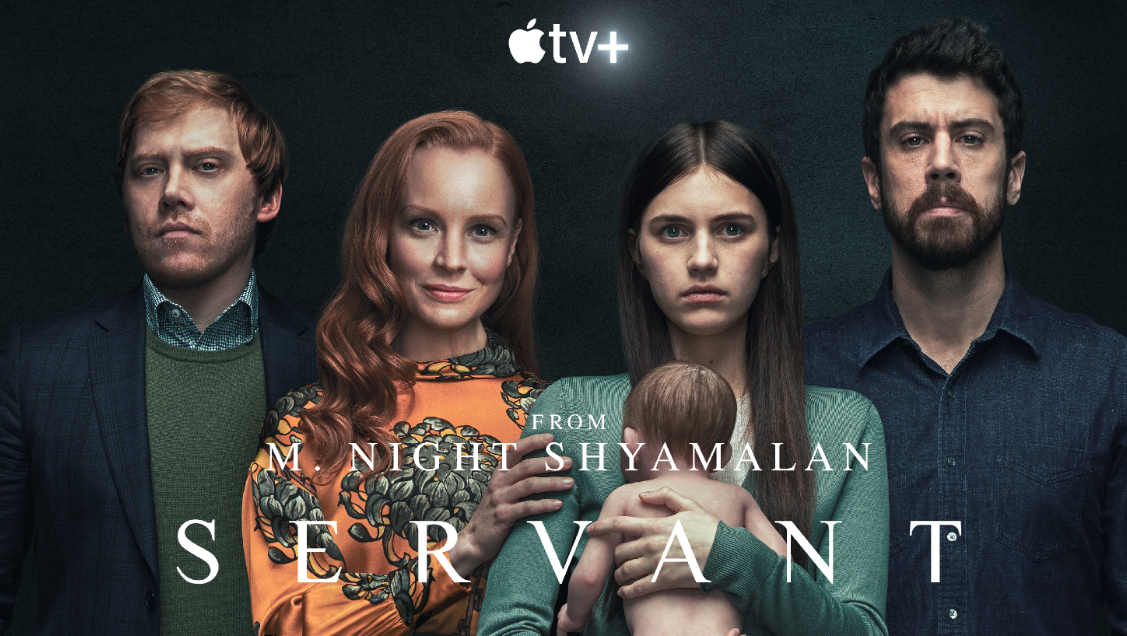 M. Night Shyamalan has done it again.
Shyamalan is an executive producer and director of Servant (2019) which is a psychological horror original series that is available on Apple TV+. He has created a work that both intrigues and consumes while leaving perhaps a few audience members mildly mystified over the plot. Servant might just be the series to binge for mystery lovers out there who are looking for a challenge. 
Season 2 dives ever deeper into the story. Dorothy Turner (Lauren Ambrose) and Sean Turner (Toby Kebbell) from the outside appear as a seemingly happy married couple. This lovely couple lives in what can only be described as the cover of Aspire Design and Home Magazine. Dorothy is a local television reporter, and Sean is a chef and an influencer. The two are a picturesque image of a power couple. Dorothy's brother Julian Pearce (Rupert Grint, notably known from the Harry Potter franchise) is a complicit, alcohol-loving enabler. He not only manages to visit as often as humanly possible but also brings about more questions than answers to what is going on in the mysterious lives of the Turners. The Turner family hires a nanny to look after their child Jericho. The nanny, Leanne Grayson (Nell Tiger Free), turns out not to be as innocently sweet as she first appears.
If the purpose of a good mystery is to keep the audience guessing, then this is exactly what Servant accomplishes. A character that keeps the mystery going is Leanne Grayson. The story becomes ever more muddled and distorted every time Leanne starts a sentence. In one sentence, she says the baby Jericho (Mason Belford/Julius Belford) is with loved ones, and in the same breath Leanne says the baby is gone. It might be the nature of her character to be as dynamic as she is, but it is also at times confusing and frustrating to try to piece the puzzle together only to realize there are still pieces that are missing — pieces even seem to change shape. It gets to the point where Leanne becomes an unreliable source for the audience.
The picture of perfection that the Turners establish with their home, careers, and relationship was shattered early in Season 1. Season 2 further complicates things when it is suggested that the Turner's baby has been killed, taken away, or perhaps never existed in the first place. The exact explanation has yet to be uncovered, but both the Turners are going through their own journey to try to understand what is happening to their lives and home. Through Season 2, audiences will discover more about the nature of Leanne and her purpose for finding the Turners.
One notable aspect of the series is how well the characters contrast with one another. Nell Tiger Free's character Leanne is a young girl with a Victorian wardrobe and is without a cellphone or a Twitter account. Free's character proves a sharp contrast with the Turners' lifestyle and home. The home appears as modern and elegantly designed as one could hope, especially with its state-of-the-art kitchen and espresso machine. Leanne proves to fit into their lives as neatly as an antique davenport would. While Free's character seems to have stuck out for her creepy and strange behavior, Dorothy on the other hand stands out for her calm and collective nature. Both of these women complement the eerie atmosphere of this series. 
One of the most prominent ideas of the show is its use of one-word titles. Each titled episode cleverly hints at what should be paid close attention to. Interestingly enough in this show, food becomes a cornerstone of delectable visual images that are so well done it could make anyone's mouth water. Outside of the clever one-word titles like, "Cake", "Espresso", and even "Pizza", the food that is presented always manages to have a darker undertone to it. Outside of those titles, other interestingly crafted titles like "Spaceman", "Doll", and even "2:00" all manage to make the mundane seem more intricate and complex when coupled with the episode's meaning.
For many who have kept up with the series thus far, Season 2 may seem a bit far from where they thought the series was going, but maybe that is just part of the magic that keeps it interesting. Season 2 dives deeper into the unknown with the psychology of the Turner family and even some of Leanne. Each episode leaves a trail of breadcrumbs to follow into the next episode. One after another the mystery becomes even more compounded with another mystery about Leanne, the house, the baby, and the Turner family, all of which is gearing up for a final reveal. Until that final reveal, all that is currently known is a confusing mystery with a lot of moving parts.
Season 2 of Servant premieres on Apple TV+ January 15th.
Donnie Lopez
Donnie Lopez is a gay Latino/Hispanic social and political commentator, writer, entertainment journalist, and professor. He writes on topics that affect Hispanic/Latino culture. With his novel insight, veracity, and sense of humor, he entertains as well as educates the world.