Angelica Monk
Angelica Monk is an Afro-Latina, working mom, writer, podcaster, social…
Written By: Angelica Monk
Tis the season for joy, peace, presents, and lightsabers.
With the recent release of the final chapter in the Star Wars saga, The Rise of Skywalker, fans have been scrambling to get their hands on anything related to the Star Wars Universe. No worries, we got you covered with a review of Insight Editions' Star Wars companion books that any Jedi Master (or Sith) would be proud to have in their collection. Let's begin in a galaxy far, far away…
Our journey begins in the far reaches on the distant planet of Batuu. Star Wars Galaxy's Edge: The Official Black Spire Outpost Cookbook is the ultimate cookbook for any culinary master. Based on the recipes found at Disney Park's Black Spire Outpost, this charming book follows the journey of Maz Kanata's head chef, Strono Tuggs, as he starts a new life after the destruction of Maz's castle. Although Tuggs is a rather unattractive creature, he more than makes up for that with his skills in the kitchen. Fans are treated to Tugg's recipes that he freely shares "for the right price" that normally can only be enjoyed at the Black Spire Outpost.
Tuggs traveled the galaxy acquiring knowledge of all the exotic dishes and spices that make his patrons come back for more. Try Tugg's famous Nerf Kebabs, a delicious spin of Shish Kebabs, or expand your palate to Mimbanese Mudslide, a delectable pudding that literally melts in your mouth. You can't go wrong with Tugg's famous Stuff Puffer Pig, which is as good as it sounds, and if that's not your speed, Tugg's Moss Chips are a healthy alternative for kale lovers. Parched from your long travels in space? Photon Fizzle is just what you need to quench your thirst. Each recipe is well crafted and easy to follow. You'll be licking your fingers after trying all of Maz's former head chef's creations. Bon appetite.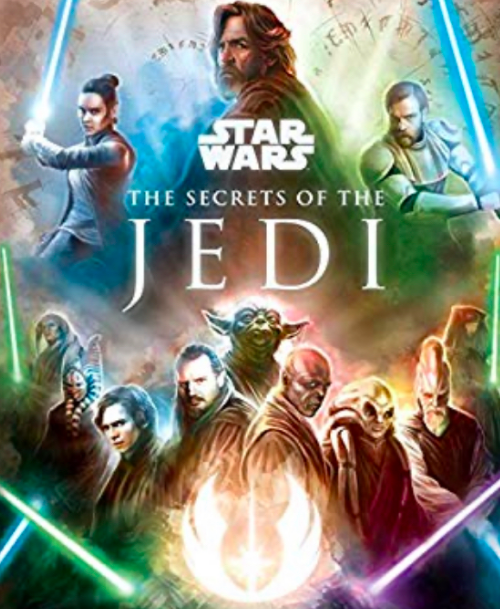 Now that our bellies are full, let us meditate and align ourselves with the Force. What is the Force, you may ask? Have no fear, Star Wars: Secrets of the Jedi gives you an in-depth breakdown of the famed Jedi Order as told by the most famous Jedi of all, Luke Skywalker. The Force, Luke surmises, is a mysterious power that belongs to no one, yet lives inside us all — a great power that can be used for both good or evil. Naturally, the Force's duality manifests itself by the Light Side and the Dark Side, and one must learn to find balance. Secrets of the Jedi provides character profiles of the most famous Jedi Masters and Knights and their natural enemy, the Sith Lords. Fans will pore over the interactive texts and hidden compartments. Throughout the book, a strange language border its pages. You are provided means to decode the wisdom of the Jedi. Whether or not you decode the ancient texts, readers will delight in learning the ways of the Jedi and the ever-present temptation of the Dark Side.
How did Anakin Skywalker go from a beloved Jedi Master to feared Darth Vader? Luke details the fall of Obi-wan's former Padawan (that's a Jedi apprentice for all you newbies). Savvy readers will find a hidden letter from Grand Master Yoda to Master Qui-Gon Jinn expressing his concern for young Anakin Skywalker. "The Chosen One, he may be… but ready to train in the ways of the Force, he is not." Ever wonder what powers a lightsaber? Secrets of the Jedi provides the inner workings of the lightsaber down to the assembly. You will even learn why Kylo Ren carries the seemingly impractical crossguard lightsaber. Apparently, there's a method to Kylo's madness.
Finally, we arrive to the pièce de résistance, the Jabba the Hutt of Star Wars books, if you will: Star Wars: The Ultimate Pop-Up Galaxy is a Star Wars fan's dream. This beautifully illustrated book is filled with scenes beloved by filmgoers. The Ultimate Pop-Up Galaxy takes you on a journey from the very beginning of the Star Wars saga. The events of Phantom Menace are described leading to the carnage of Attack of the Clones. Readers are treated to the famed standoff in a Geonosis arena where an Anakin and Amidala are rescued by hundreds of Jedi Knights and clone troopers led by Obi-Wan Kenobi. With a turn of a page, you are treated to a pop-up version of the original Death Star, a weapon of mass destruction that could obliterate an entire planet. A pull of a tab will reveal explosions as squadrons of rebels in Starfighters face off against Darth Vader's forces. We are next treated to a beautiful depiction of the forest moon of Endor, whose inhabitants endured the construction of the new Death Star right above their home. Ewoks and Pathfinders skitter across the 3D illustrations. Perhaps my favorite pop-up is the depiction of Rey piloting the Millennium Falcon through the belly of a crashed Star Destroyer as she escaped the clutches of First Order. Pull a tab and you will see the beloved Millennium Falcon disappear from one end to the other. Much like Rey's companion, Finn, you will cheer at the sight of this illustration.
Rise of the Skywalker may be the end, but there's no reason why the Star Wars legacy can't continue. Whether you are invested in the secrets of the Jedi order, are looking to spice up your kitchen with Tugg's cuisine, or just simply want to feel like a youngling again exploring The Ultimate Pop-Up Galaxy, Insight Editions has a book for you. Insight Edition's Star Wars Collection can be found wherever books are sold. For those that are not don't want to travel into hyperspace, they're a click away via Amazon. May the Force be with you!
Amazon hyperlinks:
Angelica Monk
Angelica Monk is an Afro-Latina, working mom, writer, podcaster, social media wiz, and proud Disney enthusiast who enjoys covering music festivals, popular fandoms, and beloved TV shows. She is a huge Game of Thrones superfan and an avid lover of period dramas. You can find her on Twitter at @AngieDaCoolNerd or on Instagram at @Angelica_TheCoolBlerd.