Writer-director CJ 'Fiery' Obasi (Ojuju) makes Sundance history this year as the first Nigerian-based filmmaker featured in the festival. He'll showcase his third feature-length film Mami Wata, a female-driven, genre-bending fantasy film boldly told in black and white.
The oceanside village of Iyi thrives on the blessings of the ancient water spirit Mami Wata of West African mythology. As the intermediary, Mama Efe (Rita Edochie) bridges the gap between the people of Iyi and the mermaid goddess. But the villagers start to doubt the deity's existence and their intermediary's power when children vanish and die, and Mama Efe fails to save them. Among the skeptical villagers are her headstrong daughters Zinwe (Uzoamaka Aniunoh) and Prisca (Evelyne Ily Juhen). They warn her about the collective doubt, but she refuses to stray from Mami Wata.
Prisca is Mama Efe's protégé, and they come to the aid of a strange man who washes ashore. Despite his history as a rebel warlord, Jasper (Emeka Amakeze) is seemingly grateful for their hospitality. His ruthless nature comes out after he meets the group of villagers who question the power dynamics of their community — the ones who see worshiping an unseen deity as an obstacle keeping (the school-less, hospital-less) Iyi from progress. Led by the aggressively distrustful Jabi (Kelechi Udegbe), the group soon revolts, deciding to forcefully and violently take over the village.
With the film's three leading ladies, Obasi challenges Western perceptions of women in Africa as subservient, hypersexualized, and uncivilized. They're more than girlfriends, wives, and mothers. They value family and being a part of communities but still maintain their independence. (This might be the first time I've seen an African woman depicted dancing and drinking at a bar on her own.) Throughout the film's events, the women reveal their layers and complexities, showing they're not simply stoic warriors, but mine their strength from vulnerability. Obasi gave all the characters their motivations and three-dimensionality, presenting a more authentic depiction of Africans.
The tension between the women stems from a crisis of faith and pressure to inherit the role of intermediary. Zinwe flees when she discovers something about her identity of which she was previously unaware, quite literally running away from her destiny. Everyone in the village seems to grapple with the uncertainty of Mami Wata's presence (except maybe Mama Efe). But Zinwe almost resents the ideology and what it's asking of her. However, when Jabi and Jasper become a major threat to Iyi, Prisca and Zinwe have to set aside their familial conflict and band together to save their village.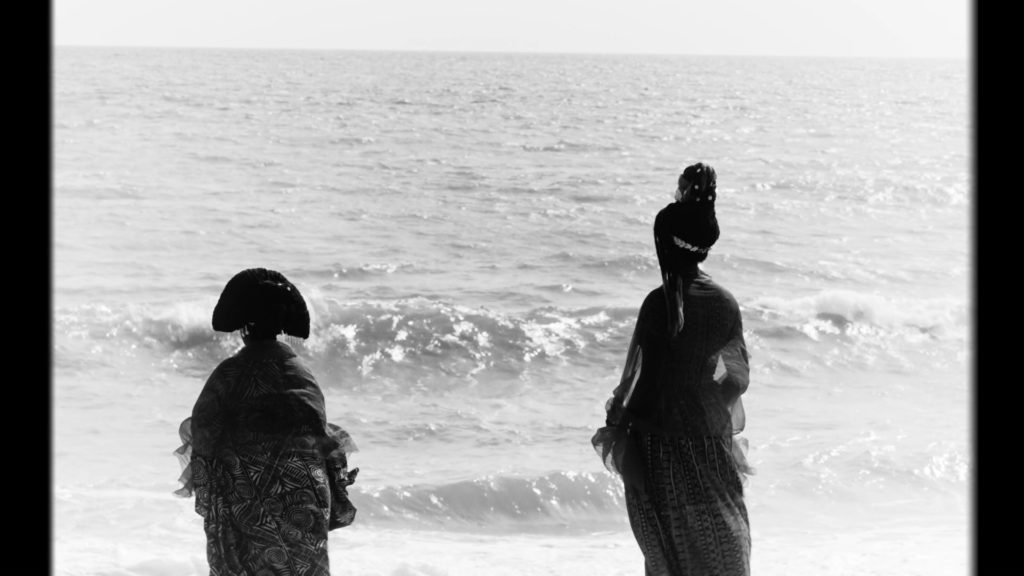 Like Mami Wata, the constantly crashing ocean waves can be interpreted differently — reaching and welcoming or taunting and menacing. The water is a constant presence, essentially a character on its own. A couple of times in the film, the characters' spiritual connection to the ocean is visually represented by superimposing waves over their faces in close-ups.
The striking imagery of Mami Wata was inspired by a vision Obasi had in 2016, like the "clean white sand" of the beach. Lines of dialogue divide scenes into chapters, a structure that makes it feel even more like we're being told a fantastical story. It has the classic quality of a masterful film that would be studied in film school (ex. The Seventh Seal, Rashomon) while also evoking something modern and innovative. Visually, it reminded me of Raging Bull, and A Girl Walks Home Alone at Night, two very different films.
The monochromatic film is visually stunning from beginning to end, especially the darkness of the character's hair and skin in stark contrast to the white face art and cowrie shells in their hair. When discussing Lílis Soares' (Um Dia Com Jerusa) incredible cinematography, Obasi says, "You might call it the gaze, but for us, it was just more or less how dark skin is and dark bodies are depicted on screen." Soares uses distinct lighting to illuminate beautiful Black skin against a pitch-black sky. Since the village is without electricity, night scenes are only lit by fire or the glowing moon.
The nights are eerie and engulfed in darkness. In addition to Tunde Jegede's (His House) foreboding drum-heavy music, the sounds of nature, particularly the wind and waves, make up the film's sonically textured score. The consistent chirping of crickets isn't uncommon in outdoor settings but paired with the relaxing sound of waves and cowrie shells adorning the gorgeous ensembles create a specific aesthetic.
Mami Wata is an immersive experience that transports you to a place both otherworldly and grounded in a brutal reality. CJ 'Fiery' Obasi's enchanting and suspenseful supernatural thriller feels like it originated from a stage play or best-selling novel. Still, credit goes to the filmmaker's imagination and artistic elegance.
Mami Wata made its world premiere at the 2023 Sundance Film Festival. 
Cassondra Feltus
Cassondra Feltus is a St. Louis-based freelance writer best known for film, television, and pop culture analysis which has appeared on Black Girl Nerds, WatchMojo, Mental Floss, and The Take. She loves naps, Paul Rudd, and binge-watching the latest series with her two gorgeous pups – Harry and DeVito.