Joelle Monique
Joelle Monique is the co-creator and writer of the webcomic…
Superstition is Mario Van Peebles' latest exploration of the Black community. His work on Roots, New Jack City, and Baadassssss! have started conversations around the Black diaspora and the ways in which Black Americans are depicted in entertainment. With his latest show, Superstition, he's at it again.
We've mentioned the new SYFY show on this site several times before and interviewed Van Peebles himself on a conference call. BGN loves SYFY's latest exploration into the worlds of magic and demons. Blerds with a passion for magic have had shows with predominantly white casts like Charmed, Angel, Buffy the Vampire Slayer, Supernatural, Preacher, and Lucifer where characters of color are supporting at best and background at worst.
Van Peebles is challenging the status quo by exploring specifically Black magical aspects. In the pilot alone he explores Nigerian, Voodoo, and American slave cultural traditions. Van Peebles said this comes from an intense desire to learn. Describing himself as a nerd of life Van Peebles said, "I love to study. I learn to love. I get to learn about superstitions. I get to learn about infernos." He described taking his kids all over the world to explore different cultures, learn to meditate, and even try going vegan.
In talking to him, it's clear how close he is with his family. He bragged about his daughter in college and his son working in entertainment. That carries over into the show. As Isaac Hastings, Van Peebles leads a family of strong-willed individuals. Calvin, his son, played by Brad James, ran away to join the army and escape the death of his brother. But he wound up abandoning a daughter he never knew he had.
That daughter, Garvey, is Van Peebles real-life daughter, Morgana Van Peebles. Mr. Van Peebles is a proud father. He bragged that his daughter had just completed her first year at his alma mater, Columbia. But being the showrunner's daughter didn't guarantee her the role. Ms. Van Peebles had to audition several times. Once she earned the role she decided to live with her dad during production. "It has been 'bring your daughter to work day' for the last four months."
He had been excited to be an empty nester but was finding a lot of pleasure in exploring the world with his kid. "We've been playing house. We go shopping together. She's trying to get me to go vegan, but that chicken is calling my name," Mr. Van Peebles said. "What's cool I think in our family is that we're bilingual. My dad and I spoke two languages. On set, we were actor and director. At home, we could be father and son." He tries to do the same thing with his daughter.
"You can't have that Van Peebles last name and be the weak link on set," Mr. Van Peebles said. He expected what many Black parents expect of their children; show up early, be prepared, and put the screen down. Those are priorities important to Mr. Van Peebles.  This essence of family radiates at the core of the show.
"The idea came from this notion: What would the Obamas be like when the cameras are turned off?" Mr. Van Peebles continued, "At their core, you feel like the Obamas love each other. Mom and dad are attracted to one another. They're not mad each other or holding hands for the camera. They're not that kind of family." Most importantly they deal with things internally and they solve their problems together.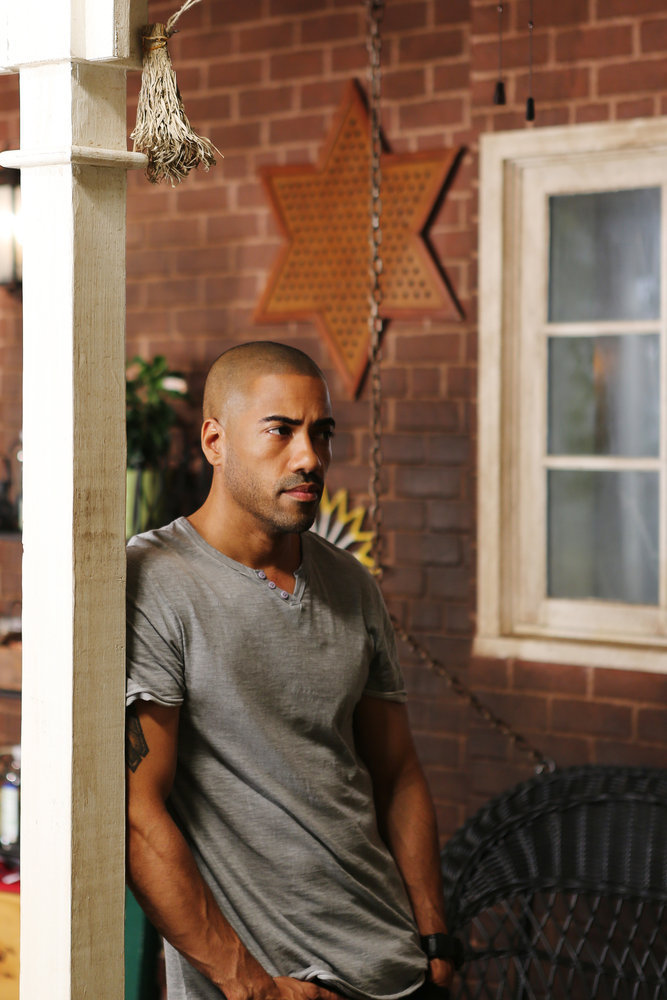 One of the things they're exploring together is the protection of the environment. "The demons from below ground are coming, in effect, to put us in check and create balance again." If the human species is the most destructive species in the world, then the demons could easily be seen as the good guys. These complexities enrich the tapestry of Superstition.
They will also explore Black Lives Matter from new and interesting perspectives. Demetria McKinney plays May Westbrook, a local Sherriff. "It's an interesting and tricky dynamic. Instantly there's some tension because she's a woman and a sister. Her daughter has read up on Garvey and the other Panthers. The question then becomes can you be both black and blue." Combine that with the town's disdain for the Hastings family and anyone that works with them, and Westbrook has got some huge hurdles to climb.
This first season of Superstition is sure to be a thrilling one. Be sure to watch episode two on SYFY Friday at 10/9 pm central.
Joelle Monique
Joelle Monique is the co-creator and writer of the webcomic Harsh Mellow, a podcaster with Black Girl Nerds, a proud Hufflepuff, and a member of the water tribe. She resides in Los Angeles but her heart resides in Chicago.