The trailer for Jordan Peele's sophomore horror feature Us dropped over Christmas to a huge response from horror fans and "regular" moviegoers alike. The premise of his newest work revolves around Adelaide Wilson (Lupita Nyong'o) and her husband Gabe (Winston Duke) who are heading to her family beach house for the summer. Adelaide has some dark trauma in her past, and as her holiday continues she becomes more and more convinced something will happen to her family. And then they show up. Four people who are identical to the Wilson family. In a series of quick cuts to raise your blood pressure, we see a host of imagery. White rabbits, scissors, mirrors, blood, and a whole lot of screaming.
Horror fans in particular were quick to notice all the various homage to the genre in the Us trailer. I think people have written dissertations on it, and the movie hasn't even come out yet. And when I heard that Jordan screened 10 specific horror movies for Lupita's character development, it's now my turn to nerd out. Jordan's list includes many of my all-time favorites, mainly because of the tour-de-force performances of these female-centric stories. Here are the clues I read and predictions I'm making for Us from each recommendation.
Dead Again
This '90s cult favorite, especially among horror theater kids, features Kenneth Branagh and Emma Thompson as lovers for whom increasingly strange things begin to happen. As it turns out, reincarnation plays a role in this tale of revenge and murder, including a huge pair of scissors that had been a weapon in several different-but-connected lifetimes. Emma Thompson's performance is flawless as her character begins to doubt her own memories and sanity.
Does Us have a reincarnation component? Are the doubles possible past or alternate lives?
The Shining
The theme of reincarnation pops up again in Stanley Kubrick's masterpiece The Shining. Jack Torrance had been to The Overlook before in a past life, hence how quickly the haunted space is able to consume him as an entity of evil. In Us, Adelaide also returns to a site of trauma and is forced to confront an ugly, possibly evil, version of herself. What will the idea of past lives bring to Us? Something fundamental, I think.
Also, Shelley Duvall's performance in The Shining is iconic. Her eyes brimming with fear. That primal scream as she tries to protect herself and her son. I see that in Adelaide's face as tears pour over her cheeks. I predict Lupita will be the new generation scream queen after Us is released.
The Babadook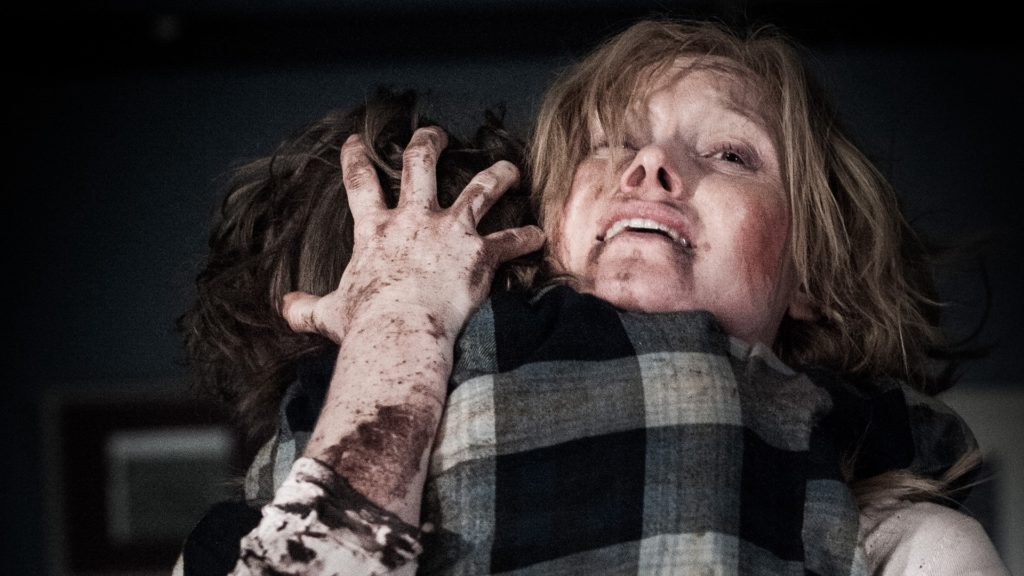 Yet another important installation in the trauma-of-the-home horror genre, The Babadook follows a grieving mum as a mysterious creature in their home terrorizes her and her son. The entity turns out to be her own pain and rage at the traumatic loss of her husband, and once she makes peace with it the creature no longer has the power to hurt her. Us is about confronting the evil in ourselves, according to Jordan Peele. And Essie Davis's brutal presentation of a mother on the verge always reminded me of Shelly Duvall in The Shining. Could it be that Adelaide in Us is the actual danger to her children and family? 
It Follows
Arguably the scariest monsters are those we can't see — or that can only be seen by some — which makes It Follows one of the scariest movies of all time. Part creature feature and part body horror, the mysterious entity appears to attach itself to people after intercourse, making this scary movie a parable about sexually transmitted infections to boot. With regards to Us, and taking other titles on this list into account, I've been wondering if the doubles we see in the trailer are actually there or if they are manifestations of psychic energy, grief or trauma.
A Tale of Two Sisters
In this phenomenal Korean film, Su-Mi (Im Soo-jung) returns to her pastoral family home after a stint in a mental institution. She and her sister Su-Yeon (Moon Geun-young) are close, and look almost like twins even though they aren't. Hello, doubles. Their wicked stepmother Eun-Joo (Yum Jung-ah) is violent and abusive toward Su-Mi, physically and verbally assaulting her. Or is she? A Tale of Two Sisters is a movie that questions the very nature of reality, and in particular when childhood trauma and violence shape a person's foundations.
Like It Follows, some of the monsters in this film don't actually exist to anyone else but the seer. Also, I'm curious if Adelaide in Us lost a parent or sibling? I've been haunted by the "I Got Five On It" melody counterpointing a family of four, which might suggest someone in Us is missing. Also, did Adelaide possibly spend time in an asylum? Was she experimented on and tortured like Su-Mi? Have Adelaide's demons been created by the medical industrial complex? 
The Birds
If invisible monsters are terrifying, then innocuous creatures like birds who suddenly begin killing people is equally horrifying. The worst thing about The Birds is that we never find out why the birds suddenly turn on humans. All we know is the characters' fights for survival. Even though Melanie Daniels (Tippi Hedren) makes it to the end, her near-catatonic state suggests that she might not properly recover from the trauma. She goes from being an independent, sexually active, and capable woman to a broken person unable to even walk on her own.
Will Us maybe not even tell us why any of it is happening, forcing us to draw our own conclusions? And why is this almost more frightening than every other horror in this list? Further, will Adelaide be properly broken by the end of Us, to the point of no return like Melanie Daniels? 
Funny Games
There are two versions of Funny Games, both directed by Michael Haneke. The first is in German and was later remade in English. I don't know which (or both) Jordan recommended to Lupita, but they are both fascinating films taken together or separately. More evidence of doubles and doubling. In the German version the young intruders are dark haired; in the American they are blonde. Haneke's flashy remake of his own work suggests his not-so-high opinion of American audiences and the Hollywoodification of a European story. Whether Lupita studied Naomi Watts' Ann or Susanne Lothar's Anna, these two women go through a horrific ringer, and their realistic performances are both gut-punches, especially after the brutal murders of their sons. An idyllic lake setting also mirrors some of what we see in Us.
Did Adelaide maybe lose a child? Could they be the fifth person the Us trailer appears to mention? Is this why she is so paranoid about her son near the water?
Martyrs
In yet another powerhouse film of magnificent women's performances, we have Pascal Laugier's 2008 transcendental and philosophical horror Martyrs. This is my favorite movie of all time, and not just horror, because it perfectly details how foundational traumas-of-the-home never leave us. Like A Tale of Two Sisters, this movie also questions the nature of our reality, featuring monsters that can only be seen by some. And other very real human monsters whose acts of cruelty literally know no bounds.
Again, I'm asking myself whether the doubles in Us are actually real, or if they are manifestations of pain, horror, grief like in Martyrs. And once more, I wonder what kind of (human) experimentation is going on in Us indicated by the room of rabbits. The experiment in Martyrs is one of the worst things you will ever see. It will profoundly change you as a person. Will Us follow in that vein? 
Let the Right One In
This fabulous Swedish vampire story follows a bullied young boy Oskar (Kare Hedebrant) and the enigmatic little girl Eli (Lina Leandersson) who just moved to his apartment complex. Leandersson's portrayal of this hundreds-of-years-old vampire in a child's body is truly phenomenal. Her eyes portray hundreds of years of pain. I have no idea how someone so young could channel that level and depth of emotion, and I'd wager that's why Jordan put this film on Lupita's list.
But like with It Follows and The Birds, Let the Right One In's climactic moment, where Eli slaughters the bullies trying to drown Oskar, the action takes place off camera. I'm getting nervous that Us will actually present more questions than answers, which is also simultaneously thrilling.
The Sixth Sense
Toni Collette's work as a mother struggling to deal with a uniquely challenging son is one of her finest roles to date. The Sixth Sense is also yet another installment in Jordan's screener list that involves someone seeing things that others cannot. This suggests more and more that the doubles might not be actual physical doubles but rather psychic manifestations. Also, I have to wonder whether the Munchausen syndrome by proxy subplot in The Sixth Sense will crop up in Us. How deep does Adelaide's overprotectiveness of her children run? Could it be that she's the threat? Are the doubles her own creation? 
Be sure to check out these 10 amazing films before Us premieres on March 15, 2019. Did I miss anything — from past lives and reincarnation to the physical manifestation of grief, trauma, and pain? Please drop your thoughts and theories in the comments below.
Sezín Koehler
Sezin Koehler is a multiracial Sri Lankan American, uncertified scream queen, and Frida and Keanu devotee who writes about horror, social justice, and representation for Black Girl Nerds. You can also find her on Twitter ranting about politics (@SezinKoehler), or Instagramming her newest art creations and tattoos (@zuzukoehler).