If you mention Black Hollywood, you'll have Vanessa E. Williams on the list. Her long-standing career includes the classic New Jack City, and a host of films and television shows. Starring in the new installment of Candyman, BGN spoke with Williams via Zoom to discuss her reprised character, Black motherhood, and the importance of Black storytelling.
In the 1992 version of Candyman, we see Anne-Marie McCoy's baby kidnapped by Candy Man himself. Even though the child was returned to her, that was a lot of trauma for her to manage as a woman and as a mother. Nearly 30 years later, who is Anne-Marie now and how has she evolved? Also, how does this speak to Black motherhood and Black trauma?
It was so gratifying and marvelous to step into Anne-Marie's shoes again, and to depict the extended version of what has happened to her life. Like many Black women, she is a young mother, unmarried, and single-handedly raising a son in this not-so-wholesome community of Cabrini-Green, but she is still making a home for herself. You know what is beautiful? I went to Chicago and saw the woman who this character is based on, and her home was impeccable. It was like that line from Stevie Wonder, "Her clothes were old but never were they dirty." You walk inside, and it's warm, neat, and so full of her personality. So, I completely took that on — how we make a way out of no way and coming from that kind of community myself in Bed-Stuy Brooklyn.
Today we meet Anne-Marie, and she has had a forward trajectory. She's limited by the challenges but victorious in that she's now working in the medical field. She's not quite a nurse, but she's a nurse's assistant. She's got an income and has been able to get her son through high school and through the challenges of the community. Now, he is a renowned artist. So, that is a victory. She is a survivor, thriver, and a successful Black woman who was able, against all these odds, to raise and protect her child.
This is what has become so tragic about all that she has sacrificed and moved through that now this entity would be summoned. When I have that wonderful scene with Yahya (and he was such a delicious scene partner to have), by this time in the movie, so many things have happened physically and emotionally. He is trying to make sense of it all and confronts his mother, who has been carrying this heavy secret. Whether we agree with if she should have or not, we understand as the audience (and I certainly understand as a mother and actor portraying her choices), why she would keep this a secret. She was trying to protect him. It pains her to no end that even with all that, he's still hurt and affected.
In the end, which is the metaphor for all Black mamas, these systems and powers that are greater than our love can still destroy our children. That just gave me chills saying it out loud. I have goosebumps from what I just said. That is the horror of this movie; the horror that we can't walk away and say, "Oh that was just a scary movie." This film was helmed by a Black woman and produced and written by Black creators and people who are sensitive to our story because it matters who tells the story. This narrative, defined and owned by people who are the victims of this story, is gratifying — and more truthful and authentic.
There is a Black trauma narrative and a litany of things that can go wrong in a Black girl's life. In the discussion on the digital release, they take it back to the folklore that people could fly to leave their oppression. We were going to fly our way home. Those were the coping mechanisms of a grand, majestic, royal, culture and community, which has had to go through so much and still rise.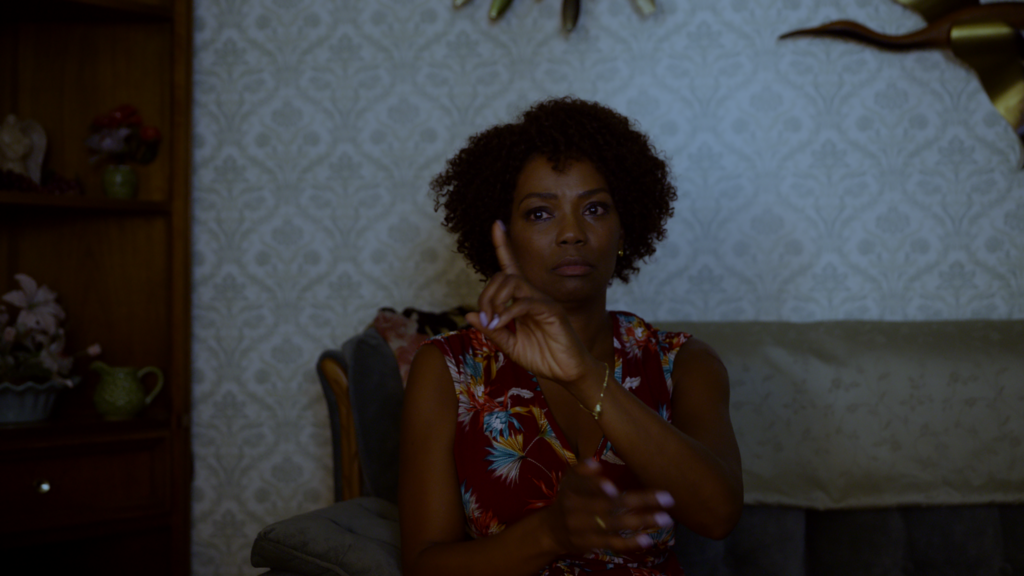 Like you mentioned, the creative team is different this time around, which changes the dynamic of the story. What are your thoughts about how Black people are depicted in horror films, and how do you see that evolving?
It's a wonderful time in the Black horror genre, which is also talked about in all the extras on the DVD and Blu-Ray versions. I personally am a scaredy-cat and don't see a lot of horror! [Laughs.] But I've seen the Jordan Peele films: Get Out and Us. Lovecraft Country was a big hit. So, all of that being helmed by Black creatives has a major impact on moving the needle and having the genre work in a way that doesn't retraumatize us but tells an authentic story of what has happened. One of the tools that Nia DaCosta uses, discussed further in the social impact piece on the DVD version, is that we don't see all of the killings. It's not so gory, and we pull back from it. For me, it's even more haunting and more impactful. She lets the viewer's imagination really take hold. It's particularly telling of her sensitivities as a filmmaker and all of the things — being a woman, being Black, being a certain age — that speak to her particular lens. It vitally impacts what gets told and how it gets told. For me, it's just moving the needle forward from having an established point of view.
You spoke about what you brought to the character of Anne-Marie this time around. As a mother, what did you draw from personally to bring to this character?
Everything. Not only do I have a 23-year-old son and an 18-year-old son, but both of them are artists. My oldest is a visual artist and graduated from Cooper Union School of Art in 2019. I can understand what kind of courage it took for Anne-Marie to get her baby boy out of the ghetto and into better surroundings and the courage to give her son the freedom to be an artist. This is a woman who you could understand if she were to encourage him, or demand, that he be a doctor or lawyer — something that is predictable. But she had the courage to allow her son to be an artist, to move through all that he had been through. In his DNA, and in his body, is also the trauma of being kidnapped and having been in the possession of Candy Man. She had the courage and innate knowing of how to actually parent him. This is like my trajectory as a parent. I really wanted to get out of the way of telling my kids what to do and just listen to what they came here to express. Make available all the options and see what they gravitated towards and encourage that. I can see how Anne-Marie did similarly.
Candyman is available On Demand and Prime Video. Own it on digital, and 4K UHD, Blu-Ray and DVD November 16, 2021.
Archuleta Chisolm
Archuleta is an author, poet, blogger, and host of the FearlessINK podcast. Archuleta's work centers Black women, mental health and wellness, and inspiring people to live their fullest potential.