It's true. Viola Davis is starring in a new thriller featuring our favorite elements of the genre of drama — crime, passion, and corruption.  This is familiar territory for the Oscar® winning actress who plays the illustrious Annalise Keating on the ABC hit How To Get Away With Murder.
Regency Enterprises and 20th Century Fox have released the trailer for Widows, from Academy Award-winning director Steve McQueen and co-writer and bestselling author of Gone Girl, Gillian Flynn.  Widows is the story of four women with nothing in common except a debt left behind by their dead husbands' criminal activities. Set in contemporary Chicago, amid a time of turmoil, tensions build when Veronica, Alice, Linda, and Belle take their fate into their own hands and conspire to forge a future on their own terms.
Check below for some still images from the movie: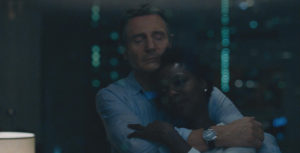 The film has a star-studded cast featuring none other than Viola Davis, Michelle Rodriguez, Elizabeth Debicki, Cynthia Erivo, Colin Farrell, Brian Tyree Henry, Daniel Kaluuya, Garret Dillahunt, Carrie Coon, Jacki Weaver, Jon Bernthal, Manuel Garcia-Rulfo with Robert Duvall and Liam Neeson.
Widows will be released in theaters November 16, 2018.