E.Angel
E.Angel is an engineer and holds a BS in electrical…
Another year, another con.
This year we were at the Walter E. Washington Convention Center in Washington, D.C. for Awesome Con. If you've ever been to a convention, you know hard concrete floors, crazy lines at the bathroom and/or the ATM, and a lack of seating in those down moments are common. One thing I like about Awesome Con is that at least the bathroom thing is not a big issue. The convention center is so massive that there are multiple offerings. However, the bathrooms closest to the exhibit floor can have a line once and a while. But ample bathrooms is not what makes this con enjoyable.
Like last year, I found getting into the con a little confusing. The metro is the best bet, as parking is a pain and also expensive as all get out, for attending the con. However on Friday, there were a lot signs indicating the exits, but I don't remember seeing one telling you where the entrance was. I know this as I ended up wandering basically the entire circumference of the four block or so convention center to figure out how to gain access. You could say Saturday and Sunday were better as the really long lines made it evident where the entrance was located.
The exhibit hall was incredible. The fifth year of Awesome Con found Stan Lee as major guest, expanded Future Con from last year, and added Pride Alley. Both Future Con and Pride Alleys had dedicated areas on the exhibit floor, but also dedicated conference programming for all three days with a STEM and LGBTQ focus.
Future Con Alley, almost felt like a weekend trip from Hogwarts for this nerd. There was a booth from the National Science Foundation that displayed the winners from a contest where high school students designed a comic book character whose powers were based on nano-technology. The National Aeronautics and Space Administration (NASA) had a booth with information about the Moon and the upcoming total solar eclipse. I also met a scientist who was part of the team who was launching another satellite the ICESat-2 (short for Ice, Cloud and land Elevation Satellite), slated to launch in 2018, which will use lasers and a very precise detection instrument to measure the elevation of Earth's surface.
Pride Alley within the exhibition hall was present. There were some obvious booths and not so obvious, but all in all a good start. One panel, which explored homophobia in Fandom, included BGN's own Valerie Complex. The panel was well attended, including some teenagers. The discussion went from current conflicts surrounding queer baiting on "The 100", to the Steven Universe controversy, the sad/rabid puppies assault on the Hugo Awards, to the progressive treatment of a gay character in the "Golden Girls." Yep, Valerie took us back to the "Golden Girls." But more importantly, if you are unaware (as I was), "…a bowl of grits will transform your life." Apparently some homophobes purport that one of the South's favorite breakfast foods, could cause gayness, as grits apparently will make you gay. I am very concerned as millions of straight Southerners, such as myself, routinely enjoy grits, but hey knowledge is half the battle, and I am now researching the influence of Cream of Wheat! As with most panels, the obligatory overexcited teen/twenty-something female was there to offer insights, but hey the enthusiasm of youth.
Another returning area is the Backlot. Portions of the Backlot felt like an alley, given the long corridor behind many of the booths and stage area. This year I loved that the alley was guarded by the Empire, as a group of Stormtroopers took it upon themselves to set up a checkpoint – I am not the Blerd you're looking for. But this brings me to the kudos. Our black sisters really stepped up their costume play (cosplay). Last year there were some good efforts, but this year the sisters were working it from Hogwarts to the Fifth Dimension.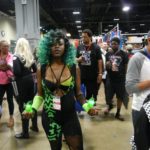 The Wednesday before the convention, I was making my comic book rounds and the nerds at one of my comic book haunts were discussing attending the convention. Although a vendor at the convention, it was interesting that the discussion among staff and patrons was whether they would go and why. The employees had to go to work, but they indicated very little desire to explore the convention as they felt it had diversified itself too much from its origins as a comic book convention. As I stood in line for two hours for Stan Lee's signature, I had time to consider this. Over half the exhibit floor was booths for autographs and photo opportunities from various "celebrity guests", while the fans of the comic book professionals like Scott Snyder, Tom King and Greg Capullo, who were "featured guests," were relegated to blocking easy access to various aisles and a restroom during the signings. While I was excited to have such great talent at the convention, and I'm sure there is a money reason behind the treatment, it would be nice to have a schedule board and a couple of tables out of the way to support the comic fandom.
The lower level of the con towards the entrance are the rooms for video and table games. It was a great place to play some video games – basically in the dark. You could also check out or bring your own table game in a really nice size hall.
In my interview with Ben Penrod (See BGN – Alleys of Awesomeness) he talked to us about being focused on diversity. There are a lot of areas for diversity, Pride Alley is definitely another good start, the question is for nerds like me, do I wait two hours for an autograph of Stan Lee, take a picture with the ladies of Dark Matter, stand in line for Maki Roll, traipse across the entire convention center for the diversity panel (See BGN – Awesome Round Up 2017), or stand in line to meet your favorite comic book artists or writers. I got to do most of these, and regret not doing some others, but I guess that's the struggle for attendance at any convention. I know no one is the Apostle Paul and can be all things to all people, but given the growth of Awesome Con, I challenge Ben and his team to continue stretch beyond what is diverse and interesting for them and recognize the vast diversity in their fans and whether that is well-represented. There is a difference between present and represented. To the BGN fandom, this is a great convention with days of things to do. Make sure to remember comfortable shoes, visit the ATM before you come, and plan your days as the planning for Awesome Con 2018 has already begun. See you there!!!!
E.Angel is an engineer and holds a BS in electrical engineering from North Carolina A&T State University. She's a real nerd who loves all things Star Wars and Star Trek, and is an avid gamer. E.Angel can be reached at e9of10@gmail.com or on either game platform as Bunnehs Sister.
All images in this post are credited to E.Angel. Featured image is credited to Awesome Con.
E.Angel
E.Angel is an engineer and holds a BS in electrical engineering from North Carolina A&T State University. In her spare time she works at her comic book store – Brainstorm Comics and Gaming - when she is not reading comic books. She's a real nerd who loves all things Star Wars and Star Trek, and is an avid gamer. E.Angel can be reached at e9of10@gmail.com or on either game platform as Bunnehs Sister.