Anime has been influencing streetwear for decades. Research suggests that skater brand Hook-Ups was one of the first streetwear brands to include anime in their collection when they featured manga-style art on their gear in the 90s. Since then, the streetwear industry has experienced a rise in its inclusion of anime-inspired designs, thanks to a whole new generation of designers who grew up watching shows like Naruto, Dragon Ball Z, and Sailor Moon. Brace ourselves otakus, as we review the ten best collaborations between anime and streetwear. 
Akira X Supreme
The Supreme X Akira 2017 Fall Collection premiered online and in stores in November 2017. The campaign featured original artwork from the manga series. It also included custom graphics that pay homage to both Akira and the NYC-based streetwear brand (like Tetsuo rocking Supreme's infamous box logo tee). Supreme X Akira featured a collection of apparel, outerwear, and accessories with simplistic designs that capture your attention without being too busy. Each garment had minimalist swag that allowed customers to zero in on the fine attention to detail.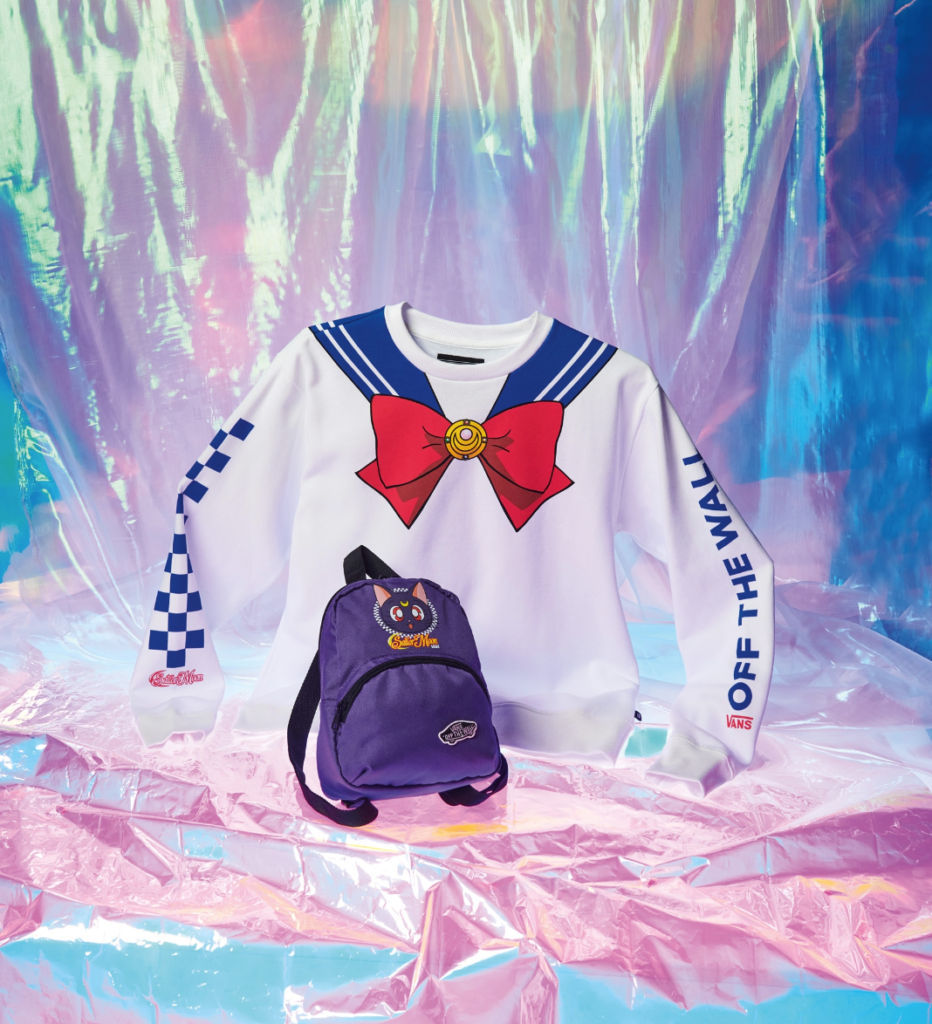 Vans X Pretty Guardian Sailor Moon
Vans X Pretty Moon Guardian Sailor Moon premiered on June 10th, 2022, both online and in stores. The collection's designs were inspired by Sailor Moon's themes of love and friendship, with remixes of the show's iconic wardrobe and colorways that honor its infamous pastel aesthetic. Vans X Sailor Moon included original designs that mashup characters like Tuxedo Mask and the Pretty Guardian herself with Vans signature logos (such as their checkerboard print and their slogan: "Off The Wall"). 
Dragon Ball Z X Adidas
The Dragon Ball Z X Adidas campaign was a visionary masterpiece that featured strategic attention to detail that no one was prepared for. The capsule included eight pairs of kicks released in a four-part series between September – December 2018. Each drop featured a hero vs. villain mashup inspired by some of the most iconic fights in DBZ history (except the last series, which was dedicated to Shenron).
Each character was represented by a different Adidas silhouette. The kicks were designed to completely embody each character, from battle armor and Kanji to texture and complexion. To top it all off, when you stack the shoe boxes in the order of their release, they come together to reveal one large image.
Naruto X Jordan
Inspired by the Jonin of the Konohagakure, the Naruto X Jordan collab features the Jordan Air 200E SP with the infamous green, black, red, and beige colorways. Fans may recognize characters like Kakashi. The kicks premiered on Nike.com on May 18th, 2022, in conjunction with the Naruto X Jordan Zion collection. The Jonin's feature immaculate meticulousness meant to pay homage to the uniforms of Konoha's most elite shinobi, like:
A cream-colored bandage that wraps around the toe of the shoe.
The swirling crest of the Uzumaki clan is embedded on the tongue and right insole.
The leaf symbol of the Hidden Leaf Village is engraved on the back of the shoe.
5. BAIT X Astroboy X Reebok
Released on Reebok.com on May 21st, 2022, BAIT X Astroboy X Reebok included a pair of kicks from the Reebok catalog designed to emulate the concept of Osamu Tezuka's infamous sci-fi hero: Astroboy. The first pair was the retro Instapump Fury with hues that nod to Astroboy's design. The kick's patent leather exterior was decorated with mechanical details that resemble the inner anatomy of a robot.
The second half of the capsule was a low-cut Club-C Stomper whose off-white base was covered in Astroboy's original blueprint. Not only are graphics of Astroboy embedded in the upper half of the Club-C's, but original Astroboy prints can be found on the insoles. The coolest feature of the shoes by far though, is that they glow in the dark.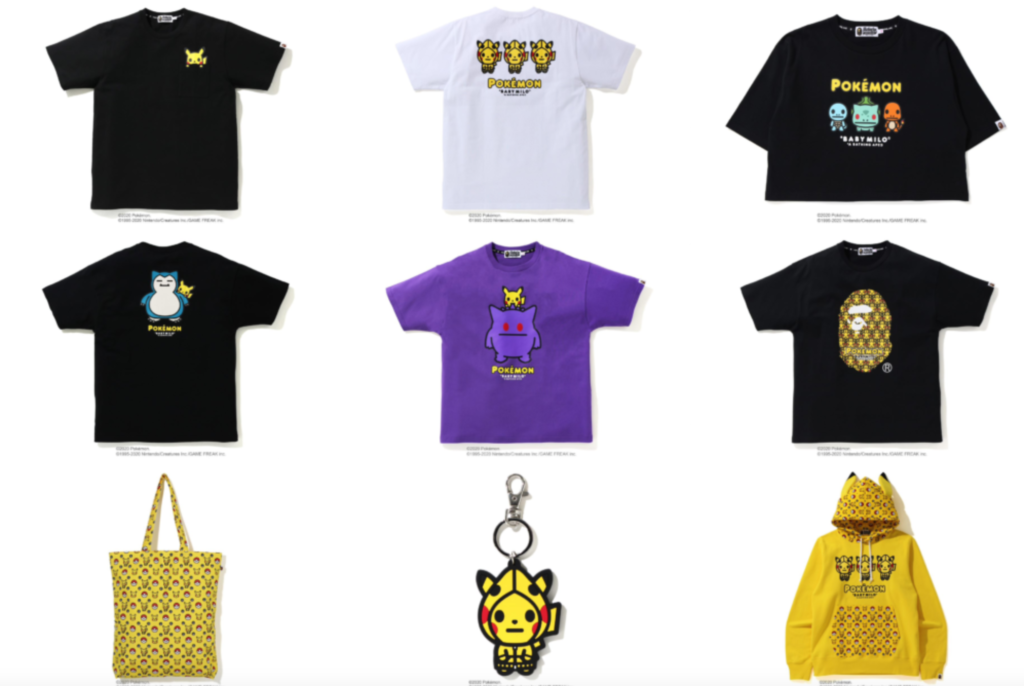 6. BAPE X Pokemon
BAPE X Pokemon premiered online and in Bape locations on October 31st, 2020. The collection featured apparel and accessories for men, women, and children in bright and monotone palettes. In BAPE X Pokemon, characters like Gengar, Snorlax, and Mankey were given BAPE's signature MILO makeover and printed on the body of tote bags, graphic tees, cropped tops, and pull-over hoodies.
The collection included many original designs with character mashups and collages guaranteed to spark nostalgia (like the starter three Pokemon tee featuring the infamous trio from Nintendo classics Pokemon Red and Blue). 
7. Hunter X Hunter X Hypland
Hunter X Hunter X Hypland premiered on Hypland.com on May 21st, 2021. The drop included trippy designs and patchwork prints guaranteed to turn heads. Characters like Youpi, Hisoka, Chrollo, and Feitan can be found on pullover hoodies, graphic tees, and sweatpants with color palettes inspired by the character's essence. As a bonus, Hypland released intricately designed wall rugs with life-sized embroideries of the popular twosome Gon and Killua that are so cute you just want to snuggle with them. 
8. Nike X Doraemon
The Nike X Doraemon SB Dunks premiered on September 05th, 2020. The construction of these kicks is clean, with a white leather exterior covered in "photo blue" suede overlays. The bright blue and white color scheme is complimented nicely with bold accents of red, which provide a smooth aesthetic that's easy on the eyes. The bold red laces contain hints of yellow meant to symbolize the bell on Doraemon's collar. The brightness of the hightops perfectly captures the kawaii essence of the Doraemon series, which is undoubtedly one of the most successful anime franchises of all time.
9. AAPE by A Bathing Ape X One Piece
AAPE by A Bathing Ape X One Piece premiered on September 28th, 2018. The capsule was filled with mashup designs incorporating signature AAPE patterns, like their crimson AAPE camouflage, with subtle references to the Straw Hat Pirate crew (ex: the BAPE mascot rocking Monkey D. Luffy's iconic scar). As you browse through the detail-oriented collection of hoodies, sweatshirts, and tees, you'll find original One Piece-inspired graphics, like Luffy performing his Gomu Gomu no Pistol and the adorable Tony Tony Chopper embracing the BAPE ape. 
10. BAIT X Attack On Titan
BAIT X Attack On Titan dropped on April 9th, 2022, in celebration of the premiere of Attack on Titan: The Final Season Part 2. The exclusive collection featured tees, hoodies, and skate decks with graphics inspired by critical moments in the series. BAIT X Attack On Titan's apparel was dripped in striking imagery, with enlarged grayscale portraits and scenic designs that read like the panels of a manga.
The capsule incorporated clever designs that merged the BAIT logo with AOT themes like the strategy tee, which depicts members of the Survey Corps battling Titans within the letters of the word "BAIT" (a nod to the walls in Paradis Island). Most of the designs focus on the Colossal Titan, whose silhouette was also the basis for a limited edition pair of Adidas Consortium UltraBoosts.
Anime continues to spread its influence on pop culture, with updates on upcoming collaborations being announced constantly. As anime continues to increase in popularity, we can't wait to see what anime-inspired collaborations come through next.
Kaillaby
Kaillaby is a writer from The Bronx with infectious high energy and a passion for geek culture. She loves connecting with Blerds like herself and hopes to create her own cartoon someday.