From returning bingeables like American Gods, Killing Eve and Good Girls, to highly-anticipated series such as Good Omens and the currently-showing The Enemy Within, plus a few imports. Here's the mid-season roll out.
THE VILLAGE
Premieres March 19 on NBC
The phrase "It takes a village" comes sharply to mind in this NBC series about an apartment building of people who are not related but whose closeness feels like family. The ensemble cast includes Emmy-nominated TV vet, Lorraine Toussaint, Michaela McManus (One Tree Hill and Law & Order SVU), Frankie Faison (The Wire), Moran Atias, Daren Kagasoff, Jerod Haynes, Grace Van Dien, and Warren Christie.
IF LOVING YOU IS WRONG
Premieres March 19-20 on OWN
It's a hot mess in Season 5 of the Tyler Perry primetime melodrama as just about everyone is in real trouble. Kelly (Edwina Findley Dickerson) languishes in jail. Alex (Amanda Clayton) and Randal (Eltony Williams) are trapped in a burning shed with seemingly no one around to help. Brad (Aiden Turner) is now fully woke to Alex's deceit and Natalie (April Parker-Jones) is wondering if she can trust her fiance Lushion (Charles Malik Whitfield). Meanwhile, Eddie (Joel Rush) is hellbent on revenge on three of his competitors. Stream it on OWN or Hulu.
ABBY'S
Premieres March 28 on NBC
Everyone wants to have a neighborhood bar that they can call home. Consider Abby's very close to home. Abby (Natalie Morales) has a real bar in her backyard and her neighbors drop by regularly to cool their heels and for a cool drink. The  NBC comedy includes Neil Flynn (The Middle), Christina Leone (How to Get Away With Murder) and Andre Boyer (Devious Maids). When all her neighbors spill their tea, hopefully comedy ensues.  
KILLING EVE
Premieres April 7 on BBC America
Last we saw Eve she'd just stabbed Villanelle (spoiler alert if you didn't watch) in her Paris apartment. Here's what we can say. Eve goes a little cra cra from the shock of it all. Meanwhile Villanelle is in the wind, wounded but still determine to not let that stop her (this character doesn't think she can die!). Prepare to find next season revealing more secrets and more inventive murder, with neither Eve or Villanelle quite knowing whom to trust but what about that twisted attraction? "We can be as broad as possible examining those characteristics,"  says her portrayer Sandra Oh.
"I think Eve has to exam them within herself but I feel that by the end of the second season, I think Eve will try her best to make a clear, moral decision."
QUEENS OF MYSTERY
Premieres April 8 on Acorn TV
The ad for this show could say "If you liked the Bletchley Circle, you will like Queens of Mystery." Actually this is for nerds who love modern mysteries that go easy on the gore and heavy on the quirky. This six-part stylish series is set to debut in April and actually does include Bletchley Circle alum, Julie Graham. The scenery is Brit-village picturesque and the characters are quirky. There's humor and lite romance too. Three crime fiction-writing aunts (Graham, Siobhan Redmond and Sarah Woodward) help their beloved detective niece (Olivia Vinall) solve her real cases, all except one. If escapism is your cup of tea…
GOOD OMENS
Premieres May 31st on Amazon Prime
Big reveal, yes, there's a bit of wait on this one.
"Plan for your binge party then," says creator Neil Gaiman referring to the May debut.  Based on Gaiman and the late Terry Pratchett's novel, Good Omens is the fantasy tale of what if an angel and a demon became friends, really, really liked planet Earth and didn't want it to end. However, Armageddon is coming and they have lost the Antichrist so they go on a search for him to forestall the inevitable. The demon is played by Scottish actor David Tennant (this nerd's favorite Dr. Who) and Welsh actor Michael Sheen (Masters of Sex).  Readers of the book can actually expect many things to remain the same since Gaiman says the six episodes will include a cast of well-known faces including John Hamm as the angel Gabriel and Francis McDormand as … wait for it, God.
THE HOT ZONE
Premieres May 2019 on NatGeo
Julianna Margulies is no longer a "good wife" but a scientist battling Ebola during the early days of its appearance in the US. In a story "inspired" by real events, Margulies is a U.S. Army scientist who discovers the first strains in a laboratory in Washington D.C. She has to stop a potential "outbreak" by working with the military. The six-part limited series stars Margulies, Liam Cunningham (Game of Thrones), Topher Grace (That '70s Show) and Paul James (Greek).
GOOD GIRLS
Premiered March 3 on NBC
The question is not if the women of Good Girls will go to the dark side but how far. With only one or two scripts ahead, even the cast is afraid to go there. "I don't like to know," says series star Retta. "I tell Jenna (Bans, executive producer) not to tell me stuff, whereas Mae (Whitman, Annie) wants to know everything and Christina (Hendricks) likes to know but she doesn't want to know something in an early scene that shouldn't be revealed until she's supposed to play it. In other words, after Beth didn't pull the trigger, we still don't know what will happen next. Stay tuned.
THE ENEMY WITHIN
Premiered February 25 on NBC
Ah Morris Chestnut, did we mention that this NBC series stars Morris Chestnut? Chestnut is a FBI agent forced to work with a former agent turned traitor (ex-Dexter star, Jennifer Carpenter) because she has intel can help them solve a terrorist case. The work-with-the-felon-because-only-they-help is an worn premise. You just know that no matter how tough Carpenter's character is, she will eventually be sympathetic and, no matter how much Chestnut's character detests her, somehow he will come to admire her but perhaps there will be a twist. Cast includes Cassandra Freeman (Luke Cage), Raza Jaffrey (Code Black and Homeland) and Kelli Garner (Secret Life of Marilyn Monroe).
LONDON KILLS
Premiered Feb. 25 on Acorn TV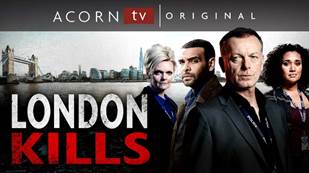 This is the gritty streets of London as character, sort of like Luther but without the beauty that is Idris Elba. The five episode series is shot documentary style and a different murder is explored each week. Within this is only one on-going story; the unsolved murder of one of the detectives' wives. London Kills introduces actress Tori-Allen-Martin and stars Hugo Speer (The Full Monty) and Sharon Small (About A Boy).
DOOM PATROL
Premiered Feb. 15 on DC Universal
Couldn't get a lot of intel on this but maybe this "re-imagining" of the DC superheroes that were outcast doesn't need a lot. We know that the super heros are: Robotman, Negative Man, Elasti-Woman and Crazy Jane, plus requisite mad scientist, Dr. Niles Caulder aka The Chief. We know that to get to their super hero status, each has to suffer some kind of traumatic accident and, we know the series, only to found on the DC Universe, stars Brendan Fraser, Matt Bomer, Timothy Dalton (Penny Dreadful and who was once 007, yep, once), Diane Guerrero (from Orange is the New Black) and Alan Tudyk (Rogue One: A Star Wars Story). The misfit heros are summoned by Cyborg for a mission and the adventure begins.
Diedre Johnson
Diedre Johnson is a Los Angeles-based former staff writer covering entertainment whose work has appeared in Variety, The New York Daily News, TV Guide.com, The Crisis, Vogue Japan and Italia, and Harper's Bazaar China, among others