Sezín Koehler
Sezin Koehler is a multiracial Sri Lankan American, uncertified scream…
Hereditary might be one of the few horror films to have broken through into mainstream consciousness, but as a lifelong scream queen, I was unimpressed. Yes, the tone is ominous and the performances excellent. But as I watched Hereditary unfold, I couldn't help but think of the many other under-the-radar horror films that have given me way more sleepless nights than this one. Here are my favorite and the creepiest trauma-of-the-home horror movies way scarier than Hereditary to get you into the Halloween spirit.
Martyrs
(2008)
Many critics commented on the utter absence of hope in Hereditary, and how that is what makes the film so terrifying. The only other horror movie I've ever seen that "boasts" the same is Pascal Laugier's transcendental horror Martyrs. Lucie (Mylène Jampanoï) was tortured for over a year by parties unknown. She meets Anna (Morjana Alaoui) at their orphanage and they become like sisters. Lucie enlists Anna to help avenge what happened to her, claiming to know who was responsible for her kidnapping and torture. Anna doesn't quite believe her friend, but will not abandon her. As Lucie's proper descent into madness leads to her suicide, Anna discovers Lucie was telling the truth about everything. The grotesque horrors Anna discovers after the first 30 minutes of this film, and what Anna ultimately goes through, will haunt you for the rest of your life. This movie kicks Hereditary's butt right out of town. Be warned: the violence is indeed extreme, but never gratuitous. If you can make it through, this is the kind of movie that changes you as a human being. Incredibly powerful stuff.
The Pact
(2012)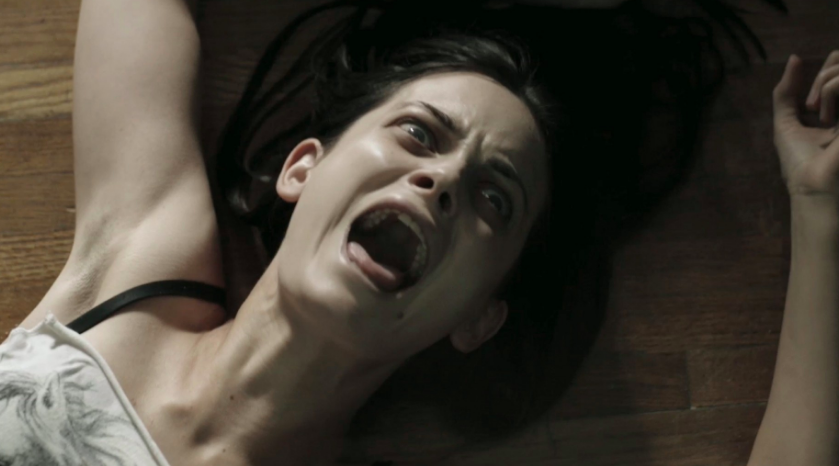 Nicole Barlow (Agnes Bruckner) returns home in the wake of her mother's funeral and the news her sister has gone missing. When strange things begin to happen around the house, including finding her sister's cellphone in a creepy closet —Nicole reports her suspicions and, is, of course, disbelieved by everyone. As she dives deeper into her family history, she uncovers terrible secrets about her dead mother and uncle. Does Nicole survive? What happened to her sister? This film's open ending is chilling.
Hidden
(2009)
After his abusive mother dies, KK (Kai Kross) is forced home to settle her estate. In the meantime, all of his early childhood trauma rises to the surface as a series of brutal murders seem to lead back to his long-dead brother. Directed by Pål Øie, this Norwegian film is an unsettling tale about the broader repercussions of childhood abuse. We might be able to return home, but the question in these cases is, should we?
We Are What We Are
(2010) 
The original Mexican version and its American remake are both fascinating studies in family horror and destructive intergenerational traditions. In the Mexican version, the patriarch (Humberto Yáñez) of a cannibal family dies of food poisoning before their sacrificial ritual is complete. Forced to take on the mantle of their financially struggling family, his wife Patricia (Carmen Beato) forces her three children onto the streets to find their next victim.
We Are What We Are 
(and 2013)
The American remake gender-and-location flips this story to excellent ends. Instead of a low-income urban Mexican landscape, we have a rural American mountain community. Instead of a patriarch passing down the legacy of cannibalism, we are in a matriarchy. And when Emma Parker (Kassie DePaiva) dies of Kuru disease from eating human flesh, her family goes into a horrific tailspin.
These two films go great together. Kind of like liver with fava beans and a nice Chianti.
Sensoria (2015)
This slow-burn horror movie revolves around Caroline Menard (Lanna Ohlsson), who has recently survived a number of personal family traumas, including the loss of a child. She moves into a sterile new apartment complex, where bizarre things begin to happen. This unreliable narrator spirals into a psychological breakdown that calls into question the nature and origins of ghosts.
The Monitor (2011)
Anna (Noomi Rapace) and her son Anders (Vetle Qvenild Werring) move into an apartment outside of Oslo to escape from her abusive husband. Now wildly overprotective of her son, Anna buys a baby monitor so she can listen to him at night. But what she hears is horrible screaming, even though Anders is sleeping soundly. This psychological horror drama goes down a strange and unexpected path as Anna confronts the voices only she is hearing.
The Appeared (2007)
Set in Argentina, with the ever-present history of the war as well as the country's notoriety for harboring escaped Nazi criminals, Malena (Ruth Diaz) and Pablo (Javier Perreira) go on a road trip to learn more about their mysterious dying father. When Pablo finds a journal of atrocities in their father's car, the two set out to investigate. What they find in their family history is way worse than anything anyone would imagine. Brace yourself for this one. 
Silent House (2010)
While promoted as gimmick horror filmed entirely in one continuous shot, the Uruguayan La Casa Muda is a powerful haunted home film with several layers of social commentary. Laura (Florencia Colucci) returns to her family's summer home as they prepare to sell it. As she cleans she finds evidence of terrible events that she had repressed in her memory. Her breakdown begins quietly and ends the opposite.
Silent House (
and 2011)
The American remake stars a non-famous Elizabeth Olsen in one of the most underrated performances of her excellent career. The plot at first closely follows the original, but what Sarah finds in the house is exactly the opposite of what Laura did in La Casa Muda. These films complement each other beautifully, and the starring actresses are both remarkable.
Atrocious (2010)
More ancestral secrets come to light in Fernando Barreda Luna's Spanish family horror Atrocious. Cristian (Cristian Valencia) and his sister July (Cara Moraleda) are paranormal dabblers making a documentary about their family's supposedly haunted summer home. After the family pet is brutally murdered, it doesn't take long for Christian and his sister to look to their bloodline for the culprit. This is a blink-and-you-miss it kind of ending. When you realize what has happened, you won't feel right for a week.
Absentia (2011)
Seven years ago Tricia's (Courtney Bell) husband disappeared without a trace. She is now pregnant and ready to declare Daniel (Morgan Peter Brown) dead in absentia so she can marry the father of her child, the detective (Dave Levine) who investigated Daniel's disappearance. To help, Tricia's recovering addict sister Callie (Katie Parker) moves in with her. Because of her history with addiction, neither Tricia nor the detective believes the monstrous things Callie has been seeing in the creepy running path tunnel near their home. She thinks she knows what happened to Daniel. Everyone else thinks she is using again. Spoiler alert: It doesn't end well.
Dark Was the Night (2014)
Kevin Durand gives one of the most captivating performances of his career as a grieving father and sheriff of a small Pacific Northwest town where some gruesome things have been happening in the woods. Like decapitated and mutilated bodies up in the trees and weird inhuman footprints. This indie horror drama's power comes from Durand's soulful performance, as well as the understated creatures who hold the town hostage. Like Hereditary, this film is heartbreaking and scary, and deserved way more positive buzz than it received. 
Any films you'd add to this list? Please feel free to drop them in the comments below so I can get some new scares on.
Sezín Koehler
Sezin Koehler is a multiracial Sri Lankan American, uncertified scream queen, and Frida and Keanu devotee who writes about horror, social justice, and representation for Black Girl Nerds. You can also find her on Twitter ranting about politics (@SezinKoehler), or Instagramming her newest art creations and tattoos (@zuzukoehler).