The horror movie genre at times is a tough egg to crack. The genre, in my opinion, doesn't always quite deliver what it is intended to do for audiences — incite fear and terror in its viewer.  Many that I have watched over the years, come across as campy and corny and make me laugh as opposed to terrifying me. Of course, it could also be the fact that I have bad taste in horror films. This week at SXSW I saw two horror films that executed with artistic brilliance the one thing that makes a great horror film — sound editing. The film festival's opening premiere movie A Quiet Place which was received well by both fans and critics is the first example of a film that plays with sound so well that it turns it into a masterful horror film. The second example is Ari Aster's Hereditary; which premiered during a midnight screening at the Alamo Drafthouse. The A24 film which made its world premiere at the Sundance Film Festival this past January; screened in front of a South By audience. As we all watched everyone had the same reaction — what the fuck did we just see?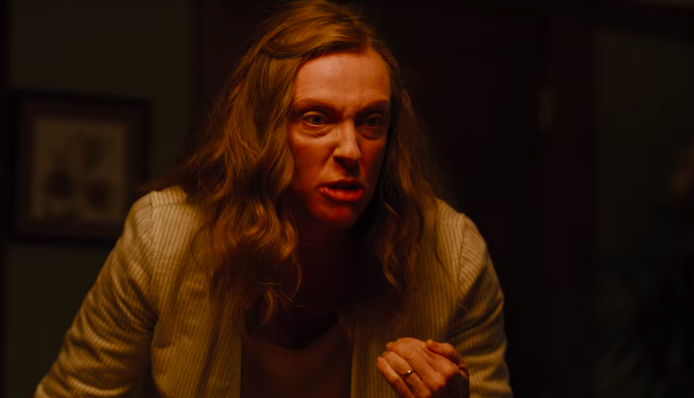 When Annie Graham (Toni Collette) buries her mother who just passed, strange things start happening in the Graham household. Her husband Steve (Gabriel Byrne) shares a son named Peter (Alex Wolff) and a daughter named Charlie (Milly Shapiro). Annie has had a tempestuous relationship with her mother and is not as concerned about her passing as her daughter Charlie is, who appears to be deeply affected by her death. Steve receives a strange call that his mother-in-law's remains were desecrated.  Soon after Annie sees an apparition of her deceased mother and meanwhile her daughter Charlie tries to find ways to communicate with her on her own.  Their son Peter uses weed as a way to disconnect and detach from his family's drama.
One fateful night, Peter is invited to a party and asks his mother Annie if she can borrow her car.  She offers it to him on the condition that he takes his sister to the party with him. When Peter arrives at the party, his sister has trouble breathing and takes her with him to get help…and this is when the story takes a turn for the worst.
Hereditary shocks audiences through the use of crafty sound editing and design, creepy special effects and strong compelling performances that will terrify you.  The stand out performer of this film is from newcomer Milly Shapiro, who's tongue-clicks will give you goosebumps at every turn. Hereditary provides a whirlwind of emotions in this family drama that turns into something even more bizarre and disturbing.
Hereditary makes its way to audiences nationwide on June 8th.
Jamie Broadnax
Jamie Broadnax is the creator of the online publication and multimedia space for Black women called Black Girl Nerds. Jamie has appeared on MSNBC's The Melissa Harris-Perry Show and The Grio's Top 100. Her Twitter personality has been recognized by Shonda Rhimes as one of her favorites to follow. She is a member of the Critics Choice Association and executive producer of the Black Girl Nerds Podcast.