Guest Blogger
BGN works to feature strong, unique content from writers who…
What is the saying? When the parents are away, the children will play? Well, the DiMeo children are no exception.  Ray took advantage of their parents' absence and had some fun times…until it all went sideways. And JJ takes his parents away so that he can play. This may have been my favorite episode to date.
It all started when Kenneth called a family meeting and realized everyone was present. The greatest "aww" moment of the week. Turns out JJ has been slacking on his college essay because he doesn't know what he is passionate about. When everyone puts their heads together to come up with something, there is still nothing worthy of a college essay. College essays really are the worst, so I could completely relate.
Out of the blue, JJ says his passion is engineering and a college six hours away is having a tour. He wants to pack up and go. Six hours away is a challenge for the DiMeos, but Maya wants to give her son the opportunity to do all he can, so they go. Maya, Jimmy, JJ, and Dylan pack up and hit the road. Once there, JJ and Dylan head toward the student only tour while Maya and Jimmy head to the financial aid office.
The plot thickens as JJ reveals to Dylan that they are not here to see the school, but JJ was cast in the new film Bikini University and it was filming on campus. Dylan is disgusted, while JJ is very excited. His character is "Bikini Boobs in Face Wheelchair Boy." Hormonal teenagers…what are you going to do? It all goes down-hill in true DiMeo fashion when Maya becomes a stand-in for "Bikini Boobs" and realizes what her son's been doing on campus. Hilarious and extremely awkward for JJ, to say the least. Hormonal teenagers are the worst, but boys are a whole 'nother level.
Ray, also a boy and a teenager, is on an even different level than JJ. Right now, JJ is all about girls. Ray is all about being popular. So, when the family is away, he decides to throw a party. A party with all the cool kids. Unfortunately for Ray, his cool teenager party turns into a kid party/babysitting gig. Apparently, the cool kid from school misunderstood when Ray said, "bring your brother." Ray meant the cool older brother, not the younger brother! Ray catches a break when Kenneth shows Ray that he can be cool in the eyes of little kids because he "knows things." Chaos ensue, of course, by way of Dylan's escaped secret snake. Ray proves to be the real nice guy that everyone knows him to be when he lets a young boy take the credit for catching the snake. That young boy turns out to be the popular kid's little brother. Ray gets an increase in status after all.
This episode could be my favorite episode thus far. It was hilarious of course, but also really story driven. For a thirty minute show, it got a lot accomplished. But, perhaps I am biased because it was about JJ finding his passion, which happens to be film. It's really important to show people with disabilities on television exploring their passions in ways that mainstream media doesn't cover very often. Not to mention, I come from a large family of boys and being the sister tagalong on many adventures, made me feel for Dylan. Once again Speechless nails the family aspects of their show right on the head.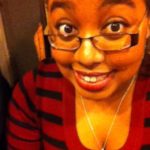 Catalina Combs is an aspiring film critic from California. She loves reading, writing, film, baking, music, drawing, traveling, Disney, and playing soccer. Her life usually revolves around all of these and her family. The oldest of six, Catalina tries to set a good example for her siblings. She graduated from Santa Clara University in 2010 with a BA in English Creative Writing and is pursuing an MA in Film. I also blog on WordPress and contribute to the website Examiner.com. Twitter- @tiggercraze | Facebook- Cat Combs | Instagram: @tiggercraze
Guest Blogger
BGN works to feature strong, unique content from writers who speak to our niche. If you are interested in having your work highlighted contact jamie@blackgirlnerds.com to be featured as a guest blogger on the site.