Remaking and rebooting old classics is always a risky move. It typically results in one of two things — either it's an absolute hit and an homage to the original, or a dreadful flop. While the former always gets praised, the latter almost always attracts more attention due to the verbal thrashing and abuse from the cult classic's devoted fans, who accept nothing less than perfection from a reinvention.
One such remake is the upcoming House Party. It is the brainchild of LeBron James, and Maverick Carter, LeBron's producing partner — both are fans of the film that spawned an entire franchise. The original House Party was released over 30 years ago as a film with a limited budget. It became a box office surprise, grossing more than 26 million, or a bit more than $54 million when adjusted for inflation.
Earnings aside, the original film was released to nearly instantaneous critical acclaim. It helped launch the careers of numerous upcoming African American artists while offering a blend of humor, hip-hop music, and innovative dance. This alone merits a remake of the original film. The cast and crew behind it seem confident that the remake will fare well with the audiences, as they're utilizing the same universal elements from the original film to create a new retelling.
However, before we dive into five reasons why a House Party remake/reboot is exactly what Black cinema needs, we must address the project's delay. House Party was initially scheduled to release on July 28, 2022, exclusively on HBO Max. But, following Warner Bros. Discovery restructuring, the movie was shelved indefinitely.
However, just a couple of weeks ago, the world found out that the movie would premiere in theaters rather than on HBO. Its official release date, at the moment, is December 9. With that said, here are five reasons why a House Party remake/reboot is exactly what Black cinema needs:
1. It's Universal
The original film was released more than 30 years ago. At the time, the broader movie audience didn't want to see two things: another teen film and another Black film. Regardless, the crew behind it pushed for the movie, and the breakout hit was not just the first teen film of the 90s but also one of the most important films of the decade. It wasn't a novel concept, either. The film was about a teen who gets in trouble at school and is forbidden by his parents from going to a friend's house party.
Of course, he disregards these orders and goes anyway, which is a typical growing-up story of nearly any teenager. The distinction that made House Party stand out was that all of the kids in the movie were African Americans. They were put in the middle of a universal teenage experience that translates even to this day.
2. It Helped Ease Hip-Hop into the Mainstream
The original House Party was about teens who loved hip-hop, and its success actually helped bring hip-hop into the mainstream. The film starred Christopher "Play" Martin and Christopher "Kid" Reid of the popular hip-hop duo Kid' n Play. It also starred Paul Anthony, Bow-Legged Lou, and B-Fine from Full Force — whose most recent album, With Love from Our Friends, came out in 2014.
One of the likely reasons the upcoming House Party would make a great film is because the hip-hop genre is bigger now than ever before. There are plenty of recognizable names that people would love to see interacting on the silver screen. Interestingly enough, the idea for the original film came to Reginald Hudlin while listening to Luther Vandross's Bad Boy/Having a Party song on the radio.
At the time, hip-hop music videos weren't really a thing, so he would imagine a music video for a particular song he was listening to. That's how he came up with the script for House Party. In fact, House Party was one of the first pioneering films to feature rappers as leads.
3. It Helped Propel Talent
As stated above, the original House Party was a surprise box office hit, which actually helped significantly elevate its director and cast, many of whom were making their film debuts, to stardom. This includes the film's protagonists, Kid' n Play, Full Force, and even Martin Lawrence, Tisha Campbell, AJ Johnson, and others.
Admittedly, the talent associated with the remake/reboot is already established. But acting in a remake/reboot of one of the most important 90s films will definitely elevate anyone's acting or music career. This is especially true if the upcoming film proves to be a massive success like the original was.
4. It's Fun
Besides all of the above, what made House Party into an original classic of the early 90s was because the movie itself was fun. It didn't have to be anything else but a film about two African American teens just being teenagers, and it didn't require a greater message within its narrative. The closest thing we have gotten to a House Party aesthetic in recent years was 2015's Dope — a Rick Famuyiwa-directed coming-of-age comedy-drama.
The upcoming House Party is both a remake and hopefully a reboot of the franchise. It will feature an entirely new take on the original narrative, with a party happening in LeBron's house and one of his championship rings going missing. If all pieces fall together, the success of the upcoming film could determine the future of an entire House Party franchise.
5. It is a Portrait of an Era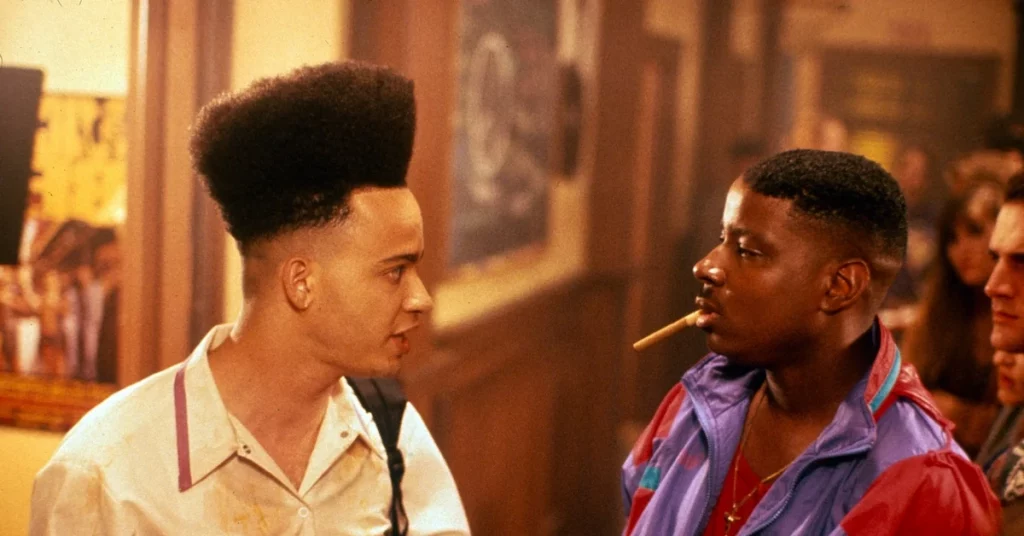 Among other things, House Party captured a snapshot of youth and hip-hop culture in the 90s — everything from the dress sensibilities to the hair and even the slang. For fans of old-school hip-hop, the nostalgia trip alone is reason enough to watch and re-watch the series.
An upcoming reboot could do the same for the current era, especially now that hip-hop is the soundtrack to most mainstream youth culture. A movie where Doja Cat, Meg Thee Stallion, and even Chance the Rapper interact would be an instant classic among a wide variety of fans and movie-goers alike. This could also timestamp a moment many fans could look back to with fond memories.
Final Thoughts
The original House Party proved to Hollywood that Black cinema isn't just a trend or a fad with a time clock to rival even that of Flavor Flav's, but a viable genre of cinema with real and vibrant characters. A house party reboot stands to be a delight for audiences from both the old and new schools. As Christopher "Kid" Reid said: "If you tell the story right, who can't get on board with that?"