Even if you're not a horror film nerd, you're bound to watch a bit more horror this month than others, so why not check out some Black horror films while you're at it?
Whether you elect to stay indoors alone during Trick-Or-Treat season or attend some social events with friends, here is a go-to-list of 10 Black horror films to watch this month. Not every selection on this list have favored well with critics, meanders into tropey territory, nor can be considerably terrifying, but these are some of the most memorable films of the Black horror genre worth checking out for the first time or revisiting.
Blacula
This seminal Blaxploitation horror film is a classic. During a visit to Transylvania, an African prince (William Marshall) gets turned into a vampire by Count Dracula (Charles McCauley). Sealed in a coffin for several lifetimes, "Blacula" reawakens in 1970s Los Angeles.
Rotten Tomatoes Score: 48% Rotten
"If its false vampire teeth are sometimes slipshod, the beats of its stake-targeted heart of darkness flash a message that is poignant, tragic and profound." – John Beifuss, Commercial Appeal
Tales From The Hood
In a subgenre proceeded by campy horror flicks, Tales From The Hood stands out from the crowd. The horror comedy-drama anthology is centered on a creepy mortician, Mr. Simms (Clarence Williams III), who attempts to scare teenage drug dealer Stack (Joe Torry) and his friends straight by telling them four horrifying stories.
Rotten Tomatoes Score: 47% Rotten
"One of the smartest genre offerings of the era and, quite possibly, the best anthology of its decade." – Dustin Putman, TheFrightFile.com
Candyman
Say Candyman three times and prepare for an unveiling of evil. This supernatural slasher film is about Helen Lyle (Virginia Madsen), a graduate student who begins researching superstitions in a housing project on Chicago's Near North Side. She learns about the Candyman (Tony Todd), a knife-wielding figure of urban legend that becomes a terrifying reality for Helen.
Rotten Tomatoes Score: 74% Fresh
"Candyman stands up to the test of time and it feels even more prescient today. It had the guts the explore race relations within the context of horror without resorting to stereotypes or moralizing while still remaining scary and engaging." – Michelle Kisner, The Movie Sleuth
Ganja & Hess
One of the more critically favored horror films, Ganja & Hess is a vampire love story unlike any other. Germs from the stab of an ancient dagger turn two lovers (Duane Jones, Marlene Clark) into immortal vampires.
Rotten Tomatoes Score: 86% Fresh
"…an experimental overlapping of dialogue, image, voiceover and music that makes you feel as if you're suffering from an awful fever dream." – Josh Larsen, LarsenOnFilm
The People Under The Stairs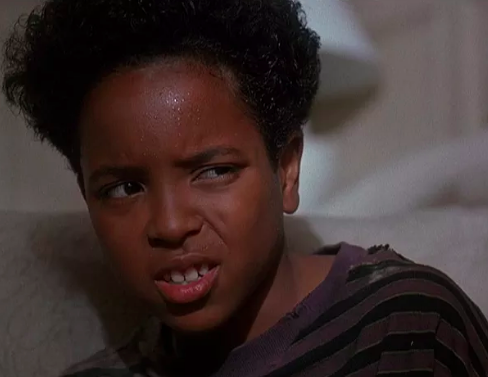 Directed by horror mastermind Wes Craven, a young kid (Brandon Adams) sneaks inside a fortified home owned by a mysterious couple and discovers a terrifying house of horrors: mutilated boys kept under the stairs by incestuous adult siblings.
Rotten Tomatoes Score: 63% Fresh
"A wacky, darkly comic, and obscenely weird horror movie…" – Felix Vasquez Jr., Cinema Crazed
Us
One of the highest critically acclaimed films of this year and perhaps an awards contender, Jordan Peele's sophomore effort has permanently cemented his place in the horror genre. Haunted by a traumatic experience from the past, Adelaide (Lupita Nyong'o) grows increasingly concerned that something bad is going to happen to her family. Her husband, son, and daughter meet a terrifying doppelganger family with the intent to kill.
Rotten Tomatoes Score: 93% Fresh
"A sharp, often funny meditation on the terrifying power of human connection." – Hannah Giorgis, The Atlantic
Vampire In Brooklyn
Another Wes Craven film to round out this list is the horror-comedy about detective Rita Veder (Angela Bassett), assigned to a baffling serial murder case. After examining the crime scene — a corpse-filled ship found adrift at sea — Rita meets Maximilian (Eddie Murphy), a smooth-talking vampire. While this film was universally panned by critics and is more corny and comical than scary, it has its place in the Black horror genre.
Rotten Tomatoes Score: 10% Rotten
"To call this a comedy is a sign of optimism; to call it a comeback for Murphy is a sign of blind faith." Roger Ebert, Chicago Sun-Times