CRS
C R Sparrow wants desperately to throw off the shackles…
The 16th Annual East Coast Black Age of Comics (ECBACC) happened at the end of May with the theme of Homecoming. It was born in North Philadelphia, along the same corridor as the historic Uptown Theater and after a few years of hopping around the city, it has returned there.
The Glyph Comic Awards had been handed out the day before. Fan favorites like Tuskeegee Heirs won both the Rising Star Award and Best Comic. The titular character from Malika, won the Heruica Character Creation Award. You can check out BGN's recent review of Malika here. Black #1, with its evocative illustration, won Best Cover. Mainstream and indie comics alike shined that Friday, so all that was left for Saturday was a celebration of networking, commerce, and learning.
But with homecomings, you're not just given a heaping helping of nostalgia, you also get to juxtapose the sameness with what's changed. First and foremost, ECBACC was free this year! This was achieved by moving it into a school. Furthermore, the school itself added to the theme of the event by being a tech based institution. ECBACC partnered with TECH: Freire Charter School and as someone who has been to quite a few ECBACC's, I will say it was a fantastic space with great growth potential.
Another new thing this year was the Pitch Room. Enterprising creatives put together presentations for a panel of judges to get financial and tech support for their various ventures. The panel heard three proposals, and while all of them showed incredible potential, one rose above the rest for sheer vision mixed with pragmatic 'doability'. Rorie Still, creator of the anthology Flashbang: Sci-Fi That Will Blow Your Mind took top honors.
Activities ranged from the artistic to the educational. This has to be the first time I went to a comic convention that had a live Capoeira demonstration! As founder, Yumy Odom stated in an interview, "ECBACC is educational. It is fan based too, but initially the foundation of ECBACC was literacy, using current books and imagery, especially imagery of Africana and Black characters to promote literacy."
Powerhouse artists like Mshindo Kuumba and Sheeba Maya ran Digital Artistry 1 and 2 respectively. Youth Workshop ran all day for a wide range of ages. The marketplace was chock full of unique artisans like Osazuwa Nkante, propriotor of Hidden River Armoury, which creates replicas of various African arms and armor, great for cosplayers or historical reenactors.
The cosplay was plentiful so the Africoz Contest judges had their work cut out for them. Three worthy winners were chosen, Davaughn Thomas's Blade won first place, Jeff Thomas's Static Shock–complete with spinning prop that simulated harnessed electricity– won second, and Brownlegz came in at third with an inspired Misty Night costume.
Another unique feature was the food available for purchase. Instead of the overpriced, dry jumbo pretzels and pizza that are a staple of the big convention experience, out front the Uptown BBQ Food Truck provided con goers with much-needed sustenance. They served a truncated menu but there was still plenty of choices. All done with your fish fried rice and ready to indulge your sweet tooth? Don't worry, ECBACC got you! Ariell Johnson of Amalgam Comics & Coffeehouse Inc. was selling decadent deserts and refreshing drinks in the marketplace.
Events like this remind me of how prevalent and duplicatable cooperative economics and collective work and responsibility are in our community. It always puts an extra pep in my step when I spend money on burgeoning and established Black artists, writers, and purveyors of delicious, well-seasoned and prepared food.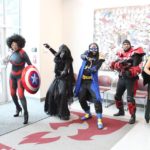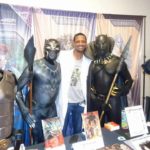 For more pictures with full annotation and credits, check out the ECBACC Facebook.
A Legacy of Black Excellence
While ECBACC is a spiritual successor to the Black Age of Comics Convention founded in Chicago in 1993 by Turtel Onli, it holds the distinction of being the first full service convention of its kind, offering year-round workshops, trainings, and even availing itself to entities that would like to commission a tailormade convention.
Odom estimates there are maybe 25 conventions that have spawned from ECBACC. For instance, Alex Simmons, noted writer and voice over artist use to run ECBACC's Kid's Corner activities and now owns the Kids Comic Con in New York. Back in March, I had the pleasure of attending Naseed Gifted's Khem Fest in Newark, NJ. Joseph R. Wheeler III's ONYXCON in Atlanta is set to heat things up in August. The list goes on.
ECBACC is a wonderful hub for Black artistry, Afrofuturism, and Black thought. They've already begun advertising for next year so save the date: May 19th 2018. Hey, that's Malcolm X's birthday! Fitting.
CRS
C R Sparrow wants desperately to throw off the shackles of wage slavery and live a life of leisure. Unfortunately, she hasn't quite figured out how to turn her encyclopedic knowledge of Star Trek Deep Space Nine or deftness at playing Bioware RPGs on the easiest setting into a fortune. She's still working on it though. Sci-fi/Fantasy blerd with a strong affinity for binging television shows and having lots of feelings about them.