Diedre Johnson
Diedre Johnson is a Los Angeles-based former staff writer covering…
The multi-talented Tiffany Haddish aside, comedic acting is one area of showbiz that still needs more black girl nerd representation. A.P. Bio's Lyric Lewis is doing her part to help fill that need. The actress plays history teach, Stef Duncan in the funny-chaotic NBC series and also has a recurring role on the Zach Galifianakis series Baskets on the FX Network.  Both have been renewed for 2019 so Lewis will be busy in the coming year.
BGN talked to Lewis about these and other events in her life. She even told us about her membership in the Groundlings, LA's well-known sketch comedy troupe (The Groundlings' alum include Maya Rudolph, Melissa McCarthy, and Kristen Wiig, among others).
 You have a stand-out role on a show that is part Seinfeld at a high school on steroids, tell BGN about your character.
Her name is Stef and she is a history teacher at Whitlock. She's like the teacher that I always wished I had. She's like a combination of a kind of teacher that I knew. She was just fun and self-confident but loves her job. That is one thing that I like about [Stef]. She loves her job. She loves to be involved with the school functions. She's not over her job but she has a little side hustle here and there to round out the salary. She still enjoys what she does.
Do you or any of your co-stars get to ad-lib?
Oh yeah, especially between the teachers, Mary [Sohn] and Jean [Villepique] on the show. We do a couple of clean takes and then [A.P. Bio creator, writer, and executive producer] Mike [O'Brien] will say, 'let's just see what comes up. Let's see how much fun we can have.' He is constantly doing that.
You're also on Baskets, a show about a clown. Are you drawn to obscure, smart comedy because of your Groundlings sketch comedy background?
I think so. I really love scripts and shows and things that leap off the page. Something that isn't so obvious or just has a different twist on life. Or just showing a real, true slice of life versus cookie cutter people with masks on. Something that says, "No, we know people like this."
Groundlings in LA is like Second City in Chicago, please explain what it takes to be a member of the troupe.
Yes! Whew! Quite a journey. You have to audition to even take classes at The Groundlings. After you audition, you're either put straight into the performer-track (which is basic and intermediate) or the info-track, which 'brushes you up on some improv before we throw you full throttle in there.' Once you're in the performer track — you can be in three levels: basic, intermediate, or advanced improv, and that means improvising a ton. Even while improvising, it's very grueling. Either they repeat you, or you get to go to the next level.
Once you get into the writing-track — which is two levels after that — that's when it kicks into high gear with our writing program. You pretty much stop improvising but it takes a back seat to what we are specializing in, which is character. Even how we improvise is from character, so we drill that a lot when people are starting out in the program.
The last level of our school is invite-only, from the main company to the Sunday company, which is still a part of the school but the top tier. That is 18 months of an SNL-style of putting together a sketch show.
You pitch every Wednesday and you have Thursday, Friday, and Saturday to memorize everything, to write everything, costume. You don't get the theater until Sunday at noon. That is the first time you're putting up your sketches. You have a show at seven and you do that for six months at a time for a year and a half. After a year and a half, you're either invited to the main company or if not, you've still completed the school. So it's a very long, grueling process. But … I loved it!
How did you find out about the school?  Did someone recommend you?
Weird, my degree is in theater. When I was at Syracuse, early on, I felt like I really wanted to do comedy. I just started to research people's career that I admired. All these people: Jennifer Coolidge, Will Ferrell, Cheri Oteri, Chris Kattan, Kristen Wiig. What they all had in common was that they were once at The Groundlings. I had never been to LA. I didn't know what it was but I saved my money and said, "I'm going to go to LA and do this Groundling thing."
What was your first big break and how did it lead to where you are today?
The first one was the Mad TV reboot where this was the first time I was a series regular. I feel it gave me more exposure than like a "special guest star" or "co-star" [on a TV show] and because it was sketch comedy, I got to be funny in my element. I got to meet people and start to network there and I think it prepared me for working in TV.
The TV and film industry is super competitive, but what is the best thing about being an actress in LA?
For me, the people that I've found that I worked with — even on my show now, I feel like we have each other's back(s). I feel like I'm around peers. We are also supportive of each other and all of us feel like, "your job is your job even though we may go out for the same things. It's a support system of, like sister girls.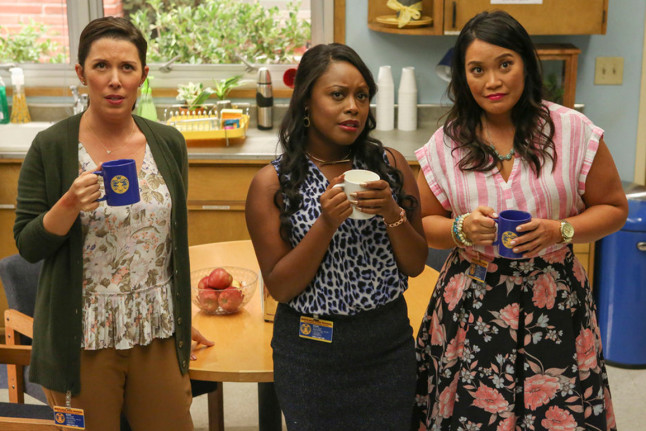 [In LA] There's this competitive thing of like, "Oh, I have to out-funny you in this because this is the only chance we all get and it's like, "No, we all have plenty of chances."
The group that I find myself in, we're all supportive. We like to encourage each other and see each other win.
A.P. Bio is back in January, what do they have planned for your character for season two?
What people can expect to see is a true peek into staff and the teachers and what they are really like and more time with them. We're peeling away layers, to kind of get to know them, which is what I am excited for people to see.
Diedre Johnson
Diedre Johnson is a Los Angeles-based former staff writer covering entertainment whose work has appeared in Variety, The New York Daily News, TV Guide.com, The Crisis, Vogue Japan and Italia, and Harper's Bazaar China, among others