The 2023 Toronto International Film Festival is right around the corner, and this year there are a number of films from the Black diaspora that will be screened at the festival. This list includes films with a Black ensemble cast, Black experiences, and/or Black filmmakers. While the films may not be exclusively Black or African American, they each have one or more of those categories included on this list.
Synopsis credit for each comes directly from the Tiff.net website.
(Directed by Leslie Norville)
This new CBC documentary series uses contemporary interviews and archival footage to chronicle Canada's long history of anti-Black racism, including episodes on police brutality and the rise of hip-hop music.
(Directed by Maggie Betts)
Oscar winners Tommy Lee Jones and Jamie Foxx star in this rousing David and Goliath courtroom drama about one family's struggle to hold onto their mom-and-pop funeral home in the face of heartless corporate exploitation.
(Executive Produced by Serena and Venus Williams)
In this documentary that was executive produced by Serena and Venus Williams, the filmmakers use archival footage and new interviews to tell the story of the unofficial 1971 Women's World Cup, a moment virtually erased from the history of soccer.
(Da'Vine Joy Randolph prominent role)
Paul Giamatti stars in Alexander Payne's latest about the bond that forms between a strict professor and a belligerent student he's stuck supervising over the winter holiday at an elite boarding school.
(Directed by Roger Ross Williams)
Inspired by the book of the same name by Dr. Ibram X. Kendi, Oscar-winning filmmaker Roger Ross Williams' Stamped from the Beginning explores the history of anti-Black ideas in a way that helps us grapple with present-day racism.
(Black ensemble cast)
Two young boys, best friends Malik and Eric, discover the joys and hardships of growing up in the sprawling Cabrini-Green public housing complex in 1992 Chicago in the latest film from director Minhal Baig (Hala, TIFF '19).
(Director Cord Jefferson)
Jeffrey Wright stars in Cord Jefferson's adaptation of Percival Everett's Erasure — a wicked satire about the commodification of marginalized voices and a portrait of an artist forced to re-examine his integrity.
(Black ensemble cast)
After a sexual assault, a Toronto musician spends a weekend trying to find the money for HIV-preventive treatment, in this ferocious debut from writer-director M. H. Murray and writer-star Mark Clennon.
I Do Not Come to You by Chance
(Director Ishaya Bako)
Ishaya Bako (The Royal Hibiscus Hotel, TIFF '17) directs this adaptation of Adaobi Tricia Nwaubani's award-winning 2009 novel about a struggling Nigerian graduate whose only surefire path forward seems to be abetting his shady uncle's fraudulent email scam.
Bria Mack Gets a Life **Recommended**
(TV Showrunner Sasha Leigh Henry)
Bria Mack Gets A Life is a self-assured comedy series from Sasha Leigh Henry (director of TIFF '20 short film Sinking Ship) that shows what adulthood is like for a smart young Black woman as she is reluctantly entering the workforce.
(Director Henri Pardo)
Kanaval is the story of one young boy's journey from a small port town on the coast of Haiti in 1975, during the town's celebrations of carnival, before a traumatic event forces him and his mother to flee to Quebec.
(Black Experience)
Watch superstar Lil Nas X transcend genres and defy expectations in this revealing, jubilant, and inspiring musical documentary.
(Director Monica Sorelle)
Monica Sorelle's narrative feature debut is a slice-of-life portrait of an immigrant worker and family man gradually contending with his class aspirations and housing insecurities in a rapidly gentrifying neighborhood.
(Director Ramata-Toulaye Sy)
Ramata-Toulaye Sy's tragic romance follows two lovers on a quest for self-possession in the face of tradition and against the terrestrial majesty of the Sahel.
(Black Ensemble Cast)
When an investigative journalist is killed, it falls to his colleague to expose the corruption that cost her friend his life. From returning director Ian Gabriel comes this high-energy political thriller highlighting the devastating risks faced by South African whistleblowers.
(Director Ladj Ly)
Set largely in an underprivileged Parisian suburb, Ladj Ly's follow-up to Les Misérables (TIFF '19) is an incendiary indictment of racist policies that force the poor into unsafe and inadequate living conditions.
(Director Rosine Mbakam)
This narrative feature debut by established Cameroonian documentarian Rosine Mbakam is a moving portrait of fortitude and care centered on a valiant seamstress and single mother in Douala.
(Director George C. Wolfe)
George C. Wolfe brings Bayard Rustin's story to life, with a joyous performance by Colman Domingo as the activist who organized the 1963 March on Washington while being forced into the background because of his sexuality.
(Director Raoul Peck)
A Black family in North Carolina battles decades of harassment by land developers trying to seize their waterfront property, in this searing documentary by Oscar-nominated director Raoul Peck (I Am Not Your Negro).
(Director Apolline Traoré)
Apolline Traoré won the Panorama Audience Award at Berlinale '23 for this unflinching look at the crisis plaguing the Sahel region of Northern Africa.
(Black Experience)
Carolina Markowicz returns to the Festival with Toll, a film about a Brazilian mother who falls in with a gang of thieves in an attempt to keep her family afloat.
Touki Bouki *Anniversary Screening*
(Director Djibril Diop Mambéty)
The influence and reputation of Djibril Diop Mambéty's Touki Bouki, a film that "tears up the screen with fantasies of African modernity never before seen on film" (Manthia Diawara), has only continued to grow in the 50 years since its release.
(Black Experience)
A theatre troupe finds escape from the realities of incarceration through the creativity of putting on a play in this film based on a real-life rehabilitation program and featuring a cast that includes formerly incarcerated actors.
(Director Lonzo Nzekwe)
Using the Canadian crime thriller, Orah (2023), which was shot in Canada with a second unit shoot in Nigeria as a case study, the panelists will discuss the opportunities and challenges of collaborating across borders and the potential benefits of deepening connections between the two countries' innovative and successful audiovisual industries.
Umbrella Men II: Escape from Robben Island
(Director John Barker)

They pulled off the perfect heist, and went to prison anyway ― so now it's up to the women of the Umbrella gang to orchestrate their escape from Robben Island Prison, in this sequel to John Barker's 2022 crime comedy.
(Director Ava DuVernay)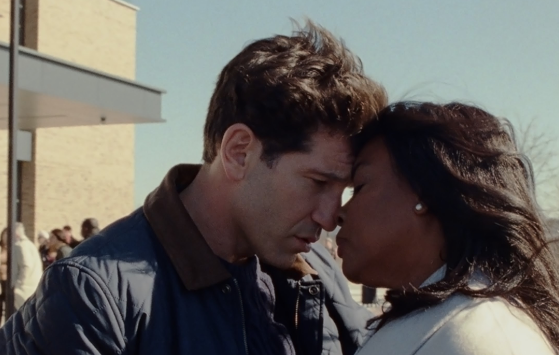 Written, produced, and directed by Academy Award nominee Ava DuVernay, Origin chronicles the remarkable life and work of Pulitzer Prize-winning author Isabel Wilkerson (played by Academy Award nominee Aunjanue Ellis-Taylor) as she investigates the genesis of injustice and uncovers a hidden truth that affects us all.
The 2023 Toronto International Film Festival runs September 7–17, 2023. Happy watching!
Jamie Broadnax
Jamie Broadnax is the creator of the online publication and multimedia space for Black women called Black Girl Nerds. Jamie has appeared on MSNBC's The Melissa Harris-Perry Show and The Grio's Top 100. Her Twitter personality has been recognized by Shonda Rhimes as one of her favorites to follow. She is a member of the Critics Choice Association and executive producer of the Black Girl Nerds Podcast.