Guest Blogger
BGN works to feature strong, unique content from writers who…
Once Upon a Time 6×18 "Where Bluebirds Fly"
Zelena Goes Beyond the Rainbow in 'Where Bluebirds Fly'
So, no singing this week. But, we did get a great episode. There was a lot of arguing on Once Upon a Time, but I was glad to see one of those arguments turn into a big character moment.
Yes, Zelena, yes!
Zelena was numero uno in my book this week. Despite past weeks of Zelena being severely limited on the scene action, this week was a whole different story. I will admit, at first I was annoyed at the thought of the creators putting Zelena in a "pick a side" position. Having the Black Fairy make a play for her seemed like the exact thing the Evil Queen did. In fact, I'm pretty sure that's what happened.
Remember that time in the Underworld, when Regina and Zelena put aside their differences to hug it out and become real sisters for their mom? Well, I do. So, I thought Regina telling Zelena to go back to Oz was awful. When I thought Zelena was going to do it, I was angry. That was not the way I wanted Zelena to end her time in Storybrooke. I was heart-broken, and completely on Zelena's side at that moment. But, Zelena pulled a fast one. She fooled me, which shows rarely do these days. Is that good acting or just good writing? I think the former.
Zelena proved she could be incredibly good when given the chance. She finally proved to herself and everyone that she belongs at the hero's table. Many a person have gone from bad to good and in the process done terrible things to get what they want. Zelena is among those people, but with her pure act of selflessness, she has redeemed herself ten-fold.
I think Zelena's heroic gesture of giving up her magic is even more meaningful because of what magic meant to her. It was the thing that made her special in her eyes. It was the one thing that made her (adoptive) mommy and daddy issues tolerable. Zelena thought her magic was the thing that made her who she is. I enjoyed the flashbacks to Oz this week because added and helped propel the story forward. The flashbacks also showed the constant turmoil Zelena was in and probably still in with her battle between being wicked and being alone.
I was more than thrilled to see Zelena in a position that she chose for herself without being manipulated to do so. Perhaps her life in Storybrooke can be a happy one from here on out… after the Black Fairy is defeated of course.
Speaking of the Black Fairy, I am very confused about her motives for being in Storybrooke. So now this is all about Rumple? I liked it better when she was a heartless wench who gave up her son. I saw no problem with her dying. Will finding out why she gave up Rumple make defeating her that much harder? Hopefully, next week will provide some answers as Blue wakes.
Once Upon a Time 6×19 "Black Fairy"
Love and Power are too much for the 'Black Fairy'
The never-ending question of whether Rumple is good or bad is still up for debate after this episode of Once Upon a Time. Rumple does some really shady things at times, but then he will do some really heroic things. I don't know about you, but I tend to go back and forth with liking Rumple and hating him. This week was more liking Rumple. Even though he lied to everyone about killing the Black Fairy, I can't fault him for not killing his mother. That is not the way hero's end things. Usually, there is jail involved or whatnot. Although I don't understand the Black Fairy's need to kill Emma just because she is a savior, I still have hope that Rumple, won't let his mother actually kill Emma. Fingers crossed.
I was intrigued to learn Rumple was born with a ton of light magic. No wonder he is prone to good deeds and evil deeds. He may be the dark one, but the amount of light the fairies mentioned he had is bound to leave a small trace… right?! I think Rumple could do a ton of good with his magic, as dark as it may be. Rumple truly does love Belle and his son. Knowing how things turned out with his first son, there is no way Rumple would put Gideon or Belle in harm's way. I know this episode was about the Black Fairy, but it was also about Rumple. Fiona was legit crazy over-protective, which in turn caused Rumple's father to hate the crap out of him. If the Fiona would have let her boy grow up as he was supposed to, he wouldn't have died because evil would have never been born. Hindsight is always 20-20.
Speaking of Rumple, his fairy godmother, Tiger Lily, was the worst fairy ever. I think she is better off as a human. She let Fiona do whatever she wanted, even check hundreds of babies for a crescent shaped scar. Who does that? I feel like Tiger Lily was a complete newbie to the fairy godmother role. If Rumple was so important as a baby, why would they give her the job? Why wouldn't Blue do it herself? Oh, these stupid fairies. I hated that Blue and Tiger Lily told Rumple's father, Fiona was trying to protect him. They should have mentioned, she got power and refused to give it up for him. They also should have tried to persuade Rumple's father to name him something else. Rumpelstiltskin is an awful name for any child.
Another chick who was stupid this week was Regina. If she told Zelena that she couldn't kill the Black Fairy on her own, what made her think she could kill the Black Fairy? I will say, I love no magic Zelena. She is fantastic. I like her better than Regina with magic. Let's have Zelena run people over in cars all the time. I mean, she basically saved Regina's life because the Black Fairy would have her for sure.
Love seems to be the reason for every stupid thing people do in this show. Talk about history repeating himself. Rumple and his mother are two peas in a pod in terms of what they have done in the name of love and family. I look forward to seeing whether this destructive love will make or break Rumple. If I'm being honest, I have no emotional connection to the Black Fairy, not Gideon for that matter (even though he is good now).
In the next episode, we shall put the Black Fairy nonsense behind us. We shall sing and dance and rejoice in the fact that Killian and Emma are finally getting married! Super excited for this. I have been waiting so long for this day. I love how Killian is so traditional with it too. He doesn't stay at the house because "A seafaring man does not take superstitions lightly." Tune in for the magical song and dance that will be Captain Swan's wedding day, on ABC.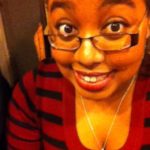 Catalina Combs is an aspiring film critic from California. She loves reading, writing, film, baking, music, drawing, traveling, Disney, and playing soccer. Her life usually revolves around all of these and her family. The oldest of six, Catalina tries to set a good example for her siblings. She graduated from Santa Clara University in 2010 with a BA in English Creative Writing and is pursuing an MA in Film. I also blog on WordPress and contribute to the website Examiner.com. Twitter- @tiggercraze | Facebook- Cat Combs | Instagram: @tiggercraze
Guest Blogger
BGN works to feature strong, unique content from writers who speak to our niche. If you are interested in having your work highlighted contact jamie@blackgirlnerds.com to be featured as a guest blogger on the site.