Cassondra Feltus
Cassondra Feltus is a St. Louis-based freelance writer best known…
Warning: Spoilers ahead for Twin Peaks and Twin Peaks: Fire Walk with Me.
In the early '90s, David Lynch introduced the strange world of Twin Peaks to television. The first season was praised, while the second was much less well-received and was eventually canceled by ABC. Lynch left the series finale on a cliffhanger, and when it was announced he'd be expanding the world of Twin Peaks into a film, people were expecting a direct continuation with answers. Instead of the show's trademark quirkiness, David Lynch opted for nightmarish imagery and disturbing revelations.
The series focuses on the town of Twin Peaks, its residents, their drama, and how they're affected by the death of a teenage girl. But Fire Walk with Me follows the last days of Laura Palmer (Sheryl Lee), delving into the more horrific details of her life, including years of abuse and her subsequent drug addiction. Without the limitations of network television, Laura's trauma is front and center, leaving audiences who were used to the dark but quirky Twin Peaks shocked and disturbed by the film's graphic content.
The beginning of Fire Walk with Me follows FBI Regional Bureau Chief Gordon Cole (David Lynch), and agents Chester Desmond (Chris Isaak) and Sam Stanley (Kiefer Sutherland) as they investigate the murder of Teresa Banks (Pamela Gidley) in Deer Meadow, Washington. There's a brief appearance by Special Agent Dale Cooper (Kyle MacLachlan), noticeably less optimistic. At FBI headquarters, Agent Phillip Jeffries (David Bowie) materializes out of nowhere and comes in ranting about spirits before disappearing again. It's a chaotic sequence starring a perfectly strange Bowie that I won't even pretend to understand, but that's part of the allure of the Twin Peaks universe.
After the prologue of Banks' murder investigation, we pick up a year later in the familiar mountain town. The film shows that Laura led multiple lives, something explored in the series but not to this degree. At school, she's the pretty homecoming queen with a wild side, dating Bobby Briggs (Dana Ashbrook), while in a secret tryst with James Hurley (James Marshall). Her best friend Donna Hayward (played by Moira Kelly instead of Lara Flynn Boyle) loves and admires her, completely unaware of Laura's sex work. Laura tells Donna, "Nighttime is my time." And it's at night when she goes to the bar to meet up with men.
The entire Roadhouse scene is trippy from beginning to end. The lighting is completely red with flashes of white; the music is heavy on the bass, so much so that there are subtitles; and the patrons are in various stages of undress, grinding and making out. As a viewer, you're likely to be just as intrigued and uncomfortable as Donna, surrounded by sex, booze, drugs, and cigarette smoke. This is a much darker side to Laura, who trades in her long skirts and comfy sweaters for a tight dress and heels. She kisses at least two older men, one being the guy who pimps her out. It's a scene that makes you feel like you need a shower afterward.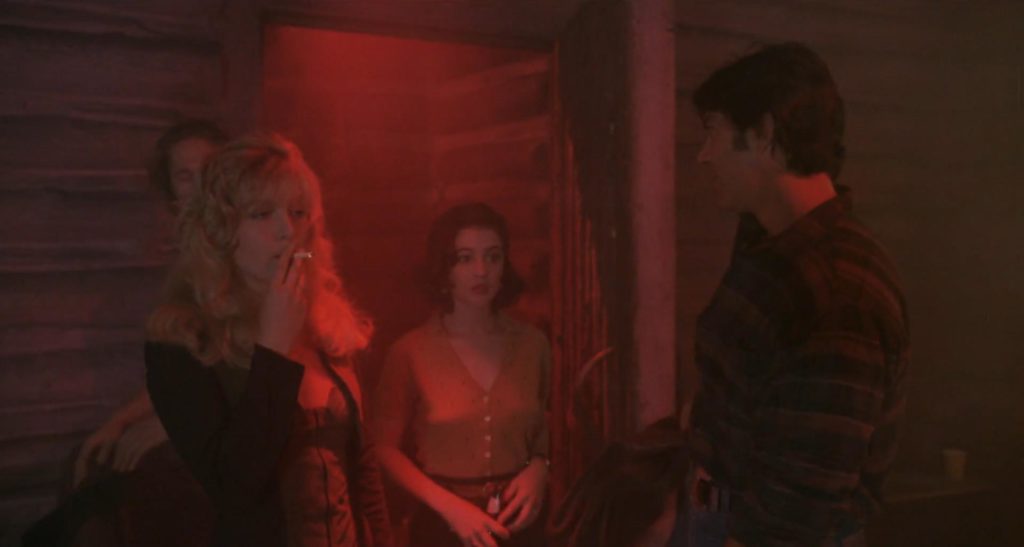 The biggest secret Laura keeps is the years of sexual abuse by a mysterious man called BOB (Frank Silva), whose true identity isn't revealed to Laura until days before her death. In the middle of the series' second season, it's discovered that her father Leland Palmer (Ray Wise) is possessed by the evil entity of BOB and has been molesting his daughter since she was 12. It's a horrifying realization for Laura and the audience.
Angelo Badalamenti's haunting score and Sheryl Lee's performance are the perfect combination that makes Fire Walk with Me one of the best prequels in cinematic history. The series itself was groundbreaking, especially for network TV. But the prequel contextualization of Laura's story is not only essential viewing in the Twin Peaks mythology but an example of the power of creative freedom. David Lynch was famously less involved with the series' second season after ABC pressured him and co-creator Mark Frost into revealing Laura's killer halfway through the season. 
I watched Fire Walk with Me before I even knew about Twin Peaks. You'd think seeing the prequel first would make more sense, but this is David Lynch, and "making sense" isn't his thing. I was confused and completely captivated, and it's one of my favorite psychological horror films. It's one of those films that you convince people to watch just to see their reaction. Also, I could quote this film forever, but one exchange is especially hilarious, despite it being a tear-filled conversation about their love affair:
Though some believe you should watch the film before the series, I think it's much better the other way around. Going from the intense surrealism of Fire Walk with Me to the soap opera-y charm of Twin Peaks isn't the greatest transition. However, the other way around is a much better order, introducing the town and its characters, then moving on to the decidedly more violent and sexual prequel that zeroes in on Laura's personal hell. Fire Walk with Me gives Laura the chance to be a fully fleshed-out character and not just the dead teenage girl serving as a central mystery. 
Twin Peaks: Fire Walks with Me is available on HBO Max.
Cassondra Feltus
Cassondra Feltus is a St. Louis-based freelance writer best known for film, television, and pop culture analysis which has appeared on Black Girl Nerds, WatchMojo, Mental Floss, and The Take. She loves naps, Paul Rudd, and binge-watching the latest series with her two gorgeous pups – Harry and DeVito.