Guest Blogger
BGN works to feature strong, unique content from writers who…
It's been way too long since we last saw our heroes in Storybrooke.
In case you forgot what happened in the mid-season finale a few months ago, let me catch you up. The Evil Queen stole Aladdin's lamp and made a wish that Emma was never the savior. Emma disappeared. Regina made a wish that put her in the same place as Emma. Jasmine and Aladdin return to Agrabah. The Black Fairy kidnapped Gold and Belle's son, Gideon. Emma is fated to die at the hands of a hooded figure, who appears out of a portal in Granny's diner. The hooded figure turns the Evil Queen into a caged snake. Emma and Regina are in a wish realm hoping to get out through a magic portal. The hooded figure is revealed to be Gideon, the now grown up son of Gold and Belle. Gasp!
Back to the present and Once Upon a Time is back in our Sunday night lives! But, it's not the only thing that's back this week. Gideon is back. Emma and Regina are back in Storybrooke. Regina got her man back (albeit an alternate universe version, be he's back)! Grown Pinocchio was also brought back into our lives via the wish realm. I don't know about you, but he always looks like he has ulterior motives; even he is doing something good.
I had mixed emotions about this episode. The story of the Ugly Duckling who turned into a swan was cute and all — when Emma was a kid and needed to get off the street. Now that she is a grown woman who has had a few years now to get on the magic savior track, this dive into fate could have been done a different way. I don't think Emma changed her fate by taking herself to Child Protective Services, but she started down the path she was supposed to be on. There was all this dramatic tension building up to the street fight between her and the hooded figure, we now know is Gideon. When we got to that moment, it was sort of a dud.
Don't get me wrong, I would hate to see Emma die, but that fight lasted a whole five minutes, when the build-up was basically a half of a season. Not to mention, Gideon's motives for wanting to kill Emma are a little shaky. If you want to help the land the Black Fairy rules, why not just ask for help. I wanted more from this storyline. Maybe, learning more about the Black Fairy and Gideon's time there will help.
I will say it is interesting to know the person who is trying to kill Emma is the son of a good friend, Belle, and the dark one, Gold. Do you kill him? Do you try and reason with him? Do you give him what he wants? Do you offer to help him? Can you save him? So many scenarios for our heroes to ponder. So many directions for this story to take.
This war that Gold keeps mentioning — I hope it comes soon. Otherwise, we have a villain in Gideon for Emma, like the Evil Queen is to Snow. The idea being, Gideon will never stop until he gets what he wants. Kind of boring of you ask me. Maybe Robin has some wish realm advice he can give to our heroes. Otherwise, why is he back? Why did he die in the first place?
Tune in next week to see where the drama in Storybrooke takes us next, only on ABC.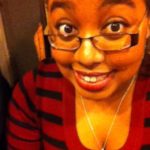 Catalina Combs is an aspiring film critic from California. She loves reading, writing, film, baking, music, drawing, traveling, Disney, and playing soccer. Her life usually revolves around all of these and her family. The oldest of six, Catalina tries to set a good example for her siblings. She graduated from Santa Clara University in 2010 with a BA in English Creative Writing and is pursuing an MA in Film. I also blog on WordPress and contribute to the website Examiner.com. Twitter- @tiggercraze | Facebook- Cat Combs | Instagram: @tiggercraze
Guest Blogger
BGN works to feature strong, unique content from writers who speak to our niche. If you are interested in having your work highlighted contact jamie@blackgirlnerds.com to be featured as a guest blogger on the site.