Written by: Dennis R. Upkins
June may be over, but the celebration of LGBTQ Excellence is 24/7, 365. However, finding quality media that reflects said pride can be a challenge, to put it very diplomatically.
Every so often, though, I happen upon some rare gems that have flown under the radar. Until now.
The following are a few television and web series that not only surpass my Media Litmus Test but most are permanent residents in my personal library. While this is by no means a comprehensive list, they're a few of my all-time faves that are definitely worth checking out.
Never let it be said I didn't give you anything.
In Between Men

  
The series examines the personal and professional lives of four urbanites from different walks of life who do not fit into what is expected of them. Forced to live in between a gay world, whose cliches they don't relate to, and a straight world, which they don't belong to, they live, work, and play in New York City.
This show easily joins the ranks of Torchwood and Queer As Folk as one of the greatest gay series of all time. Speaking of the latter, I appreciated the pseudo passing of the torch when QAF-alum Michelle Renee Clunie appeared in an episode.
What makes In Between Men special is that it speaks to a demographic that is often overlooked on a topic that is purposely ignored. For myself, a few loved ones, and others, who, for the most part, can pass for straight but are shunned by heterosexuals because of bigotry and because we don't limit ourselves to cliches or ignorant purviews of the "gay identity," we're often alone without a people. This series tackles the issue of masculinity and identity with a diverse cast in a refreshing and surprisingly nuanced manner. At least, it was surprising until I found out the creator of the series, Quincy Morris, is a brother and all that artistry and excellence made sense.
While a few years have passed since the first two seasons, I would love a final installment as a film just to give the characters and the series the proper sendoff it deserves.
In any event, I highly recommend it and it's available now on Amazon Prime.
Eastsiders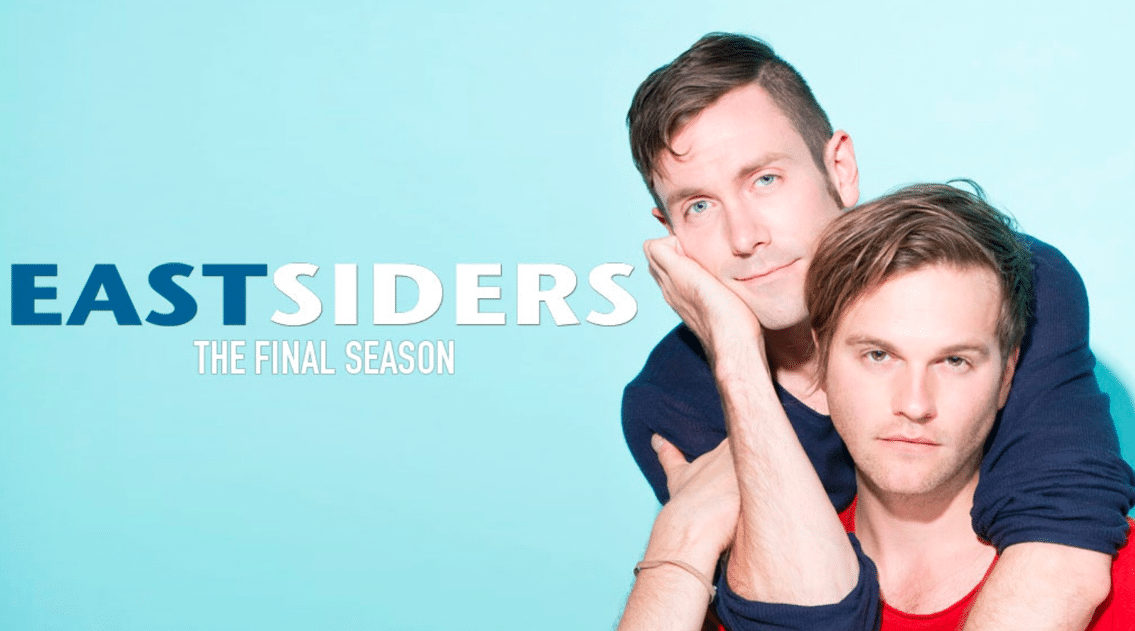 Written and directed by Kit Williamson (Mad Men), who also stars in this dark comedy as Cal, an ambitious young photographer, with his boyfriend, Thom, played by Van Hansis (As The World Turns), the show explores the complex world of modern gay life, infidelity, and relationships.
I've been a fan of Van Hansis for many years. Not only is he a wonderful actor and an outspoken activist for social justice, but he's also a trailblazer. Taking over the role as Luke Snyder on CBS's As The World Turns, Hansis's character became involved in a romance with another male character. The pairing is considered by many to be the first gay supercouple in American soap opera history. So when I learned he was one of the stars of Eastsiders, I was all too eager to check it out. And, before she was Fresh Off The Boat, Constance Wu could be found in this series stealing nearly every scene she was in.
Eastsiders is definitely one of those sordid Black dramedies that are good for the self-esteem. This show will remind you that in spite of all of the bad decisions you made or continue to make, even your worst, you're probably still better than this lot on their best day.
Eastsiders is available on iTunes, Amazon, and Netflix.
Feral 
A close-knit group of young twenty-something artists living, loving and figuring out how to pay the rent in Memphis, Tennessee.
From the cinematography to the story arcs and cast performances, this series is a testament to the artistry and ingenuity that indie content creators can produce. What also makes this eight-episode series stand out is that while the three main characters are gay/bi, they could have easily have worked as straight leads. These complicated rural characters, who produce visual art and indie films and rock out to Lucero, show that LGBTQs come from all walks of life and in all forms, just like cis heterosexuals.
With the exception of John Grisham's Rainmaker, this has to be the whitest Memphis I've ever witnessed (seriously, what the hell?). There are countless other towns in Tennessee with nary a Negro in sight where this story could've taken place and made sense (Chattanooga, Cleveland, Kingsport, Bucksnort, Erin, Columbia). I have an easier time suspending disbelief when I'm watching Harry Potter. But I digress. For now. And that's only because this is such a wonderful series.
Feral is available on Amazon Prime.
Strut 
With Whoopi Goldberg at the helm as executive producer, Strut is a reality television series that revolves around the world of modeling and fashion. What makes this short-lived series unique is that all of the models are transgender. The show goes inside the models' personal lives, showcasing their struggles to make it in the fashion world and revealing emotional conversations with family members. The featured models include: Laith, who was one of the first transgender male models to appear in a national campaign; Dominique, who has been modeling for more than 20 years; Isis, who was a fashion designer before getting into modeling; newcomer Ren, who hopes modeling can help her reconnect with her distant father; and outspoken Arisce, who has walked runways during New York, Los Angeles, and Miami Fashion Week shows.
Strut is definitely a fun and entertaining reality TV series. If you're a fan of America's Next Top Model or Project Runway, this series will definitely be up your alley. Before she was serving shade and snatching wigs on FX's Pose, Dominique was rocking runways and photoshoots with flawless precision. A testament to how talented Dominique is as an actress, Strut showcases how the wise, regal, and nurturing woman couldn't be a more polar opposite to the villainous Elektra Abundance she portrays on the hit FX series. While the series only lasted for six episodes, you get a full story arc and the opportunity to meet some awesome models who all have been making movies since the show ended.
You can learn more about Strut and where the show can be found to watch or own here.
Matt and Blue
The YouTube channel of musician Blue Hamilton, his husband actor Matt Dallas (Kyle XY), and their adorable son Crow chronicle the misadventures of their lives on their four-acre farm.
Whether it's sharing their personal experiences, offering advice on a number of topics, or informing you of some their sponsors' excellent products to check out for some great deals, Matt and Blue are the definitions of family goals and proof that there is fun, life, and adventure after marriage.
New episodes are posted every Tuesday and can be viewed on their YouTube channel.
Do you have any suggestions for good shows worth checking out? Let us know in the comments below!
Dennis R. Upkins
Dennis R. Upkins is a speculative fiction author, a journalist and an equal rights activist. His first two young adult novels, Hollowstone and West of Sunset, were released through Parker Publishing. Both Upkins and his previous work have been featured in Harvard Political Law, Bitch Media, MTV News, Mental Health Matters, Geeks OUT, Black Power: The Superhero Anthology, Sniplits, and The Connect Magazine.